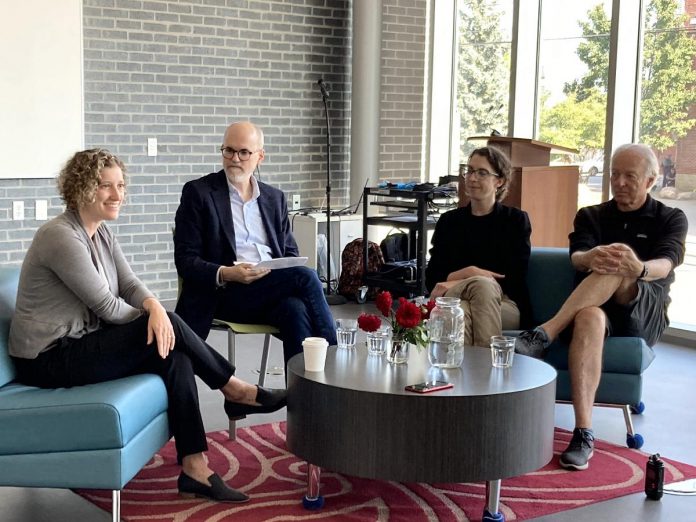 With a growing number of Peterborough residents lacking primary health care, three local family doctors participated in a "fireside chat" panel discussion on Thursday (September 21) at the Peterborough Public Library to advocate for a community health centre (CHC) as part of the solution.
Retired family physician and former Hospice Peterborough medical director Dr. John Beamish, Rapid Access Addiction Medicine Clinic physician Dr. Jaclyn Vanek, and second year family medicine resident Dr. Andrea Zukowski participated in the event, which was moderated by Jonathan Bennett, board chair of the newly formed Peterborough Community Health Centre, a non-profit organization dedicated to launching a CHC in the Peterborough area.
According to that organization, with the local population growing and an increasing number of family physicians retiring, around 20,000 Peterborough-area residents currently do not have primary health care. With 10 additional local family physicians indicating they will likely leave their practices in the next two years, that number is expected to grow to 31,000. People without a family doctor or another primary health care provider often visit their local emergency department to address health concerns.
Advertisement - content continues below
Tweet this quote
"If we want to prevent (our emergency department from being overwhelmed) and physician burnout in Peterborough, then we need a model that adequately supports complex patients and health care providers," said Dr. John Beamish. "A CHC is that model. It confounds me why Peterborough doesn't have one."
There are more than 100 community health centres across Ontario. Not-for-profit organizations governed by a community board, they offer a wide range of health and social services including medical clinics, dentistry, wellness programs, and mental health support groups provided by a team that includes salaried clinicians.
In traditional family practices, physicians run their own businesses and bill for services. According to the Peterborough Community Health Centre, research suggests salaried compensation has become increasingly attractive to family physicians.
Since graduating from medical school seven years ago, Dr. Jaclyn Vanek has worked part time at Peterborough Regional Health Centre's Rapid Access to Addiction Medicine Clinic in Peterborough. She also travels to other locations in Ontario to provide primary health care in a salaried model. She believes the community health centre model will attract physicians who could work part time at a CHC while also working elsewhere such as the hospital's emergency department.
"It's easy to commit to work in a CHC because it offers diversity of work and work life balance," said Dr. Vanek. "I don't want to be bogged down running my own businesses and feel locked into doing something past when I want to retire, which is what we're seeing locally."
With fewer graduating physicians opting to practise traditional family medicine, having alternative options available would help Peterborough recruit new physicians.
Advertisement - content continues below
Tweet this quote
"The fee-for-service model is a dinosaur heading to the tar pits," said Dr. Beamish. "No one in five and 10 years is going to want to practise (traditional family medicine). And it's what we have in Peterborough. Unless we develop a diversity of models, we will be bereft of family physicians."
Dr. Andrea Zukowski, who is completing her second year of a family residency in Peterborough and has practised at the CHC in Lindsay, agrees with Dr. Beamish.
"If Peterborough had a CHC, I would definitely want to stay here and practice," said Zukowski, adding she appreciated the team environment at the Lindsay CHC.
With the Ontario government expected to announce new funding for interprofessional primary health care teams this fall, the Peterborough CHC is seeking $8.2 million to employ over 40 health care providers serving 6,000 complex patients.
Advertisement - content continues below
Tweet this quote
"I truly believe we will be able to fill these positions," said Dr. Vaneck. "If we can get a CHC funded, they will come."
She added that Peterborough is losing doctors because it lacks a CHC.
"I have a colleague who lives here and commutes to the CHC in Lindsay," Dr. Vaneck pointed out. "I work elsewhere as well. We are all losing out without this and it's not fair to our community."
"The CHC model is available in many other communities," Dr. Beamish added. "It's proven. It delivers. Peterborough's been missed before. This is not the first ask. It's our turn."
For more information about the Peterborough Community Health Centre initiative, visit www.ptbochc.ca.