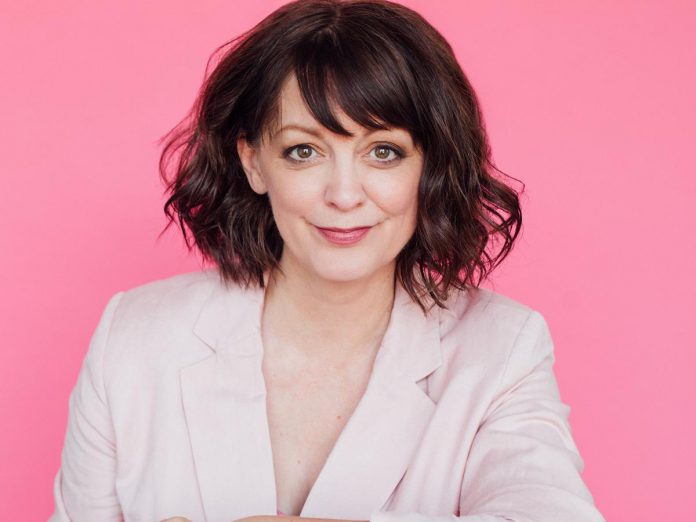 Port Hope's Capitol Theatre annual holiday panto is returning in a big way this November and December, with a classic fairy tale retold by award-winning Canadian actor, improviser, and playwright Rebecca Northan. The world premiere of Jack – A Beanstalk Panto runs from November 24 to December 23, with both family-friendly and adult-oriented performances.
Pantomine (panto for short) is a type of musical comedy stage production designed for families that originated in England and is performed around Christmas and New Year's. Usually based on a well-known nursery story or fairy tale, a panto features songs, gags, slapstick comedy, magic, dancing, gender-crossing actors, and topical humour. British pantos include risqué double entendre that go over the head of children in the audience but, in North America, pantos usually include separate "nice" family-friendly performances and "naughty" performances intended for adults.
The Capitol Theatre commissioned Rebecca Northan to create and direct its panto this year. Drawing inspiration from the Jack and the Beanstalk fairy tale, Jack – A Beanstalk Panto features "magic, murder, and mayhem" according to a media release from the theatre, with "a hilarious harp, gregarious goose, and a whole lot of gold."
Advertisement - content continues below
Tweet this quote
As an actor, Northan is known for playing the hippie mother Diane Macleod on the CTV & The Comedy Network sitcom Alice, I Think and for her role as Jane in Adult Adoption. In 2004, she was nominated for a Gemini Award for best comedy ensemble for The Comedy Network's The Joe Blow Show. She is a five-time Canadian Comedy Award nominee, winning the award for best female improviser. She has made several appearances at the Montreal Just For Laughs Comedy Festival in the World Improv Games, and was a member of The Second City Toronto main stage cast.
Northan's 2009 hit play Blind Date, in which she played a French red-nosed clown named Mimi opposite an audience member as her love interest, created a entirely new genre of performance and won her a 2016 Dora Mavor Moore Award for outstanding performance by a female in a principal role. She is now artistic director of Spontaneous Theatre, which specializes in creating productions that feature an audience member as the star of the show. Most recently, she and Bruce Horak created the interactive play Goblin: Macbeth, in which three goblins intrigued by the works of William Shakespeare decide to co-opt a theatre space and cajole an audience into participating in their first attempt at doing theatre.
"Rebecca Northan is a legend in Canadian theatre," says Capitol Theatre's artistic director Rob Kempson. "Her work has been produced across the country and beyond, but it is her improv and comedy background that makes her the perfect choice to lead the team for this year's Capitol panto. Audiences should be prepared for a Jack like they've never seen before."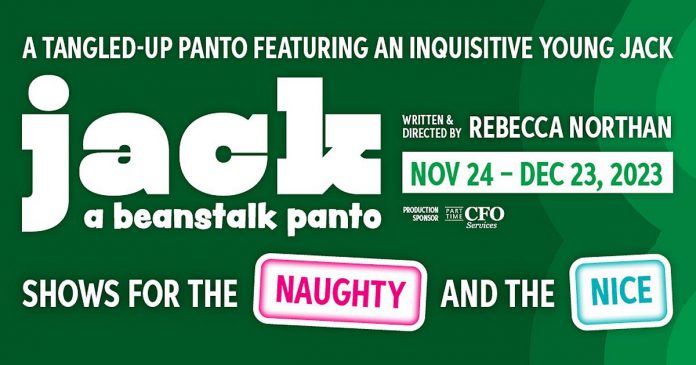 Written and directed by Northan, Jack – A Beanstalk Panto will star Christy Bruce, Paul Constable, Robbie Fenton, Madison Hayes-Crook, Clea McCaffrey, Zoe O'Connor, Hal Wesley Rogers, and Steve Ross, with music direction by Chris Barillaro, choreography by Hollywood Jade, sound design by Adam Campbell, set design by Anna Treusch, lighting design by Nick Andison, and costume design by Joyce Padua. Alice Ferreyra is stage manager and Charlene Saroyan is assistant stage manager, with music performed by Alex Panneton.
"Naughty" adult performances take place at 8 p.m. on November 24 and 25 (opening night), November 28 to December 9, December 12 to 16, and December 19 to 23, with a 2 p.m. matinee performance on December 13. "Nice" family performances take place at 3 p.m. on November 25, 2 p.m. on December 2, 11 a.m. on December 3, 2 p.m. on December 9, 11 a.m. on December 10, and 2 p.m. on December 16, 22, and 23.
Tickets are $48 and are available online anytime at capitoltheatre.com or in person at the Capitol box office (20 Queen St., Port Hope) or by phone at 905-885-1071 from 10 a.m. to 4 p.m. Tuesday to Saturday.