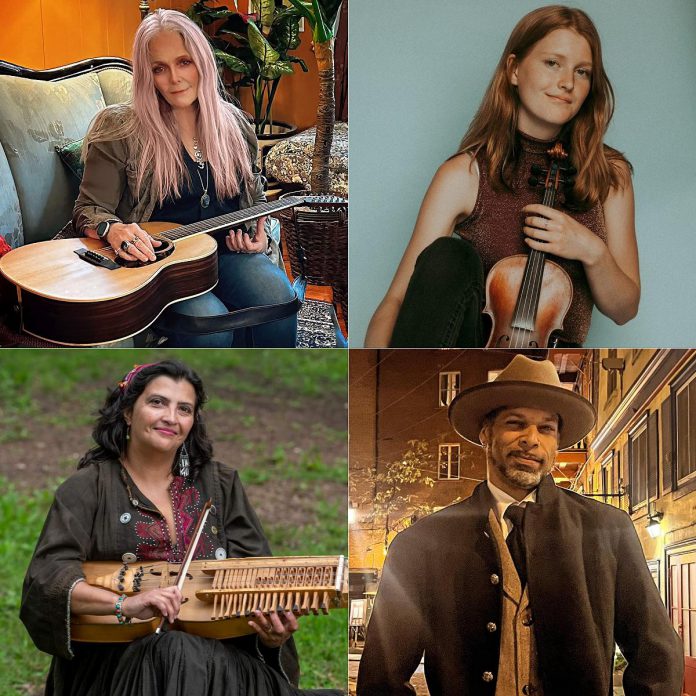 In many a home, the kitchen is the beating heart. It's there that food is served and family matters are discussed; it's there that the only thing warmer than a welcome cup of coffee or tea is the company in which it's enjoyed.
And it's there, as Peterborough resident Astarte Devi has demonstrated, that some magical things happen when friends come together to share a culinary and musical experience.
It was last winter that Peterborough real estate agent Kat Tannock, who wanted to bring a music artist to the area to perform, asked via Facebook if anyone wanted to host a house concert. That got Devi's attention.
Advertisement - content continues below
"I said 'Hey, I think that's on my bucket list'," she recalls.
So it was that, in March in her home overlooking the Otonabee River, Devi hosted a performance by Windsor-based musician Eamon McGrath. Thrilled with how it was received, her wheels started to turn, the question being 'Why not do it again?'
That she did, thrice, and here we are with the "Not Yet Yule Kitchen Party," a fundraiser for Kawartha Youth Orchestra's Upbeat! Downtown music program, set for Sunday, December 3rd from 5 to 9:30 p.m.
There will be plenty to digest, both literally and musically, as Devi welcomes musicians Astrid Young, Irish Millie, Saskia Tomkins and, from Montreal, Sule Heitner. Each will perform as guests also enjoy a 10-course tapas dinner prepared by Devi as well as partake in a wine-tasting session hosted by Young, a fully certified sommelier. Limited tickets, at $55 each, are available at eventbrite.ca/e/754973464957.
After that initial house party back in March, a fully motivated Devi resolved to host another. That she did on May 27th — the eighth anniversary of her son's passing.
"His name is Joel — he loved music and art," she says. "To commemorate what I call his fly-away day, I decided to do a hip-hop kitchen party. A friend of mine, a hip-hop artist, did his thing in my kitchen one day. I had never heard hip-hop like that. I thought 'Everyone should hear it in this quiet space where we can pay attention to the poetry and it's not this loud, banging thing."
Advertisement - content continues below
What followed was a July kitchen party featuring The Hippie Chicks — Tami J. Wilde, Joslyn Burford, and Joan Lamore — and then, in September, another house concert event billed as Back To Groove, a play on back to school.
The seed for the Not Yet Yule Kitchen Party, says Devi, was planted in early September when she bumped into Astrid Young — a musician, sommelier, and author of the book Being Young about her famous half-brother Neil Young and their father Scott — at Crestwood Secondary School at a memorial for Peter Ford, a longtime music teacher who taught both of them at different times.
"I said 'Hey, would you ever consider doing a kitchen party?'" Devi asked Young, who agreed.
VIDEO: "Lay Me Down (Borrowed Tune)" – Astrid Young

Devi made the same ask of the other performers.
"I've known Irish Millie for a number of years. I first saw her playing on a porch on Bonnacord (Street). I asked Millie 'Would you do a kitchen party?' And then later I ran into Saskia at a performance of Upbeat. I asked 'Would you do a kitchen party?'"
With all three on board, along with Heitner, an accomplished multi-genre singer-songwriter and multi-instrumentalist from Montreal, Devi set the date and got busy planning the menu.
Advertisement - content continues below
"I have to say you are going to eat well," she advises potential attendees, noting "I'm not a professional, I'm not trained — but I'm very good."
With products donated by event sponsors including local food producers Riel Acres Farm, Selwyn Garlic Farms, and Harley Farms, the menu — from pan-seared balsamic foie d'angeau to bacon melon wraps to poulet potpie — is well worth the ticket price alone.
The wine-tasting aspect of the evening, meanwhile, sees Young, who has three sommelier designations and at one time was a candidate for Master of Wine, in her element.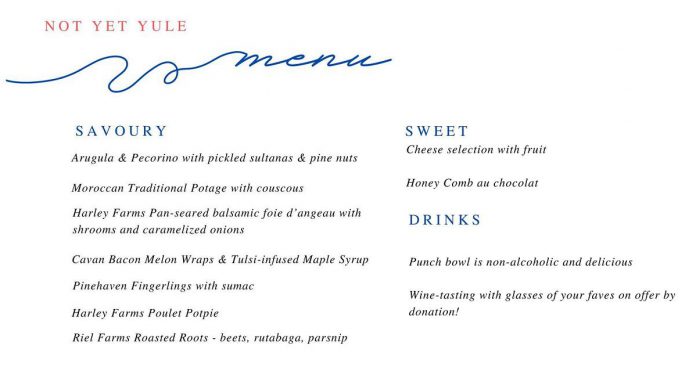 A wine professional since the mid 1990s, Young was a touring musician "until wine started taking over my life." That, combined with hearing loss, saw her cut back on playing big stages.
"When she (Devi) said that Saskia was playing, it was a no-brainer," says Young. "I've been playing with Saskia for years. We've toured together. She played on my record."
Devi then also proposed the idea of Young leading a wine tasting at the event.
Advertisement - content continues below
"Two of the most pleasurable things in my life are music and wine — they go together really well," says Young. "This time, I get to do both on the same night instead of having to separate the two, which has usually been the case."
Young adds she's particularly excited to share her music "with people that are there to enjoy it."
"It's not 'I'm going to have a burger and see if I can talk louder than music.' There are so many places like that. I don't have time for those kinds of gigs. A good majority of the gigs I've done over the past couple of years have been private gigs. You have a very engaged audience that's really interested in your music. They're not there for any other reason."
VIDEO: "Road to Errogie" – Irish Millie

Equally thrilled to be involved is Irish Millie, whose fiddle-playing prowess lends itself to the intimacy of a house concert setting.
"I participated in a lot of jam sessions over the summer — very small spaces where people had a lot of fun," she says.
"There's like a wall between you and the audience when you're on a big stage. At a kitchen party, you're on the floor with the audience and you're socializing. You're all on the same level. It really connects performer and audience better than being on a stage."
VIDEO: "Farewell to Music" – Saskia Tomkins

Helping to create that more intimate ambience are two very hard-and-fast rules that Devi makes clear before things get underway: cell phones must shut off and tucked away, and no chatting while music performed.
Previous concerts at Devi's Armour Road home — which she calls Le Pont Traversé-Nogo, a nod to the long-closed landmark Parisian bookstore Le Pont Traversé that she frequented as an 18 year old living in The City of Light — raised funds for One City Peterborough and the YES Shelter for Youth and Families. The benefactor this time around is Kawartha Youth Orchestra's Upbeat! Downtown music program.
A fully subsidized after-school program for children aged seven to 14 years old facing barriers accessing instrumental and choral music education, Upbeat! Downtown is led by music educators who not only hone their students' musical talent but also help develop critical life skills such as problem solving and self-discipline. It's a program that's near and dear to Irish Millie, who has taught viola and violin to program participants.
"When I was younger, I had great privilege and opportunity to be in (the music) industry," she says. "For those who don't have that, it's important that musicians step up and help encourage that. We get to feel something wonderful when we play music. Why would we not want other people to feel that?"
VIDEO: "Going My Way" – Sule Heitner

Meanwhile, for anyone thinking the Not Yet Yule Kitchen Party is a grand finale … well, think again. Devi is already looking well ahead.
"I already have one set for the third Sunday of January — a New Year Metal Kitchen Party," she says. "I like the idea of getting people together to listen to genres of music that maybe they haven't given the time of day to."
"I have a good friend who is a guitar aficionado. He plays metal riffs and he knows his music theory. He and his band mates are going to slow down metal music, quiet it down, and help us understand it and appreciate it."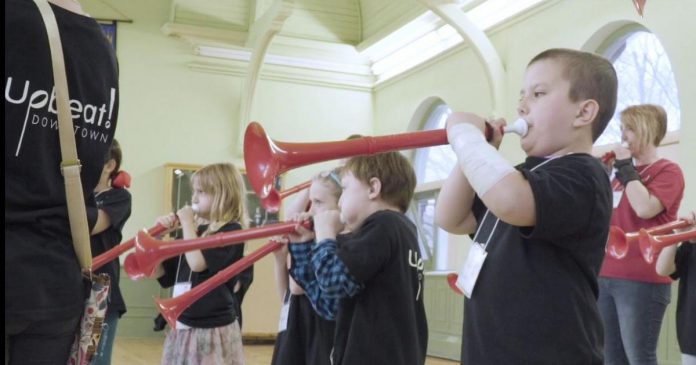 Don't be surprised if Young, a self-admitted super fan of Black Sabbath, is on board for that event too — "I can't remember what I did last week but every Black Sabbath lyric is still in here," she says, tapping her head which, accordingly, is topped by a Black Sabbath ball cap.
Beyond that event, Devi is planning another hip-hop house party for the end of May, again close to the date of her son's passing. Far from shy, it's a safe bet that she'll take a turn or two as a performer.
"I'm also now a rapper apparently," she says. "I'll be ready by then."
For information updates on the Not Yet Yule Kitchen Party, visit the event's Facebook page.