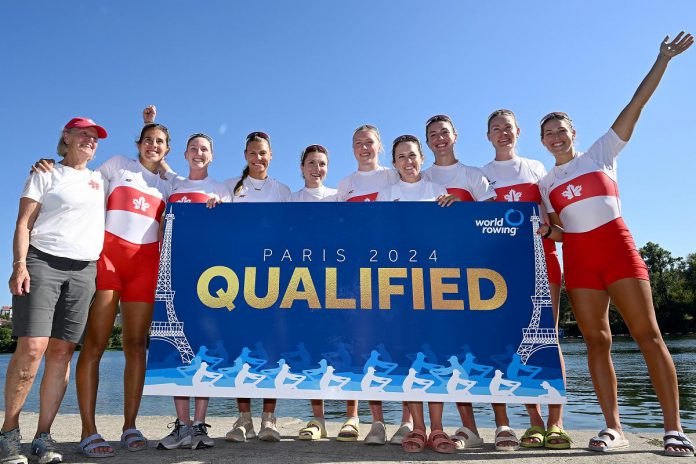 When Peterborough's Carol Love lands in Paris next summer to lead Team Canada at the 2024 Olympic Games, it will mark 48 years since she was a competitor herself, representing the nation in Montréal in 1976 when women's rowing made its Olympics debut.
While her home remains in Peterborough, Love is currently based in Cowichan Bay, British Columbia, where she is the coach of the national women's team. In recognition of her dedication to the sport of rowing, Love was in Calgary earlier this month to receive the Rowing Canada Aviron's 2023 Petro-Canada Coaching Excellence Award for leading the women's coxed eight to the bronze medal at the 2022 World Rowing Championships in the Czech Republic.
That achievement capped off a season that saw the nine-woman crew — eight rowers and the coxswain who coordinates the rowers — reach the podium at the two World Rowing Cup regattas leading into the World Rowing Championships. In September, Love also led the women's eight to a fifth-place finish at the 2023 World Rowing Championships in Belgrade, Serbia, qualifying the team for the Paris 2024 Olympics, where the crew will be the defending Olympic champions having won gold at the Tokyo Games in 2021.
Advertisement - content continues below
Tweet this quote
"It was really special to get out of my little bubble here (in B.C.) and see what's going on elsewhere," says Love of the coaching award. "It helps you come back with lots of good energy to keep going, so it was really special."
In her decades of coaching, Love has seen the sport of rowing change for the better, and she has had no small role in that both locally and nationally.
"I got in just right at the beginning, when rowing was just really starting to grow, and more and more women were getting into it," says Love. "Now we're at the point where there's more women than men registered for Rowing Canada."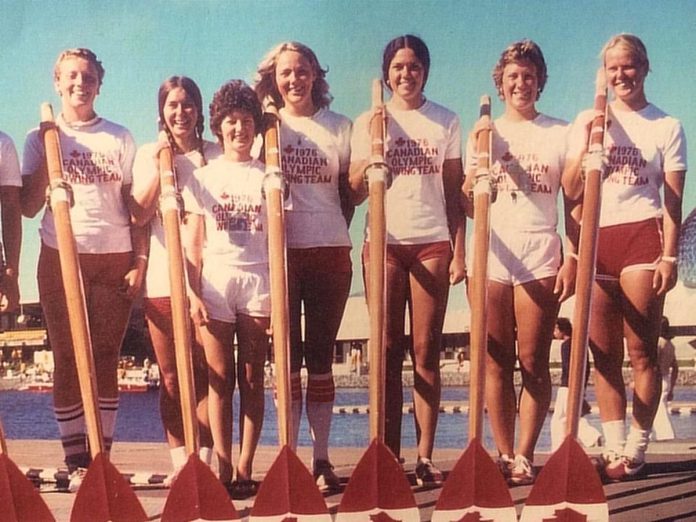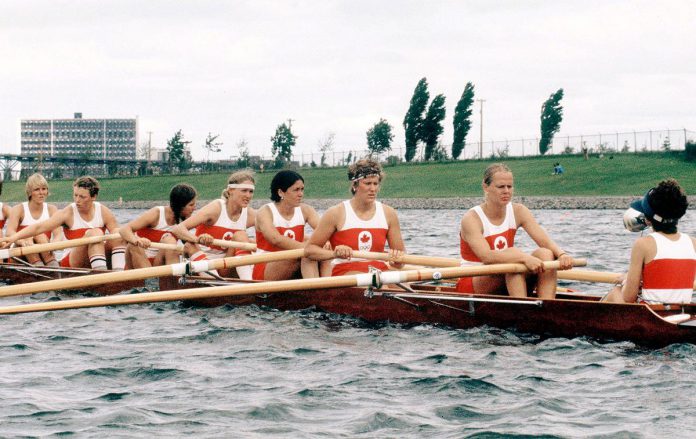 Love herself hadn't been introduced to the sport until just a few years before those Olympic Games in 1976. Though she was born and raised in Toronto as a multi-sport athlete, alpine skiing was what Love (then named Eastmure) gravitated to most. But, just a few weeks into studying physical education at McMaster University in 1971, she was invited to try out for the varsity rowing team. Though she admits she was hesitant at first, after attending a party with other rowers, she was convinced and in a boat the next day.
"At first, rowing was really about the people for me," she recalls. "It was a really great group of people, but then when I got in the boat, I thought, 'This is really beautiful. This is a beautiful sport.' I really got into it and I just kept rowing and rowing from there."
Although she had never tried rowing until then, she was added to McMaster's varsity team and, just a few weeks later, competed in her first race at the Head of the Trent, Trent University's annual rowing regatta.
Advertisement - content continues below
Tweet this quote
"It was incredible," Love says. "It was a beautiful university and an incredibly fun time."
Following her graduation from McMaster, Love was recruited to train with the national team in Burnaby, British Columbia, in preparation for the Olympic Games.
"Going to the Olympics was a childhood dream," Love says. "As a young athlete growing up, it was the epitome, so the dream was always there."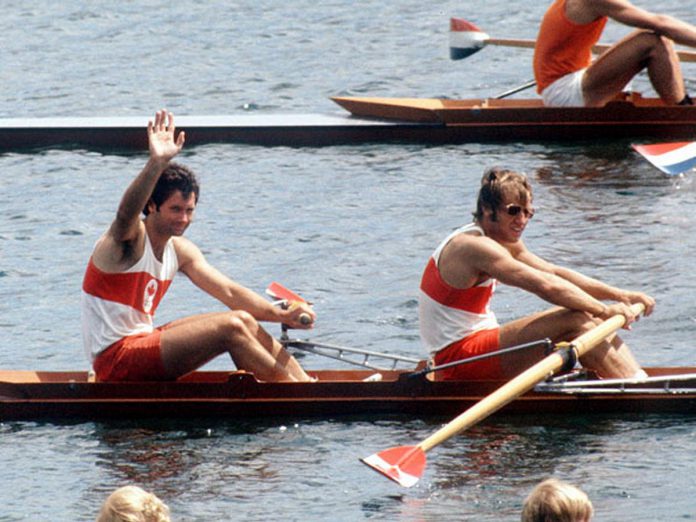 Narrowly missing the podium, the Canadian women's eight finished in fourth in Montréal. While Love didn't bring home a medal, she did bring home a future husband after meeting fellow rower Brian Love.
"It was one of those events and opportunities where you meet somebody or you try something and it opens up your world and the trajectory," she says, speaking to both her personal life and her career.
The year after the Olympics, Love became aware Trent University was building an athletics facility. As soon as she finished at the World Championship in 1977 (where the team won bronze), she joined Trent's athletic staff and helped with the new facility's administration.
"That was my first job in sport and athletics and had a huge impact on me as a young person," she notes.
Advertisement - content continues below
Tweet this quote
Now settled in Peterborough, she kicked off her career in coaching, helping the men's team challenge the national team before proceeding to initiate women's rowing through several high schools, beginning with Peterborough Collegiate in 1978. She continued coaching at the national and international levels, including for the Canada Games (2005), Junior World Championships (2013, 2015, 2018), Youth Olympics (2018), and Pan American Games (2019).
Love was also raising her five children — including triplets — with her husband Brian, while continuing to develop rowing at both Trent University and the Peterborough Rowing Club.
"I've always said in Peterborough, we have a river that runs through our community," she says. "Everybody should try a sport on the water. It's just such a beautiful stretch of water. We're so lucky to have that and to have the sport of rowing."
Love was inducted into the Peterborough and District Sports Hall of Fame in 2008 in recognition of her key role in the development and success of rowing at both Trent University and the Peterborough Rowing Club, initiating high school women's rowing at Peterborough Collegiate, and her many provincial, national, and international coaching accomplishments.
Love says she's seen a huge growth in the sport of rowing, and not just with more women participating. She in part credits the recent growth to the 2013 book The Boys in the Boat by Daniel James Brown about the journey of the University of Washington's rowing team to the 1936 Berlin Olympics. She says the film version, co-produced and directed by George Clooney and scheduled to be released on Christmas Day, will only add to the sport's popularity.
"So many people read Boys in the Boat, including a lot of people who aren't fans of sport," Carol explains. "A lot of people picked it up, so we know that this film is going to be huge and it's going to have an impact right across country. Everybody's going to want the kids rowing, and it will interest older people in rowing. The publicity around the sport is going to really build in the next year, so it's going to be super interesting for our local clubs."
Advertisement - content continues below
Tweet this quote
The growth in the rowing community is the main reason Love relocated across the country by herself in spring of 2022 to coach Team Canada, while Brian — now retired from his government career — remained in Peterborough in his role as president of the Peterborough Rowing Club.
"When I was offered the job, I was hesitant because I had been thinking about what retirement would look like," she admits, adding that it was at her family's insistence that she decided to take the offer.
Though the period between Olympic Games was shorter than the usual four-year gap because pandemic restrictions postponed the 2020 Games to 2021, she's already sure she'll be returning home to Peterborough after Paris, rather than sticking around for the next Olympic cycle.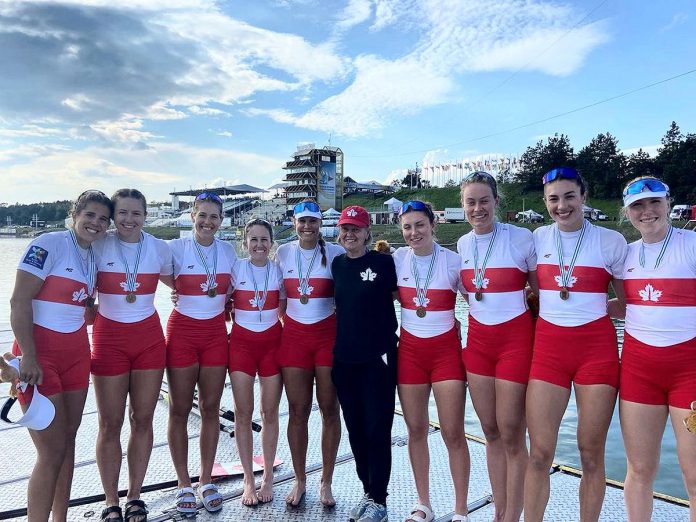 Tweet this quote
"I'll find something else to do, but it'll be time to rejoin my family," Love says.
As for now, she is putting everything she has into training women from across the country (including Peterborough athlete Grace Vandenbroek) as they vie to represent Canada in 2024.
"It's a really exciting opportunity to be part of their lives and getting them ready for the Olympics — it's pretty special," she says. "At this point in my life, I can throw everything I've got — all my years of coaching, everything I've learned as a parent and as an athlete — to do the best I can do to get them to the start line so they can have the best race they can deliver on that day."