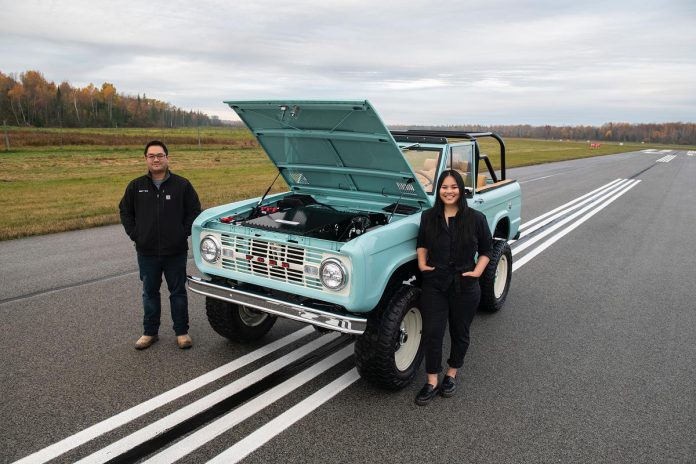 An all-new Peterborough-based green technology start-up company is trailblazing the way toward a greener future without losing sight of the past.
ARC Motor Company is offering an innovative solution to meet zero-emissions goals set by the Canadian government by converting gas-powered classic cars into electric vehicles.
The company was officially unveiled during an event on Wednesday (November 15) at the Peterborough Airport, with federal elected officials in attendance to show their support for the innovative new business.
Presented in partnership with Community Futures Peterborough, the event included an unveiling of ARC's debut conversion: a fully restored 1974 Ford Bronco that is now fully electric with the use of upcycled lithium-ion batteries.
Tweet this quote
The Bronco was converted by ARC founders Sloane Paul and Tom Chep, a sister-and-brother duo raised in Peterborough.
With a background in corporate marketing for major tech companies including Microsoft and Dyson, Sloane wanted to venture into a project of her own.
"I've always been an entrepreneur at heart, ever since I was a little kid starting a snow shovelling business at the age of ten," says Sloane.
The idea for ARC began with Sloane's interest in classic cars during the pandemic. Specifically, she was interested in Broncos, recognizing they were becoming the "hottest new classic car."
"I was looking to restore our Bronco, but they're known for being gas guzzlers," she says. "I wanted to find a company to restore it and hopefully electrify it but, at that point, there weren't any in Canada."
Tweet this quote
That's when Sloane enlisted the help of her brother Tom, who worked as an electrical engineer across Canada and in the U.S. before returning to Peterborough to work at Rolls-Royce Civil Nuclear Canada, which was acquired by Westinghouse Electric Company in 2020.
"The notion of this business idea really clicked for me," Tom recalls. "Not only is Canada trying to go more sustainable and greener, but it's a huge industry, a huge market, and a huge problem to solve in itself. It just made sense, and with my education and background, I knew I could contribute."
Sloane notes that Tom's expertise helps solidify and accelerate their business.
"Tom has a full wealth of education, knowledge, and expertise working with electrics," she points out.
Tweet this quote
Sloane and Tom developed ARC with an eye on electric vehicles (EVs) being the future of transportation.
"EVs are top of mind for the government as they drive us towards our net-zero emissions goal across North America," says Sloane.
At the end of last year, the Government of Canada drafted proposed regulations requiring that at least 20 per cent of vehicles sold in Canada will be zero-emission by 2026, 60 per cent by 2030, and 100 per cent by 2035. Transportation is just one sector on the path for Canada to reach its reduction target of 40 per cent below 2005 levels by 2030 and net-zero emissions by 2050.
Despite these goals for a greener future, Sloane explains there has been limited discussion around what this means for emissions-heavy classic cars.
"They're all ICE-powered," she says, referring to internal combustion engines. "Anything older than 25 years is definitely going to be gas-powered, so there is an opportunity for us to come in and help drive more of a solutions-oriented focus to reduce waste. Instead of throwing cars away to buy EVs, we are restoring them and, at the same time, upcycling lithium-ion batteries to power them."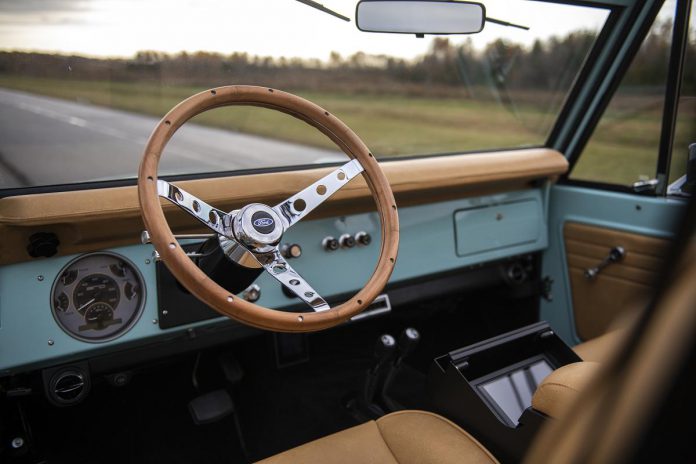 Tweet this quote
In addition to paving the way for a greener future, ARC is keeping history alive by modernizing classic cars through electrification.
"It's also about preserving the past," Sloane says, noting the company restores the cars for higher performance and improved safety as well to reduce emissions. "We're thinking about what we can do to keep these classic cars on the road. Safety standards have changed from when these vehicles were first produced and we want to enhance the classics to today's standards by adding features like disc brakes, power steering, and other features to modernize them. This will preserve these cars for future generations to enjoy."
Not only is the green technology company a trailblazer in the automotive industry, but Sloane is a trailblazer as the first female CEO and founder of an electric vehicle start-up in North America. The siblings also bring a new perspective as second-generation Canadians, born in Calgary and raised in Peterborough from a young age after their mother came to Canada as a refugee of the Cambodian civil war in the early 1980s.
"Having a diverse leadership is important in today's landscape," Sloane says. "Representation matters. I didn't grow up seeing people like Tom and I on TV or in the media. And, even in the corporate world, it is rare to see a woman of colour in the C-Suite (senior management). I hope that, with Tom and I as the leaders of this start-up, we'll be able to inspire others who have a similar background."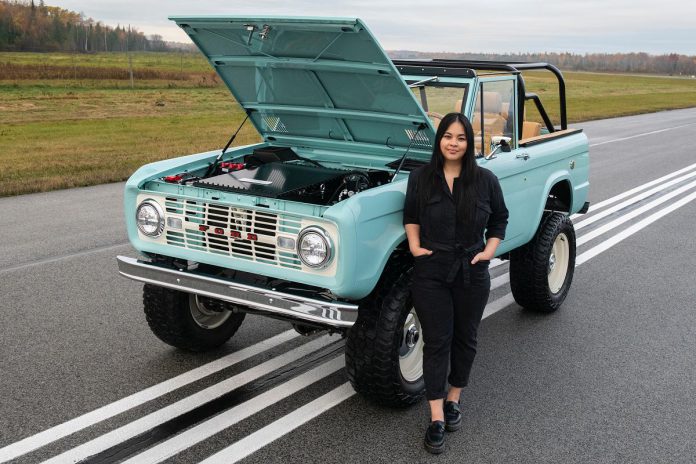 Tweet this quote
ARC is already well on the way to inspiring the community, having caught the immediate interest of Community Futures Peterborough, a not-for-profit organization that provides financial and advisory support to growing businesses.
"The ARC team is committed to making a meaningful impact by creating sustainable jobs all while reducing a carbon footprint," says Devon Girard, executive director of Community Futures Peterborough. "We are excited about these diverse individuals, and their commitment to giving back. We cannot wait to share in their bright future."
After Sloane reached out to Community Futures Peterborough, the organization's loans committee visited the ARC shop to preview the Bronco mid-electrification and to connect with Sloane and Tom in person before approving the loan.
"We were blown away not only by the technology and the cool factor of the Bronco, but by the professionalism, experience, and drive of Tom and Sloane," says Braden Clark, business and loans manager for Community Futures Peterborough.
Moving beyond financial support, Community Futures Peterborough connected ARC with stakeholders of various levels of government to help guide Sloane and Tom as they grow their business.
"We can provide business guidance for entrepreneurs like Sloane and Tom through networking, events, introductions, and making new connections," says Clark. "Peterborough is large enough to have the right people and experts, but small enough to have a very strong business ecosystem network that allows us to refer people back and forth. This gets entrepreneurs the proper support they need."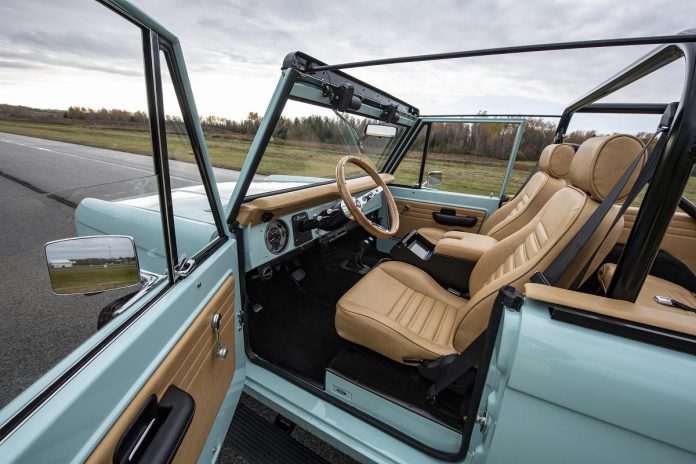 Tweet this quote
ARC is also being supported through thriveFORWARD, a clean-tech start-up investment initiative delivered by Northumberland Community Futures Development Corporation (CFDC) with the support of Federal Economic Development Agency for Southern Ontario (FedDev Ontario) and the Government of Canada's Jobs and Growth Fund. ARC is also a client of the Innovation Cluster in Peterborough, where they are continuing to receive mentorship and connections to a larger ecosystem.
"Our mandate is to invest and take risks on the funding of entrepreneurs, and here are two business leaders disrupting an entire industry while reducing carbon footprints and showcasing innovation," notes Girard. "It is very exciting for us to have that in our backyard."
That excitement extends to Filomena Tassi, the minister responsible for FedDev Ontario.
"Rebuilding classic cars with clean technology is a new and exciting way to drive the future of net-zero transportation," Minister Tassi says in a media release. "Supporting entrepreneurs like Sloane and Tom so they can bring their incredible ideas to Canadians is exactly how our government will grow the economy and fight climate change."
Tassi's parliamentary secretary Bryan May represented the minister at Wednesday's launch event, which was also attended by Peterborough-Kawartha MP Michelle Ferreri and Peterborough County Warden Bonnie Clark.
"Small town businesses create very big ideas," May says. "ARC Motor Company is an example of how great ideas get off the ground with the right supports. Our government works with businesses and the organizations like Community Futures Peterborough that support them, as they find new and innovative ways to contribute to a strong economic future for Ontario and all of Canada."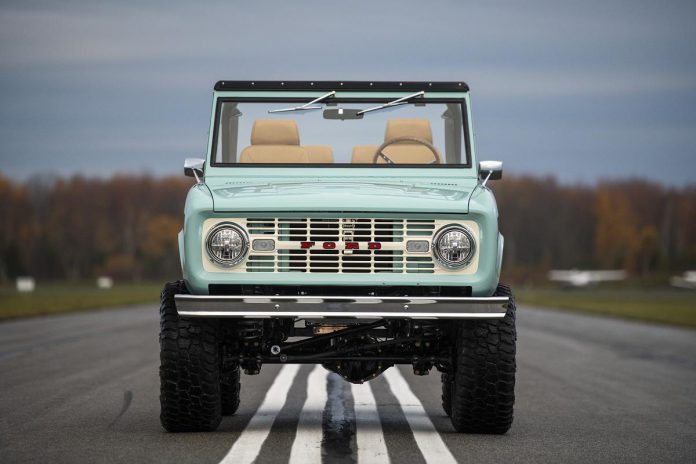 Now that the company has been officially unveiled, its next project involves converting an Austin Mini to use as a demo for clients wanting a test drive. The company also aims to grow its team by creating jobs across engineering, fabrication, and business development.
For more information on ARC and classic car electrification, visit www.arcmotors.com or contact ARC at hello@arcmotors.com or 416-797-0528.
To find out more about how Community Futures Peterborough supports local businesses, visit cfpeterborough.ca and follow them on Facebook, Instagram, and Twitter.
Community Futures Peterborough has a mission to support small businesses with flexible financing in the City and County of Peterborough. It has invested more than $40 million in over 1,100 small businesses since 1985, creating or maintaining more than 4,100 jobs in the City and the County. Community Futures Peterborough is a not-for-profit organization funded by the Government of Canada, through the Federal Economic Development Agency for Southern Ontario (FedDev Ontario).
This branded editorial was created in partnership with Community Futures Peterborough. If your organization or business is interested in a branded editorial, contact us.