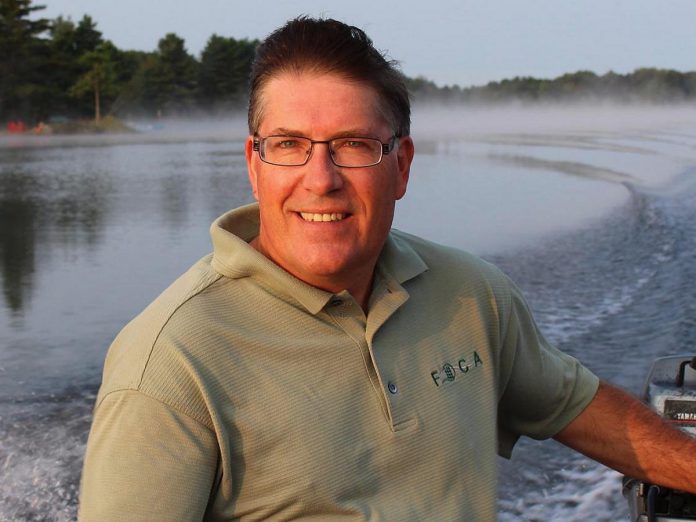 After 20 years at the helm, Peterborough's Terry Rees is stepping down as executive director of the Federation of Ontario Cottagers' Associations (FOCA) in March 2024 to pursue other interests.
Established in 1963 and incorporated in 1974, today FOCA represents 525 lake and road associations in rural communities across Ontario and speaks for the interests of 250,000 seasonal and year-round waterfront property owners. Rees, who owns a family cottage on Lake Kasshabog north of Havelock in Peterborough County and was previously president of the Lake Kasshabog Residents Association, joined FOCA as executive director in 2004.
"This role has allowed me to see and appreciate so many parts of our wonderful province, and to work alongside and in support of the great volunteers that make Ontario's rural and northern communities thrive, and who work tirelessly to keep our lakes great," Rees says in a media release. "I've always wanted my kids to have the same great opportunities to enjoy and appreciate our lakes they way I have, and I hope I have managed to do my little part to make this a reality, for their sake, and for all our future generations."
Advertisement - content continues below
Under Rees's leadership, FOCA has fostered working relationships with provincial politicians and staff — including at the Ministry of Natural Resources and Forestry and the Ministry of the Environment, Conservation and Parks — on issues such as onsite wastewater management, protecting biodiversity, preventing the spread of invasive species, and promoting private land stewardship.
Rees has also led FOCA's work showing the significant economic impact of Ontario's waterfront property owners, pushing for more transparent and fair property taxes, and representing the 147,000 remote Hydro One customers on rate proposals at the Ontario Energy Board.
One of Rees's passions has been adapting and preparing for emergencies in waterfront Ontario, and FOCA developed a risk management program for lake associations, backed with a tailored liability insurance program to keep local community groups and their volunteers safe.
Advertisement - content continues below
Other topics Rees worked on included individual environmental stewardship, the short-term rental market, private roads, safer boating, land use planning reforms, and mining oversight. He also worked with the environmental visual communications program at Fleming College and the Royal Ontario Museum to develop videos about the important role of citizen science, local volunteerism, and more.
"These are big shoes to fill," says FOCA board president Ian Crawford. "We wish Terry all the best for his next endeavours, and thank him sincerely for his dedication to FOCA over these past decades."
The organization is currently seeking a chief executive officer to replace Rees. For more information on FOCA, visit foca.on.ca.