Chasing the CheeseContact Chasing the CheeseLocation MapStaff Picks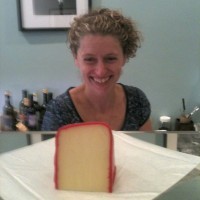 Before she opened her store on Water Street, Julie Austin was known as the Cheese Lady of Peterborough.
"People still call me that," laughs Austin, the owner of Chasing the Cheese, an intimate boutique-inspired shop that sells up to 250 different kinds of organic and artisan cheese. Pushing a strand of thick, wavy hair from her face, Austin is not bothered the name has stuck.
"What's important is the fact people have discovered if you love cheese, this is the place to get it. And we love nothing more than sharing our knowledge and passion for cheese with our customers."
Experimenting and pairing different cheeses with wine and various spirits with her husband Jason and long-time friend Pierre Robert created the impetus for Austin to open Chasing the Cheese, just over two years ago.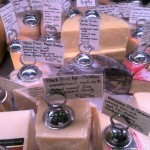 "We were frustrated we didn't have access to the great cheeses we were trying for ourselves," says the petite blonde who holds a degree in Hotel and Food Administration. "The trips I was making to St. Lawrence Market and other areas were becoming more and more frequent. Before I knew it, people were giving me lists of the cheeses they wanted me to get for them. Friends started telling their friends I was going to the city, and suddenly I was bringing back all of this cheese to Peterborough."
It took just a few months for Austin to realize she needed more storage for all of the product she was purchasing, so she went out and bought a gigantic fridge. "It took up the majority of the space in my kitchen," she laughs. "But it made me realize the dream of running my own business was becoming a reality."
As she guides me past display cases filled with thick slabs of Avonlea Cheddar, Bleu d'Elizabeth, Mont St. Jacob and at least a hundred more farmstead organic and artisanal cheese, Austin explains she and her staff like to have fun when describing their favourite fermented product. "Meaty, full-bodied, rindy, velvety; there's a fun bit of innuendo associated in these descriptives. And when we really love something we all agree — it's cheese porn."
Today, Austin employs staff who share in her passion and love for one of the most ancient and simplistic foods life has to offer. "When you think about it, cheese is fermented milk," laughs Austin. "It's pretty basic. That's why we really enjoy experimenting with pairings and being creative with descriptions for the cheese, because enjoying food with friends and family should be fun."
It shows. There is a rich and vibrant atmosphere at Chasing the Cheese that is as much a reflection of the people who work at the store as it is the product that's sold there.
"One of the best aspects of the store is that it's helping people discover how wonderful cheese is, and how many different kinds there are as well as how it's made," says Austin. "People are very discerning when it comes to the food they eat but they also want a pleasurable experience when they shop. I believe that's what we're doing here at Chasing the Cheese. And we're having a lot of fun, while we're doing it.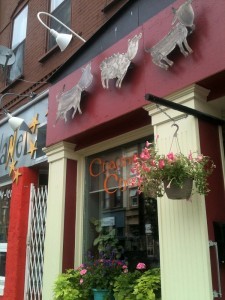 Chasing the Cheese
372 Water Street
Peterborough, Ontario
K9H 3L6
Telephone: 705-775-0525
Hours
Tuesday & Wednesday: 11 am – 5 pm
Thursday & Friday: 11 am – 6pm
Saturday: 10 am – 5 pm
Sunday & Monday: Closed
Every one of the staff picks at Chasing the Cheese hails from Canada, attributed largely to the flavour resulting from terroir.
Bleu d'Elizabeth (photo by Carol Lawless)

Bleu d'Elizabeth

Described as tangy, subtly sweet and creamy, the Bleu is an organic cheese made from thermized milk of both Holstein and Jersey cows. This semi-firm cheese has blue and green veining as well as a natural rind. It hails from the Gaspe region of Quebec. It takes its name from the church rectory of Sainte-Elizabeth de Warwick, located at the front of the farm.
Riopelle de l'Isle (photo by Carol Lawless)

Riopelle de l'Isle

A soft, bloomy rind, hand-crafted cheese from l'lle-aux-Grues. It is named after Jean-Paul Riopelle, a world-renowned artist who lived on the island where the cheese is produced. Cows graze on pastures that are often flooded with semi-salt water, lending terroir to the Riopelle. Fungal aromas are present on the rind and the paste is velvety, creamy and somewhat chalky. A triple cream, this cheese features distinct hints of mushroom and hazelnut with plenty of cultured butter notes.
Avonlea (photo by Carol Lawless)

Avonlea Clothbound Cheddar

A traditional clothbound cheddar, this is an award-winning cheddar that's just 18 months old but tastes like a cheddar that's been aged for two or three years. Moderate acidity, grassy aromas and flavours, the terroir of this firm, rustic cheese is reminiscent of potatoes unwashed near the rind and mashed in the paste. As expected from cheddar, the finish is sweet and tangy.
Mont St. Jacob (photo by Carol Lawless)

Mont St. Jacob

Made at the Fromagerie Blackburn in Quebec, this cheese is semi-soft in texture and is as equally good melted as it is sliced. It features nutty flavours that are noticeable as soon as it hits your palate. Also a favourite because it is salty, rich and meaty.