This Saturday (October 6), 96 players hit the ice for the 8th Annual Patch Cup Hockey Tournament.
The event takes place from 1 – 10 p.m. at the Peterborough Memorial Centre and is considered a favourite in the Hockey Association of the Arts (H.A.A.) calendar.

A cross-Canada organization which encompasses artist friendly teams dedicated to community and fair play, the H.A.A community is made up of like-minded individuals who share a passion for hockey and more importantly, respect for sportsmanship. It's a co-ed league that's attracted Canadian television and radio personalities such as comedian Sean Cullen and the CBC's George Stromboloupolous, musicians Tyler Stewart of the Barenaked Ladies, Andrew Stewart and Chris Murphy of Sloan, and Sam Roberts.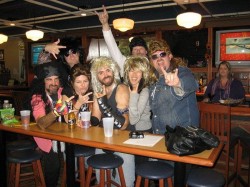 According to organizer Ray Henderson of Peterborough, the teams share a special bond that goes beyond play on the ice.
"The event has become very theatrical," says Henderson of Peterborough's 24-Hour Project fame. "Even the names we choose for our teams — The Stu Live Crew, Rays Against the Machine, and The Dread Wings — are a result of the spirit and fun that's at the heart of this event."
The teams competing for this year's Patch Cup are Barker's Beauties, Disco's Dead, Komando Kalinkas, Sane's Clown Posse, Shaker and the Wailers, and The Marleys.
For the tournament schedule, visit the Hockey Association of the Arts website.