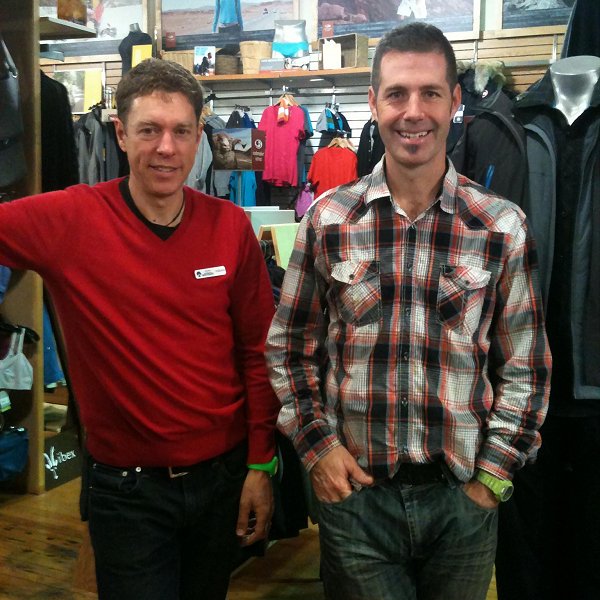 About Wild RockScott's Must HavesLocation Map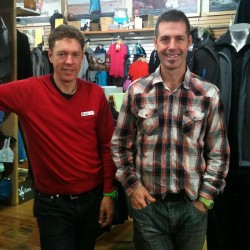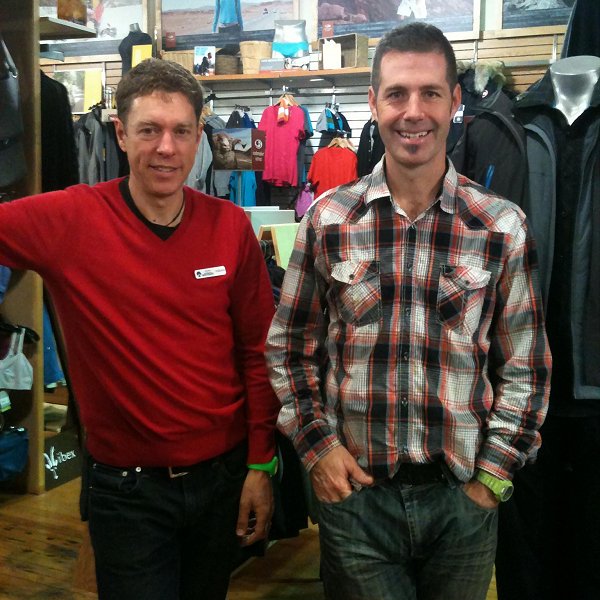 They're older, their hair is shorter, and their faces are now clean shaven. But despite the physical changes Scott Murison and Kieran Andrews have undergone in the past 20 years, their dedication to helping people experience and enjoy the outdoors has remained the same.
"It's always been our goal to help people get the most out of their time outdoors, whether they're cycling, skiing, running or snowboarding," Murison says. "We've always believed we aren't just selling sporting goods — we're helping people have a great lifestyle where sport and physical activity are at the heart."
In 1992, Scott and Kieren were 24-year-olds living in Ottawa, where Scott was pursuing a Bachelor of Commerce degree and Kieran was a self-described "professional ski and climbing bum". Both were working at Blacks, a camping store based in Ottawa, when they decided to create their own business to help people enjoy the outdoors.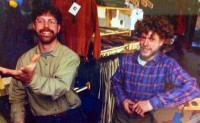 Leveraging Scott's business acumen, they completed market research and decided that Peterborough would be the ideal location for their new business. Not only did the area lack a retail store serving the outdoors community, but it had the right demographics and was surrounded by a natural playground of lakes, rivers and granite.
They started out small, by purchasing a 900-square-foot location at the corner of Brock and George Street (at the YMCA). Within a few years, they outgrew the space and, in 1997, purchased an old bingo hall (previously an A&P grocery store originally built in 1929), gutted it, and renovated it. In the spring of 1998, they moved into their current 8000-square-foot location.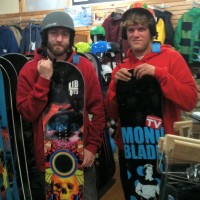 In the spring of 1999, Murison and Andrews expanded the business with an innovative concept for a world-class whitewater retail operation called Boat Werks. The new operation included a traditional store at the Wild Rock Outfitters location, an e-commerce website, and mobile seasonal stores located on the shores of the Ottawa River, Gull River, and Madawaska River.
The Boat Werks concept was so successful that, within three years, it was the largest retailer of whitewater kayaks in Canada. In the fall of 2002, Kieran and Scott sold the Boat Werks portion of the business to long-time employee Jeff Strano. It continues to thrive today.
In March 2003, Scott and Kieran took on two new partners in the business (Dave Woodfine and long-time employee Jonathon Moreno) and launched Bike Werks, a retail operation offering sales and expert service for mountain, road and hybrid bikes.
Using a newly renovated space within the Wild Rock store, Bike Werks offered a fantastic selection of bikes and accessories for anyone interested in two-wheeled adventure. The cycling operation is now fully integrated into the Wild Rock store and they've since stopped using the Bike Werks name.
Wild Rock is celebrating their 20th anniversary with in-store specials between November 10 and 18. Visit www.wildrock.net for details.

Not only is Wild Rock Outfitters a local success story, but it has a one-of-a-kind reputation in Peterborough and the Kawarthas and beyond. The continung success of Wild Rock reflects its owners' passion and commitment — Scott and Kieran truly love where they live and what they do.
"It's the people that live and work in this area that make it such a great place to be," Andrews says. "We really believe we're here to serve the community and to provide them with the best equipment, expert advice and quality service that a company can offer."
"We could have moved to a larger city, but we love the life we have here in Peterborough and the Kawarthas. Like a lot of people, we wouldn't want to be anywhere else."
Must Have for Cycling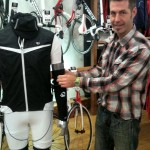 "Arm and knee warmers. You just slip them on your arms and legs and they keep you warm, which is great for early morning or evening rides.
Once you get going and your body temperature warms up, you just slide them off, fold them, and tuck them away in your jacket pocket.
These are ideal and designed to extend the riding season for anyone who loves to cycle. Vests are great too, because they offer added wind protection and keep the upper body warm, wherever you are."
Must Have for Nordic Skiing & Running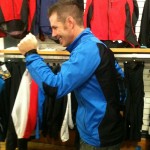 "The majority of nordic skiers are faced with the challenge of keeping the front of your body dry and warm while wicking away the moisture from your back.
A nylon jacket with heavier panels in the front, and thinner material in the back and under the arms, helps to wick away sweat.
The bonus is it also provides added wind protection to help you stay warm, so you can ski for longer periods.
This is also great for running, especially during the winter months."
Helmets are a Must for Snowboarding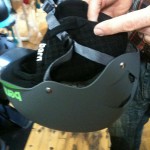 "If you want to go into any of the training parks, you have to wear a helmet. That's just the way it is.
There are so many colours and styles to choose from, there's no reason not to wear a helmet. I wear one all of the time.
I have one with flaps that detach when the weather gets warmer and I can put back in when it gets colder.
The helmets they manufacture today even have headphones built into them, so you can listen to your tunes while you're snowboarding."
Natural Fibers are Always Good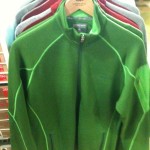 "The biggest problem with the majority of clothing we wear is the fact it's all man-made and, after we've stopped wearing it, it ends up in the landfill.
Clothing (IBEX, ICEBREAKER) that's made from 100% Merino wool helps you stay dry, comfortable and fresh.
I wore the same shirt for 17 runs in a row and it still didn't smell. Kieran was trekking in Peru and he wore the same pair of long underwear for 37 days and they kept fresh and dry.
Another reason it's so soft and comfortable is because the wool isn't bleached. You can buy shirts and briefs and long underwear and jackets for men and women that are made from Merino wool. And once you're done with it, it goes back into the earth — not the landfill."
Barefoot is Better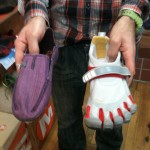 "There are a lot of opinions about barefoot running and the foot wear inspired by it. We carry a number of different styles of shoes suitable for running and casual, every day wear. I've grown accustomed to wearing both.
The key to wearing a Vibram FiveFinger shoe is to allow your body to get accustomed to the change of not wearing something that's designed to build up the arches. You take it slow, maybe walk around the house in the shoes a few minutes at a time, until you feel really comfortable about wearing them and, more importantly, allow your feet to strengthen.
I can honestly say I live in these shoes. They're that comfortable."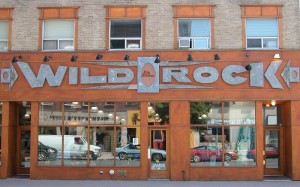 Wild Rock Outfitters
169 Charlotte Street
Peterborough, Ontario
K9J 2T7
Telephone: 705-745-9133
Toll free: 1-888-WILDROC (945-3762)
Winter/Spring Hours:
Monday – Thursday: 10 am – 6 pm
Friday: 10 am – 8 pm
Saturday: 10 am – 6 pm
Sunday: 12 pm – 5 pm
All photos by Carol Lawless except where noted