Hi Ho SilverContact Hi Ho SilverLocation Map
Judy Byrne remembers when she opened her jewelry store more than 20 years ago.
Stretching her arms out on either side of her body, Byrne describes the store that was then called Silver Moon.
"It was in Peterborough Square and it was unique because it was so tiny. It was about six feet wide by 14 feet long. We sold primarily sterling silver because that's what everyone was wearing. Thank goodness we didn't have a huge inventory. We didn't have much room!"
When the store moved to George Street in downtown Peterborough and the name changed to Hi Ho Silver, Byrne's vision — to create a memorable shopping experience for her customers — remained the same.
"The best part of what I do is getting to know and work with the people that come in to Hi Ho Silver," says Byrne, who recently moved again to further expand operations. She is now closer to other fashion retailers in what is described as Peterborough's Fashion District. They also wanted to "further invest in downtown – which is very important to us".
Because we know our customers, we can intuit their needs and that allows us to continually evolve by bringing in new and exciting lines we know they're going to love.
Featuring a variety of Canadian and international labels, custom design, vintage and estate style products, Hi Ho Silver tailors their inventory to fit the style and taste of a clientele that spans from young to old.
"Jewellery is very personal," Byrne explains, choosing a pair of hammered-silver loop earrings for me when I tell her I don't like to wear a lot of bling. "You're wearing a blend of vintage with fresh, new Canadian design. These hoops will be perfect for your style and you can wear them day or night," she says, fitting them on to my ears. "That's why it's so important to understand who your customers are, and what jewellery and accessories will complement their fashion sense."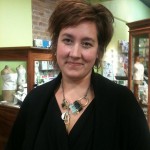 Buying lines they know clientele will enjoy, Byrne and her store manager Glenda Passmore admit to the odd indulgence when they see jewellery that excites and inspires them.
"We can't help it, we buy what we love," says Passmore. "When I see the UPS truck pull up and I know it's a shipment of new Myka or Kameleon coming in, I can't wait to open up the box," she laughs.
"Both the Myka and Kameleon lines are so beautifully designed. Myka is interchangeable or what we describe as 'convertible' (mix and match), because you can switch it up and change it depending on what you're wearing, or even how you're feeling. Kameleon is designed to allow an endless number of combinations for the ultimate in personalization."
Pyrrha is a line that embodies the time, care and commitment that goes into creating a shopping experience that's as personalized as it is memorable at Hi Ho Silver.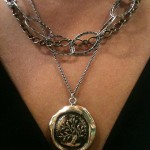 "These pieces are exquisite," says Passmore. "Pyrrha is handcrafted and cast from 19th century wax seals," she says showing me some of her favourite talismans. "The mottos on the pendants and bracelets are as inspiring as they are beautiful. The line is very popular and we're really excited because we've got new pieces coming in soon."
While the focus has been primarily on jewellery, Byrne says when she sees beautiful, well-made hand bags, scarves and hats she feels will complement certain pieces, she incorporates them into the product they carry at Hi Ho Silver.
"It always comes back to helping someone enhance or even create their own personal sense of style."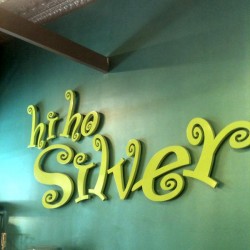 Hi Ho Silver
392 George Street North
Peterborough, Ontario
K9H 3R3
Telephone: 705-742-8903
Hours
Monday to Saturday: 10 am – 6 pm
Sunday: 11 am – 4 pm
All photos by Carol Lawless