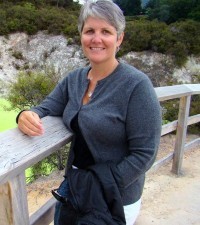 It's no secret that films of substance rarely get the public attention they deserve in Peterborough. Krista English and the ReFrame Film Festival have been working tirelessly to change that.
What began as guerilla viewings in cramped spaces has grown into the region's premiere film event, and is increasingly becoming a draw to the area with many visitors travelling from Toronto and beyond.

ReFrame is the go-to organization for film screenings, as well as an invaluable resource for distribution and public performance information. It may be on a local scale, but ReFrame still creates the electric vibe that only a film festival can. Its reach extends beyond film to include many multi-media partnerships, including live music and a multitude of locally based artisans who display thematically inspired work around downtown Peterborough's myriad independent businesses. The whole city feels alive.

Founded by English and associates nine years ago, the festival has a pronounced emphasis on films highlighting social justice issues, both contemporary and timeless. Lengthy demographic research and market analysis confirmed that Peterborough was ready for its own kind of unifying film event that would procure what exists beyond the multiplex.
"There was an obvious void in the area for documentary and alternative films," English explains. "Peterborough possesses a strong community for film that needs a vehicle. These are hugely interesting stories that otherwise do not get told."
The main role of the festival is curatorship and showcasing stories that deserve to be heard. "Sometimes even if a film's buzz isn't super strong, if the issue is timely or relevant then the story must be told," English says. "As is the case with bigger festivals, those are the films that can sneak up and floor you."
ReFrame features an exceptionally diverse array of films, including prize-winners and audience favourites from the Toronto International Film Festival (TIFF) — but more importantly, much smaller films that would otherwise not be seen in Peterborough. Many of the films are so independent that they would likely never find any form of mass distribution, be it the National Film Board of Canada or an actual physical DVD release. Many of us are guilty of passing over the good or important issues, albeit accidently.
"If a film is on television, the viewer might not stop to give it a chance or know what they're passing by," English says. "So this helps to really give a voice to the smaller films."
Working through a rigorous committee selection process that is careful to avoid oversaturating one particular subject, the festival seeks to truly offer something for everyone and the range of titles grows stronger every year. As well as the usual plethora of documentaries examining environmental issues, human rights, visual art, and everything in between, ReFrame is also introducing some shrewdly chosen fictional films to its ranks.
A huge facet of the festival's programming is its youth-oriented REELKids program, which plays to a growing audience of over 5,000 annually. These specially chosen films screen for schools and families and are a terrific method for creating a social dialogue for younger audiences.

When not in festival mode, ReFrame is active year round collaborating with many other similar community groups facilitating screenings and events for organizations such as Ontario Public Interest Research Group (OPIRG) Peterborough, Peterborough AIDS Resource Network (PARN), and a recent team-up with Jamaican Self-Help to exhibit the acclaimed Bob Marley film Marley to great success.
A major addition to the 2013 festival is a new mobile app designed by BrandHealth Communications in Peterborough. Patrons with an iPhone or iPad can simply scan the QR code on a poster and instantly have access to schedules, trailers, award listings, venues and more.
The festival may be stepping up its game in terms of technology and size, but it remains decidedly for the people, which dramatically sets it apart from bigger organizations such as TIFF. The focus is always on aiding the audience experience and selecting the best films possible, as opposed to premieres and star-wattage. Several screenings will feature Q and A sessions with the filmmakers themselves.
Some of the most hotly anticipated films this season include Ai Wei Wei: Never Sorry (a probing look into the controversy surrounding the extremely innovative Chinese artist Ai Wei Wei), Chasing Ice (a visually spectacular rumination on the state of global warming, featuring intricate time-lapse photography), and Taking a Chance on God (a fascinating portrait of a gay rights activist who happens to be an openly gay priest; the film is sponsored in part by a locally rooted Catholic group).
The festival runs from January 25th to 27th, 2013.
For more information on all things ReFrame, including tickets, venues and other related ephemera, visit www.reframefilmfestival.ca You can also visit kawarthaNOW's ReFrame column for a list of screening dates, times and locations for all the films.
Official trailer for Ai Wei Wei: Never Sorry, which screens at Showplace on Friday, January 25, at 7:30 pm
Official Trailer for Chasing Ice, which screens at Showplace on Saturday, January 26, at 7:30 pm