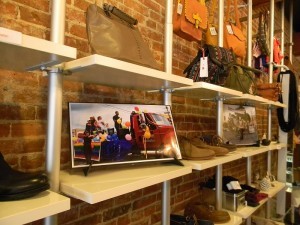 You probably know that the fabulously indie ReFrame Film Fest gets underway on Friday, January 25th. But what you likely didn't know is that ReFrame has a "still" component.
That's right — "Still ReFrame" launches in advance of the film portion, with a reception at the Market Hall on Sunday, January 13th from 4 to 8 pm.
Using visual art to communicate social issues of concern, 11 artists and collectives bring their ideas to venues across downtown Peterborough.
Selected by Krista English, Mickey Renders and curator Elizabeth Fennell, the works of Still ReFrame speak of issues both local and away.

At venues including The Garnet, S.O.S. Save Our Soles, Tia Star Boutique and The Venue — among others — Still ReFrame artists are making interesting, thoughtful, and sometimes arresting visual statements. What makes this beautiful exhibition unique is how visual art has been inserted into what are normally retail environments.
At Bloodline Parlour, the rustic sculptures by Judith Hyland are purely decorative on first view, but just stand in front of these narrative-filled pieces and see the thoughtful detail each piece possesses.
Stop in just around the corner at Catalina, where Brian Nichols' brightly coloured "Houses" spans the large display window, with each house having its own story to tell.
Move on to S.O.S. Save Our Soles and see the social commentary in the photos of Phillip Chee, whose work portrays folks walking our downtown, with each photo drawing attention to specific ideals.
Visit Dear Henry, where Patrick Moore presents his book- and paper-based sculptures, taking what was so ubiquitous just a few short years ago and repurposing these pages with words into lovely and thoughtful objet d'art.
Though the modes are different, the end result is the same: there's nothing "still" about any of these works.
So, while you are anticipating the films of ReFrame, take a stroll through the downtown and check out the art of Still ReFrame. Installations are in place throughout the month of January.
A complete list of artists and venues follows. Hours are by location.
Phillip Chee at S.O.S. Save Our Soles (388 George St. N.)
Elizabeth Cooper at The Garnet (231 Hunter St. W.)
Judith Hyland at Bloodline Parlour (391 Water St. N.)
Beth McCubbin at Tia Star Boutique (10-188 Hunter St. W.)
Patrick Moore at Dear Henry (219 Hunter St. W.)
Barry Mortin at The Venue (286 George St. N.)
Brian Nichols at Catalina Salon (131 Hunter St. W.)
Rob Niezen at Green Eyewear (374 George St. N.)
James Ridyard at Showplace Peterborough (290 George St. N.)
iSpeak Youth Photovoice Collection at Tango (366 George St. N.)
Student Work from Thomas A. Stewart Secondary School – Part I at Black Honey Bakery (217 Hunter St. W.)
Student Work from Thomas A. Stewart Secondary School – Part II at Natas Café (376 George St. N.)
For more information about Still ReFrame, including a description of the artistic works, visit www.reframefilmfestival.ca.
All photos by Jeff Macklin