[tabs style="1″] [tab title="
"Experience the Art of Hospitality"
"]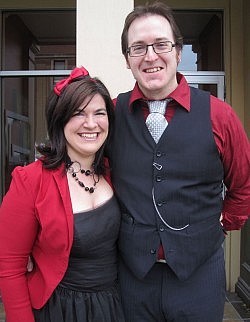 There's nothing Emma Cox loves more than sharing her love of food with the people around her.
"I love to host and entertain people," Emma states. "My greatest joy in life is sharing food with people — and watching them enjoy it."

Proprietor of Parkhill on Hunter for the past two years, Emma's passion for beautiful things is reflected in every detail of this iconic restaurant.
The restaurant embodies a timeworn aesthetic combined with contemporary flair. Polished granite contrasts against stone accents and warm cognac walls create a timeless appeal.
Emma has quietly added her own sense of style, infusing a fresh vibe to the décor.
Every element is perfectly appointed with style and purpose, from the vases of fresh flowers to the ever-changing art gallery on the walls featuring local artists.

Parkhill on Hunter is becoming a more accessible, relaxed dining choice — not just for anniversary celebrations or romantic weekend dinners. Drop in and let daytime Sous Chef Lesley create a quick lunch or after work for a glass of wine at the bar. Have a beer and enjoy Sous Chef Robb's expertly cooked steak or stop in just for dessert.
"We are working towards creating a comfortable place where people come to experience the food," says Emma. "We want our guests to feel at home."
Parkhill on Hunter offers a fresh gourmet menu classically rooted in French and Mediterranean themes with an eclectic flair, and pays homage to local food purveyors whereever possible.
"Our beef is provided by Otonabee Meats, our trout is farmed locally at Linwood Acres Trout Farm, and we even have our own exclusive pheasant farmer," explains Emma.
"We strive to create dishes using as many locally grown and produced ingredients as possible, because these products offer the best quality."

The menu changes quarterly to reflect seasonal availability of specialty products. Customer favourites such as the trout and pheasant are periodically reinvented by Chef de Cuisine James Moore and his team, to incorporate new and exciting flavours.
Seasonal menu changes allow the chefs to flex their culinary muscles and offer guests new tastes — keeping the dining experience at Parkhill exciting and fresh.
The experience of dessert as an art form is pure indulgence. Each creation is hand crafted, in-house by pastry chef Mia.
Throughout the year, Parkhill on Hunter hosts several themed dinners as a means to offer patrons innovative and entertaining dining experiences. Events include wine pairing dinners featuring local wineries and food experts, seasonal dinners and live entertainment.
Emma and her professional front of house staff provide impeccable customer service. All dietary needs and allergies can be accommodated if given advanced notice. Emma strongly encourages her guests to call ahead with any special requests.
"We want to look after each of our guests as if they were family; no request is too small, you simply have to ask."
Emma entertains with grace and has the finesse to make each dining experience unique and truly memorable. Catering to special events, such as private parties and weddings is Emma's forte. If you can dream it, Parkhill on Hunter can bring your occasion to life.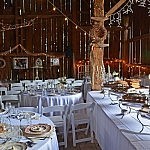 "We have hosted weddings, both on and off site, corporate wine tasting dinners in our private dining room, and romantic anniversary dinners at guests' homes." explains Emma.
"We love to create custom menus for these special occasions and can assist with every detail from décor to flowers to wine selection."
And, for those times when you simply want a quiet meal at home, Parkhill on Hunter offers take-out.
As the late former owner of Parkhill Conrad Croteau used to say, "Food is love." This is a sentiment that lives on today at Parkhill.
"It's all about the food," says Emma. "That's why I bought Parkhill on Hunter! Everyone deserves great food, to be treated like family, and to be surrounded by beauty."
[/tab] [/tab] [tab title="
Contact Parkhill on Hunter
"]
Parkhill on Hunter
180 Hunter St. W.
Peterborough, Ontario
K9H 2L2
Local: 705-743-8111
Toll free: 1-800-905-5398
Fax: 705-743-4035
Email: info@parkhillonhunter.com
We welcome your calls or emails.
Serving Lunch
Tuesday to Saturday: 11:30 am – 4 pm
Serving Dinner
Tuesday to Thursday: 5 pm – 9 pm
Friday and Saturday: 5 pm – 10 pm
Closed Sunday and Monday (please note the dining room is available on Sunday and Monday for reserved private functions only).
[/tab] [tab title="
Location Map
"] [/tab] [/tabs]
Parkhill on Hunter photos by Julie Gagne Photography (www.gagnephoto.com)