The most romantic time of the year is upon us.
Valentine's Day is a time to remind that special someone how much you care. One of the best ways to do that is to put yourself out there and let it all show!
For some, this might involve writing a poem or song or sending flowers. For others, it might mean cooking a fantastic meal for the other person who is always the cook.

Taking a well-deserved break with a glass of wine, snuggling into your cozy pants, and not having to rush to a reservation in -20° is about as romantic as it gets. What you need to do is put down the take-out menu, take out the smart phone and make a shopping list.
The best way for you to warm up that special someone is to cook a heartwarming, heart-healthy (after all February is also Heart and Stroke month), and awe-inspiring Valentine's Day dinner.
With Valentine's Day occurring on a weeknight, you want to make the event quick and easy so you can get the dishes done and the kitchen cleaned up — and move on to beating the cold "Canadian style" (boys, this is not watching hockey). Here's a great way to warm up your sweetheart, which should take less than an hour and needs just a little pre-prep. For dessert, try some fresh fruit with a dark chocolate fondue (see recipe below).
Pan Trout with Garlicky Rapini and Horseradish Yogurt
Ingredients
4 cups (1 L) roughly chopped rapini
(280 g) fresh trout fillets
1 tbsp (15 mL) olive oil
1/2 tsp (2 mL) sea salt
1/8 tsp (0.5 mL) freshly ground black pepper
1 tbsp (15 mL) chopped garlic
2 tbsp (25 mL) fat-free plain Greek yogurt
1-1/2 tsp (7 mL) prepared horseradish
Directions
In a pot of boiling water, cook rapini for 1 to 2 minutes or until almost cooked through. Drain and rinse with cold water. Drain well, gently squeezing out excess water. Set aside.
Drizzle both sides of trout fillets with half of olive oil and sprinkle with half of the salt and pepper. Heat a nonstick frying pan over medium-high heat. Add trout and cook for 6 to 8 minutes, turning once, or until cooked through. Remove from frying pan and cover to hold warm.
Divide fish, rapini and remaining rice between two plates. In small bowl, stir together yogurt and horseradish; spoon over fish.
This dish is best served with brown rice (just follow the bag instructions), but be aware that it will take longer to cook the rice than your trout and rapini.
Makes 2 servings. Per serving: 480 calories, fat 24 g, omega 3 polyunsaturates 3.8 g, sodium 710 mg, carbohydrate 29 g, fibre 2 g, protein 37 g.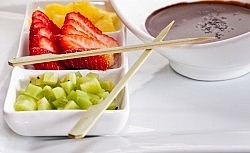 Dark Chocolate Fondue with Fresh Fruit
Ingredients
4 cups (1 L) fresh fruits (strawberry, pear, pineapple, kiwi), bite-size and washed and dried
6 squares (6 oz) bittersweet baking chocolate or 2 bars (100 g) organic dark chocolate (70% or more)
Directions
Place chocolate in a medium-size glass bowl and heat in microwave on medium until the chocolate is melted (about 2 minutes). Stir to blend.
Serve immediately as a dip for the fresh fruit.
Makes 4 servings.