Order of Good Cheer at Parkhill on Hunter
With the wild weather we have been having this year, it's easy to commiserate with early colonists in the Bay of Fundy who gathered together as the first members of the "Order of Good Cheer" — using food, wine and good fellowship to survive those early Canadian winters.
Richard Chamberlain, owner of the By Chadsey's Cairns winery, is joining Emma Cox and her staff at Parkhill on Hunter for their very own "Order of Good Cheer" dinner. Join them for a five-course dinner with wine pairing. Dinner starts with tantalizing appetizers starring locally sourced products including Staples' maple syrup, Linwood Acres' smoked trout, and Crosswind Farm cheeses; these dishes are paired with such delicacies as rabbit terrine, quail eggs, and smoked Ontario duck breast. Savour rich heritage clam chowder, treat your taste buds to a salad featuring beets, chevre and walnuts, and indulge in a trio of pheasant.
The meal wraps up with house-made cheesecake and a selection of artisan cheese (courtesy of Chasing the Cheese) served with house made local jellies and chutney.
The dinner takes place on Thursday, April 4 at 6:30 p.m. at Parkhill on Hunter (180 Hunter St. W., Peterborough). For more information, call 705-743-8111 or email info@parkhillonhunter.com.
---
Seasoned Spoon Café at Trent University — Serving sustainable and ethically produced food
Located at Trent University, the Seasoned Spoon Café is a dynamic, independent café providing students, staff and community members with ethically produced foods and academic opportunities to engage in environmental and food issues.
As a non-profit cooperative, the Spoon community supports local growers through the purchase of high quality organic and ethically traded food.
In addition to being a café, the Seasoned Spoon grows its own fruits and vegetables during the summer at seasonal gardens located on the rooftop of the Environmental Science Centre and on a small parcel of Trent's agricultural lands.
In the winter months, the Seasoned Spoon relies on the recently built Root Cellar, a unique building used for storing seasonal food. The Root Cellar adds both social and environmental value to the Trent University's community. Storing food grown on campus exposes students and community members to sustainable growing practices and ecological food storage methods.
The Seasoned Spoon Café is open from 8 a.m. to 3:30 p.m. Monday to Friday. Visit www.seasonedspoon.ca for further details on special events, including the Raise the Shelves Party and Silent Auction and their 10th Year Anniversary Celebration.
---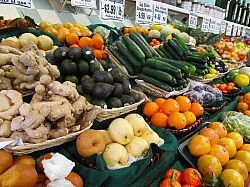 The Brookdale Market — Buy local, eat fresh, live longer
Do you remember that wonderful fruit stand in the parking lot of Brookdale Plaza? You know the one — with the juicy strawberries and sweet corn?
It's now a full-fledged market called none other than The Brookdale Market.
Robert Wilson opened the new store by invitation from owners of the plaza. The Brookdale Market specializes in local and Ontario-grown farm fresh fruits and vegetables, maple syrup, honey, goat cheese and milk, organic breads and pasta, and grain-fed beef, pork, and chicken.
Products come from such local purveyors as Kawartha Dairy, Traynor Beef Farms, Dreams of Beans Roasting House, Crosswind Farm, Sandy Flat Sugar Bush, Robert and Jill Staples, and RJ's Fresh Produce.
The Brookdale Market is located at Brookdale Plaza (829 Chemong Road, Peterborough) and is open from 9 a.m. to 6 p.m. Monday through Friday and 10 a.m. to 5 p.m. on Saturday (it's also open on Sunday from May to October). For more information, call 705-874-3769.
And don't worry — it's business as usual for the fruit stand come the summer!
---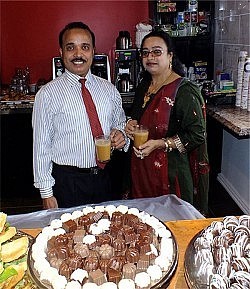 A taste of India at Shafiq's Chai Bar
At the corner of George and Lake Streets in Peterborough sits a little café serving the sweet, warm, delicious nectar from India known as Chai Tea.
Owner Shafiq Rahman (of Shafiq's Taste of India) opened this little hot spot in order to share this healthy beverage.
Chai has many inherently beneficial properties. The black tea in chai is low in caffeine, rich in antioxidants and the spices in chai — cinnamon, cardamom, cloves, black pepper, nutmeg, Chinese Star Anise, ginger and fennel — have been used for thousands of years to treat various ailments and to promote general health and well-being.
According to ancient Indian philosophy and medicine, these spices are considered to be calming, vitalizing and mentally clarifying — the perfect antidote to the stresses of modern life!
Located at 25 George St. N. in Peterborough, Shafiq's Chai Bar serves an impressive array of coffees, teas, breakfast, soups, salads, sandwiches, Indian specialties, and baked goods.
Shafiq's Chai Bar is open for breakfast, lunch and snacks from 9 a.m. to 3 p.m., Tuesday through Sunday. For more information, call 705-874-2424 or visit www.chaibar.net.