John Abrams: Remix Moderne
Currently residing at the lovely Evans Contemporary gallery is a juxtaposition of bold yet subtle wood sculptures, alongside a few equally striking oil paintings — all by artist John Abrams.
Curator Paolo Fortin has managed to take works (which have been ignored by Abrams' stable of galleries) and exhibit them well in this gentle space.
Both the sculptures and painted works are given plenty of breathing room, allowing each piece to be independently stronger.

The paintings, with a mix of themes, may seem a bit ordinary on cursory inspection. But if you spend a few minutes with them (each isolated with plenty of white wall), the richness of technique begins to emerge. Icebergs and portraits of FLQ members really stand out.
The sculptures — built from old canvas stretchers and assembled with an eye to the shape and form of modern, mid-century works by Henry Moore and others — cast a quietly dramatic pose.
Also take note of the lovely shadows which play in the light around them.
This show runs until March 29 at Evans Contemporary (302 Pearl Ave., Peterborough). For more information, visit www.evanscontemporary.com
---
Artrepreneur – An overview on the day
Held on February 12 at The Market Hall in Peterborough, Artrepreneur was billed as a day to explore the "business side of the art world". Hosted by Peterborough Area Business Advisory Centre, Kawartha Lakes Small Business Enterprise Centre, and the Northumberland Business Advisory Centre, the day was all that — and more.
The keynote speaker was Tommy Street, who spoke about bringing the new music label Seventh Fire Records (www.seventhfirerecords.com) to market.
While Tommy's talk was music based, many of the ideas he brought forth are easily applied to visual art, writing, and theatre ventures. There was a lot of buzz about how this upstart label is making the 7″ vinyl single cool again (like it ever wasn't). The techniques Seventh Fire uses, including film trailers, were very well received.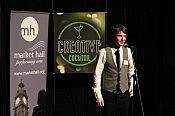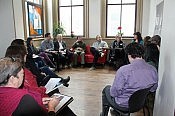 The day was filled with panel discussions covering topics such as best practices for planning a creative business, pricing your art, and creating meeting points between artists and buyers.
This was year two for Artrepreneur, and the quality of information presented just keeps getting better. If you're a creative, looking to make a go of it with your passion, then watch for this event in February 2014.
---
James Ridyard: New Work
James Ridyard is not new to Peterborough, though he did spend the better part of the past 30 years in Toronto. He's back in town, and his passion for place is front and centre at an exhibition at Parkhill on Hunter.
James aims to breathe new life into forgotten places. His work in oils and pastel are gentle, filled with light, and often presented on less-than-traditional panel shapes.
When discussing James' work, people will often refer to Monet. That's pretty accurate. Pastoral and gentle, both in colour and form, these works set a lovely tone. Even city and indoor scenes have a freeing and loose feel, portrayed through a lively line and bold use of colour.
The pieces are mostly big too. The main dining room and bar area at Parkhill are alive with art right now. Drop in and check it out.
James Ridyard's work is on display at Parkhill On Hunter (180 Hunter St. W., Peterborough) during the month of March.
All photos by Jeff Macklin except where noted.