The first thing that comes to mind about Antarctica is not likely food. But if you are going to spend any time there it should be the second.
In 1996, several volunteer groups arrived at the Russian research station in Antarctica, Bellingshausen, for an environmental project organized by Carol Devine in collaboration with the Russian Antarctic Expedition.
The Antarctic Book of Cooking and Cleaning is a journey through that austral summer — the story of a Russian-Canadian clean-up project on a small island 120 miles off the Antarctic Peninsula.

A total of 54 people from four countries were paid to pick up 28 years of garbage on their holiday on a continent devoted to peace and science. Garbage is a problem everywhere, but in Antarctica it doesn't even decompose. It's too cold.
The book is also a look at the challenges of cooking in a makeshift kitchen at the bottom of the world, as cook Wendy Trusler feeds volunteers during the long white nights. Whenever adventure beckons, an open mind and a full stomach are necessities.
The book features more than 40 recipes inspired from visits to the kitchens of each country at the station, including Great Wall Dumplings from the Chinese, Canada House Cazuela from the Chileans, Pollo Relleno from the Uruguayans, and Maple Borscht, Kapustnik (cabbage pie), and many more from the Russians. Written in a style that places the reader in the kitchen cooking alongside Wendy, with practical solutions the home cook will find relevant, the recipes are an eclectic mix of home cooking gone international. Wendy demystifies large quantity cooking and offers insight into what to cook when the finest, locally grown ingredients aren't available.
The Antarctic Book of Cooking and Cleaning pays homage to the determined explorers and scientists of this ice continent. All early explorers endured unimaginable conditions surviving on penguin meat and some on dog paw stew. Taking inspiration from the writings of historic polar explorers, such as Shackleton's South Polar Times and Sir Douglas Mawson's Adelie Blizzard, The Antarctic Book of Cooking and Cleaning draws on the journals, letters, recipes, menu plans and provision lists of Carol Devine and Wendy Trusler written from December 1995 to March 1996. Woven throughout are historic and contemporary images, vignettes and observations, warnings and wisdom from Antarctica's short history.
---
Wendy Trusler's Journal – An excerpt from The Antarctic Book of Cooking and Cleaning
February 21, 1996
5:30. Having a lazy afternoon as I spent the morning in Chile touring their kitchen, mess and stores, chatting about food and recipes with Fernando and Manuel. The way they pointed out wares on the tour of their provisions and bodega was comical – as though this might be the first time I'd ever laid eyes on such products. Given shampoo, a demitasse, and some mystery sweet thing Fernando going to teach me how to cook. Promise that he is going to bring me cognac and some other surprises when he comes on Sunday. Manuel said something to the effect, "You are like Princess Diana." Must be my fashion sense.
Lunch afterwards with Zuniga and officers, as well as officers and captain from Chilean supply ship, downloading oil today. Meal of Cazuela as it is Wednesday and the reason for my visit. Very good, but I like mine better. Got a few more recipes from Zuniga – hope Fernando will be able to translate for me. Z asked me to make cazuela for him before he leaves. Must remember to make bread with less honey when he comes, perhaps deliver a loaf to him and guys in the kitchen. Promise from Felipe he will take us flying to other stations when the weather is better.
Other events: Saw two crabeaters migrating through camp today. Volodya Driver taught me the word for old maid today (staraya deva). Ouch. Saw Su-Chong and Doc from Great Wall – invited for dinner there on the 23rd. I'll go early to hang out in kitchen. Plans to have Diesel guys for dinner tomorrow. Cabbage pie and roast beef or steak, bread and roasted garlic, soup, cheese, olives, spuds and veg. Pancakes for dinner tonight – my favourite. Must get the recipe from Vladimir Cook.
February 22, 1996
Absolutely magnificent day. Sun, warm, no wind. Up early, wrote all morning finally dressing at noon. Learned how to make cabbage pie with Lena. "I feel like at home. It's my family's pie. My mother always cooks it, my sister, everyone."
Later. Skiing on rise behind Canada House. Snow bad – a thick layer of skiable corn snow but it won't hold to the ice underneath. Grade not particularly difficult, but I'm cautious given the rocks piled where the pitch ends and the dodgy run off so close to the best snow. Skuas overhead, shadowing my run and climb back up for another. And where the snow ends moss and lichen so thick I can't resist putting my face to it. Play of sun on Nelson Island glacier. Skuas approaching boldly as I lay on the mountaintop. Dancing, yelling, laughing. Slid down the un-skiable parts, walked home by the lake, ski poles up for protection, dodging diving skuas. Sauna. Then up the hill to cook dinner for the Diesel guys. A real pleasure to cook for them and treat them to a home cooked meal. Got some chuckles when I served chicken skewered on nails.
Chicken bites; soup; bread; roasted garlic; cheese; cabbage pie; roast beef with cognac sauce; baked spuds with sour cream, bacon, cheese, scallions; chocolate mousse with chocolate shavings.
---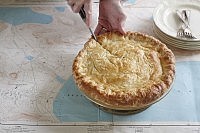 Lena's Cabbage Pie – A recipe excerpt from The Antarctic Book of Cooking and Cleaning
Cabbage is right up there with root vegetables, dried fruits and legumes for reliable expedition foods. My appreciation for the humble cabbage's versatility increased immensely over our project, especially after I made this savory pie with Lena. The pastry is an exceptional hybrid of a yeast dough worked like puff pastry. Served with a light salad, a good sharp cheese, dried sausage, pickled onions, cornichons and grainy mustard it makes an impressive lunch. Lena claims it is her family's pie.
---
Wendy Trusler is a Peterborough-based artist. Carol Devine is a humanitarian who lives in Toronto. The Antarctic Book of Cooking and Cleaning is a limited edition published by Vauve Press. Visit theantarcticbookofcookingandcleaning.com for more information.