On Hunter Street in the centre of Peterborough's restaurant district, Karma's Cafe offers a casually elegant, yet almost understated, atmosphere.
Karma Phuntshok opened the restaurant in 2004 and credits his success not only to his repeat customers, but to his loyal, dedicated and hard-working staff.

Vladimiro and Monyroth, Karma's two inspirational cooks, have been with him for eight years and six years respectfully and share his passion for the food.
Karma is on-site almost daily to ensure the quality and consistency of each dish and fully believes in the philosophy that simplicity and fresh ingredients are the key to the success of each dish.
Specializing in Himalayan, Thai, Tibetan and South Asian cuisine, Karma and his team of dedicated cooks create dishes alive with flavours that captivate your taste buds. Staying true to the heritage of each dish, Karma uses authentic ingredients, spices, components, and flavours.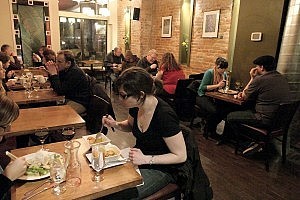 Take a gastronomic journey as you sample dishes from the far reaches of the globe. Savour a wide array of starters including Tibetan momos, crispy Thai spring rolls, and rice or noodle hapjes — seasoned patties served with a sweet and sour sauce.
Sip tangy and spicy soups from Vietnam and Thailand. Stir your imagination with succulent bowls of noodles flavoured with coconut milk, cilantro, lime leaves, and Thai basil. Or heat up your palate with curries and rice dishes from India.
The flavours at Karma's ensure something for every taste bud, and there's a wide selection of items on the menu suitable for vegetarian and gluten-free diets.
Karma's Cafe is open daily for dine-in or take-out. Reservations are recommended.