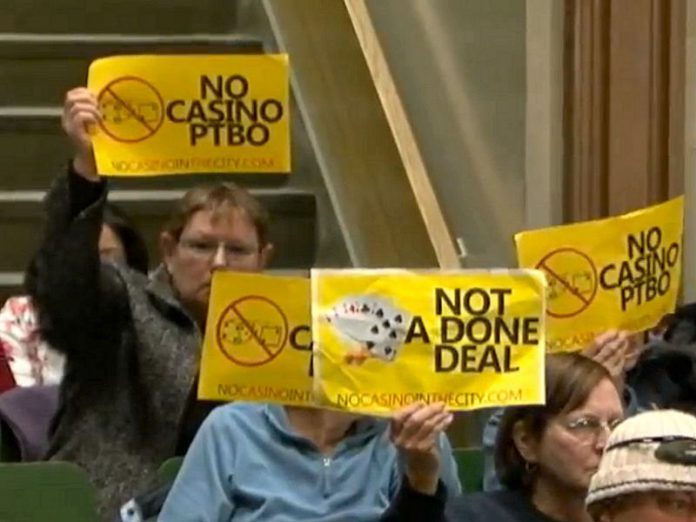 When I sit down every few weeks to write about what's bugging or inspiring me, I start with the intention to write something nice — "non rantish" if you will.
Inevitably, something happens in the preceding few days that gets me riled up. Try as I might to move past it and stay positive, I find myself 500 words into a rant and it's too late to turn back.
This week was no different.

On Monday, March 18, Peterborough City Council held a meeting in the auditorium to discuss allowing the OLG to put a casino in Peterborough.
They held it in the auditorium at Thomas A. Stewart Secondary School in order to accommodate the large crowd that was anticipated to show up.
After about 120 people took their seats in the auditorium, 34 delegates began to speak and to present their take on a Peterborough casino. The overwhelming majority said "No thanks!" to the idea of a casino in their community.
Some of the delegates were accused of spewing too much rhetoric — something that council is quite familiar with — while others kept their comments clear and concise. One speaker, Maryam Monsef, suggested that a public referendum be held to decide on the fate of a casino coming to Peterborough. A referendum is an excellent idea and props to Maryam for tabling it. It would give the voting public the power to decide on whether or not a casino comes into our city.
After all the speakers had finished voicing their resounding opposition to the idea, the councillors voted. Boy, did they do it in typical fashion. Council voted 10 to 1 in favour of a casino operating within the city limits. I don't mean to state the obvious, but clearly they ignored the points of view that had been tabled all night.

Councillor Keith Reil was quoted on Monday night as saying, "Gambling is already here but the revenue has been going to Cavan Monaghan Township." He went on to say, "We experience the social disadvantages for having a casino without having any of the financial advantage." He was also quoted as saying, "We've had a healthy dose of hypocrisy here tonight" — insinuating that everyone who exercised their democratic right to voice their concerns were essentially hypocrites.
To add insult to injury, not only was the vote 10 to 1 in favour of a casino, but council claimed that only a minority of Peterborough residents are against a casino — even though most people who showed up were against it (one even provided an anti-casino petition with almost 1,000 signatures).
So, if the majority want a casino, where are they? They're certainly not making their voices heard.
Council also immediately shot down the idea of a referendum because, you know, that's too much like democracy.
Given the tone of the night and how all the councillors — with the exception of Councillor Henry Clarke, who was the lone dissenting vote — kept referring to the money that could be made, the 10-1 vote shouldn't be a surprise. One after another, councillors spoke up like preprogrammed soulless robots, repeating the same "money, money, money, jobs, money, money" mantra. All of them were basically saying "Screw it! We've got problems — we might as well make money from them, too."
To clarify: I don't think that casinos are the basis of all the evil in the world. I don't think having a casino near Peterborough is a bad thing, but I do think that having a casino inside the city limits of a small community to "stimulate the economy" is a lazy and piss-poor effort to grow our town.
I've read and heard people throwing around all the figures that council has provided to the public, including that a casino would bring 600 jobs and $3.7 to $4.8 million per year to Peterborough. Councillors themselves touts these numbers and why wouldn't they? They made them up.

All of the numbers (employment, revenue, tax dollars) are estimates made by the City of Peterborough and not by the OLG, which is exactly why they aren't the same as the numbers that have been lobbed around for a potential casino in Belleville, for example.
So we're essentially being sold on something using facts that may or may not be right. Sort of like blindly buying a really expensive car that may or may not have an engine.
I've also observed people using Casino Rama as an example of how a casino can give back to its community. To those folks, I'd like to point out that their community was receiving 37% of net profits from the casino up until 2008 — a much larger number than what would be expected in Peterborough. It's also the largest First Nations casino in all of Canada, so we're not exactly comparing apples to apples are we?
So why am I concerned with Peterborough's current state of affairs? Well, first it was the police services board debacle … then police de-amalgamation … then artificial turf fields … then Shoppers Drug Mart … and now this. City council is showing us time and again that, while they may give us a chance to share our thoughts, they couldn't care less about what we think.
Democracy is damn hard work. It involves many varying opinions butting heads, but ultimately coming together to work on a compromise that provides reasonable solutions for all the parties involved. Anything worthwhile in life is always damn hard work. Marriage is the perfect example of needing to work hard to be successful. If you have two people in a marriage and one them just does whatever they want whenever they want, the marriage is destined to fail.
Democracy breaks down sometimes when politicians voted into office become lazy, arrogant or pompous and just do what they want. Like a failed marriage, those same politicians usually don't enjoy long tenures in office.
I look at council and I see a desperate and overwhelming need for economic improvement weighing heavily on their shoulders. At 9.9% in February, Peterborough's unemployment rate is the highest of Canada's 33 census metropolitan areas. It seems like our economy has stalled.
However, the way a government weathers a storm like this defines them and the decisions they make will be felt for years to come. If our city gets a casino, it won't be "here today, gone tomorrow." It will be here for the long term. You don't get a gimme in politics — you have decisions and their consequences.
At the end of the day, I may very well be in a minority group of people who don't want a casino inside the city. I may be a lone voice preaching to no-one about something I believe in. But then again, I may be part of the majority. The truth is we won't ever be able to identify the majority and minority because our council lacks the common sense to allow the public to decide on its own fate — they'd rather shove their decisions down our throats.
This is the second of two articles by Pat Trudeau on the debate about a casino in Peterborough. Read the first one here.