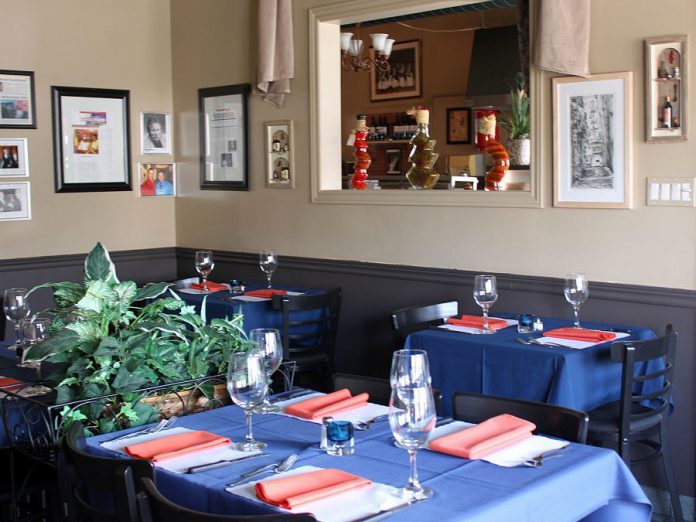 Everything is new at The Original Greek
The Original Greek, on the corner of Water and Parkhill, has received a spring facelift.
The new look is fresh and modern, less cluttered, and is reminiscent of beachside dining in Greece.

The new hues of blue, gold and orange envelope the space in warmth and tranquility, and pick up the tones in the artwork. The open kitchen has also been transformed by new stone siding and frosted glass.
The menu has been updated offering fresher and healthier dishes with a Mediterranean flare.
Start your meal with a variety of mezes — Greek for tapas. These small dishes or appetizers are great for sharing and include dolmades, seafood antipasto, saganaki, and wide array of flavourful dips and pita.
Enjoy more salad options for lighter dining, or feast on one of the new two-course dinner entrees including colourful vegetarian dishes, seafood, chicken and beef specialties, and daily steak and fish specials.
Flights of wines are also back. Not sure which of the new "pocket-friendly" wines to enjoy? Sample three different ones throughout your meal.
Reservations are recommended. Call 705-742-7374.
---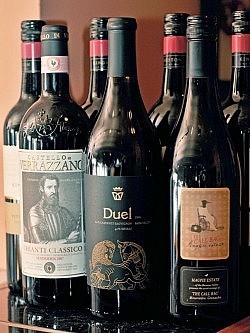 Wino Wednesdays at Rare Grill House
Rare Grill House is aptly named — not only is the restaurant a uniquely superb grill house, but it carries a selection of rare wines.
Graham, the front-of-house manager at Rare Grill House, is a wine lover and enthusiast with a great palette and is in charge of purchasing the wines. Rare Grill House offers two wine lists: one features wines available through the LCBO and the more robust Reserve Wine List features limited wines only available only through a broker. The wines on the Reserve List are real gems, nicely aged and usually a bit pricier.
Wino Wednesdays were created to showcase rare and wonderful wines at fantastic prices. Some wines available on a Wino Wednesday have included Belle Glos from Napa Valley (for $40 instead of $80), Nero d'Avola from Sicily (for $16 instead of $32), and a 2008 Touriga from Portugal (for $20 instead of $40). Dinner specials on Wednesdays are created to match the featured Wino Wednesday wines.
Reservations are recommended. Call 705-742-3737 or visit www.raregrillhouse.com.
---
Peterborough MusicFest Diner's Card
The local music festival's ever-popular Diner's Card is once again available, offering a "buy one entrée, get the second one for half price" promotion.
A book of coupons rather than an actual card, the Diner's Card offers great value at 30 participating local restaurants. There's a wide variety of restaurants to chose from, including bakeries, family restaurants, ethnic favourites, and even a couple of fine dining establishments — perfect for a quiet dinner for two.
Many local restaurants have participated in the Diner's Card year after year and see great value in this promotion. And, for the diner, it's a great way to try a new restaurant and support the MusicFest.
The Diner's Card is valid from time of purchase until November 30, 2013 and can be purchased at a variety of locations throughout Peterborough.
Visit www.ptbomusicfest.ca for a complete list of restaurants and to purchase your card today.
---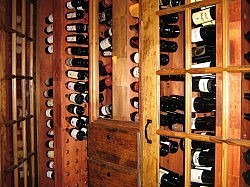 Brio Gusto Wine Club
Brio Gusto houses a sophisticated and impressive wine collection, and has created a wine club for those who want to share their passion for wine.
The format is very laid back and is in no way a structured tasting, but rather a fun and informative gathering of wine enthusiasts. Everyone attending a meeting is asked to bring a bottle of wine and some relevant information about that wine and the reason behind the choice, based on a theme.
For example, the theme might be a grape, a region, a country, or a particular process of aging a wine.
You can experience 15 or so new wines while savouring gastronomic delights crafted by Chef Andrew Orde. Enjoy intellectual conversation, and expand your palette and knowledge of wines.
The Brio Wine Club is hosted by owner Lindsey Dupuis and meets on various Sunday afternoons at 4 pm. The next meeting will be held on June 2nd. Simply call the restaurant at 705-745-6100 to be added to the list. For more information, visit www.briogusto.com.