It was Christmas 2009 when my sister Erin Howcroft and brother-in-law Clint Howcroft began to notice something was wrong.
Their son Ethan — my god son — was lethargic and began napping often. He was tired, pale, and generally feeling under the weather.
His condition continued to worsen and, sensing something was wrong, Erin brought Ethan to the Peterborough Regional Health Centre (PRHC) to have him checked out.
A quick blood test showed something was indeed wrong and he was airlifted to Sick Kids in Toronto on February 8, 2010.
The Howcroft family will never forget that date, as later that day doctors diagnosed Ethan with Acute Lymphoblastic Leukemia or ALL for short. Ethan was six years old.
The diagnosis was devastating, but the outlook was positive. The chances of Ethan beating this were strong, but the fight would not be easy. Luckily, the staff at Sick Kids were thorough, determined, and comforting at a time when this family needed it most.

Ethan was kept in Sick Kids for two weeks initially. The first goal was to stabilize his condition with platelet transfusions. Five days after he was admitted into the hospital, they began chemotherapy.
Twice during that first stay, Ethan underwent Bone Marrow Aspirations — a process by which bone marrow fluid and cells are removed from the bone via a large needle. This process is incredibly painful, as you can imagine, but necessary for this type of leukemia that targets the bone marrow and then spreads out to the organs.
The first two weeks were incredibly hard for everyone, but most all for Ethan. He suffered from a severe allergic reaction to a platelet transfusion, fear and uncertainty from the diagnosis, side effects from the chemotherapy, and confusion from being a child in a scary situation. All the while, he kept smiling.

When fighting leukemia in a child you pretty much throw everything but the kitchen sink at it. For Ethan it was intense chemo for the first six months and a handful of drugs to combat the side effects. The steroids caused irregular weight gain and made his face puffy. The chemo gave him rashes and caused his hair to fall out. One of the chemo treatments caused a reaction which lead to massive blood clotting in his head. The clotting lead to him suffering a Sinus Venous Thrombosis, which is a type of stroke. Now, in addition to the chemo, he'd receive a daily injection of blood thinners. All the while, he kept smiling.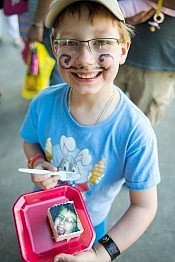 After those first six months, he began daily oral chemo, steroids, antibiotics, and got a monthly chemo injection through a port that doctors had inserted into his chest. By now, Ethan was seven.
Every three months, he would receive lumbar punctures so that they could inject chemo right into his spinal fluid. Another incredibly hard and painful procedure that needed to be done in order to overcome this disease.
Since September of 2010, Ethan would receive his monthly chemo treatments and bi-weekly blood work on the sixth floor of PRHC. Dr. Peter Hughes and nurses Shay and Jodi became regular fixtures in young Ethan's life.
It was a long, hard-fought battle between this little boy and this awful disease.
He had to watch what he ate and when he ate it. He had to be careful of how he was playing and that he wasn't pushing it too hard. Every winter since the start of treatment, he fought pneumonia — some times twice! All the while, Ethan kept smiling.
Then, on April 14, 2013, after more than three years, nine-year-old Ethan finished treatment and entered remission.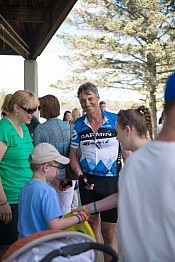 A few weeks before Ethan was set to wrap up treatment, his mom asked him what he wanted to do the first day treatment was complete. Ethan's response was classic and sheds great insight into his impeccable sense of humour.
One of the things Ethan had to be mindful of throughout treatment was that he wasn't able to eat anything after 7 p.m. Some nights were harder than others, but for three years Ethan stuck to his fasting routine. Without skipping a beat, Ethan answered his mom: "I'm going to eat a giant sandwich RIGHT before bed!"
It had been three years of fighting every day; of taking drugs that would help save his life but beat him up from the inside out while doing so; of being painfully poked and prodded. It had been three years that saw this already-great little boy grow up into an amazingly strong, intelligent, and determined young man.
This past weekend, Ethan's family threw him a Remission Rocks! party at Beavermead Park in Peterborough. Ethan was surrounded by his family, including his two older sisters Claire and Julia. A better part of Ethan's school showed up as well to celebrate with their friend as he started the next chapter of his life.
Over three years, this little boy had touched the hearts of so many people. He had fought diligently and had been humourous and "himself" through it all.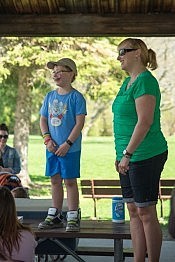 It wasn't just his family and friends that he had an impact on either, as was evident when Dr. Hughes and Nurse Shay showed up to the party so that they could give Ethan hug and congratulate him on his success.
It's a funny world we live in. A world filled with false heroes and misaligned priorities. People who can sing, dance, act, or shoot a hockey puck are labeled heroes. We look up to people whose hero status is based on unbelievably mundane skills.
Over the last three years I've had one hero. This past Sunday, as Ethan stood on a picnic table to thank his friends and family for supporting him these last three years, I found myself holding back tears for what this little boy had achieved and how humbly he had done so.
This little boy who asked for nothing — but deserved everything.
For those of us grown-ups who feel we deserve more, there's something we can learn from Ethan Howcroft. Ethan wasn't given what he wanted. He was handed a life-or-death situation in which his only choice was to fight for what he wanted. If we all fought half as hard, imagine how much better off we'd be.
So whether it's a singer or a hockey player, you may have your heroes and you may believe that they are as tough as nails. However, I can guarantee — without a shadow of a doubt — that my hero is the toughest, strongest, funniest, and most deserving of hero status because, frankly, he kicked cancer's ass.