"End of Daze" by Rebecca Padgett and Dale Brownson's fantastical cityscapes at Gallery in the Attic
Rebecca Padgett's work is bold and highly abstract, featuring large, dynamic pieces that exude energy. Layers of colour are splashed, flicked and sprayed across surfaces, in orange, black, blue and white.
There is nothing timid about these works. While Padgett's previous works are more representational, these new pieces are not.
Highly graphic in nature and sometimes erring on the graffiti side of art, these pieces are commercial in look and feel. They wouldn't be out of place as backdrop for a fashion shoot.
Displayed on and along the warm surrounds of the Brick Room, Gallery In The Attic is the place to see them.
As for Dale Brownson's show in the Work Room, the mood is definitely conflicted.
His large, wildly energetic pieces are at first dark and distressed. Large crowds of characters are found within various environments. The way he's able to take the lethagy and dim tone and infuse light is remarkable. Via a palette of oranges, yellows and white, Brownson steals a glimmer of sunshine into what would otherwise be some of the most harrowing visual art I've seen in some time.
The work of both artists is on display until June 1 at Gallery in the Attic (140-1/2 Hunter St. W., Peterborough).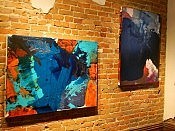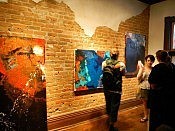 ---
"Built/Environment" by the Little Red Hen Artists Group at Gallery in the Attic
This collective of more than 40 artists (full disclosure: of which I am a current member) change up most of the disparate work each month. This lends an element of surprise, as members either work to a predetermined theme or strike out on their own with works across a multitude of mediums.
Watch for a lovely and large new piece from Joe Stable, as well as a great selection of new crafts — perfect for gift giving (Mother's Day approaches).
The show takes place in the Framing Room until June 1 at Gallery in the Attic (140-1/2 Hunter St. W., Peterborough). The gallery is open Tuesday through Saturday from noon until 5 p.m.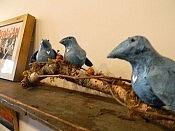 ---
"As Witness: New Works from Zimbabwe" by Brian Nichols at Dreams of Beans
Brian Nichols paints from experience. His paintings are dark memories — coloured with joy. A defined African aesthetic consumes the works hanging at Dreams of Beans (138 Hunter St. W., Peterborough).
With vivid colour and even more distinct detail — along with overlayed images, mandalas and other visual nuances — Nichols transports viewers to some harrowing moments in time.
Time is running short, as the exhibit is on only until May 12. If you do miss this show, put Brian Nichols on your wish list — the work is honest, bold and very powerful.
Across Hunter Street at Catalina's Salon (131 Hunter St. W., Peterborough), you can catch Brian's other show "Covering Up: Corruption" — works on t-shirts. One hundred percent of sales go to support the communities Brian works with in Zimbabwe.
---
Ongoing work by Brianna Gosselin at Stickling's Bakery & Bistro
Local artist Brianna Gosselin, who wears many hats in the arts community (member of the Little Red Hen collective and a teacher at the Art School of Peterborough), always finds time to make lovely visual art.
Often you'll find her work on the walls of Stickling's Bistro on Charlotte Street and this month is no different. With the end of the Spark Photo exhibit, Gosselin has taken the opportunity to adorn the walls with fresh work. Always colourful and always playful, Gosselin is branching out — no pun intended. If you know her work, you know she loves trees. This time around, glowing koi and whimsical forest creatures appear, as the tone becomes a little bit more fantastical.
Always lovely work. Make sure to stop by for a peek.
The show is ongoing and new pieces are being added at Stickling's Bakery & Bistro (191 Charlotte St., Peterborough).