[tabs style="1″] [tab title="
About Stoneguide Realty
"]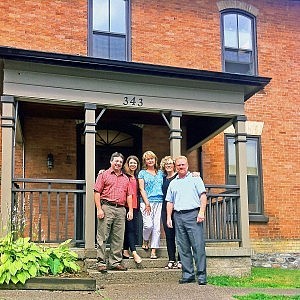 From the moment you step into the Stoneguide Realty office in downtown Peterborough, it's clear this isn't your typical real estate agency.
On the second floor of the handsome red brick heritage building at 343 Stewart Street, you'll notice stunning inukshuk artwork and photography, warm modern colours, and bright sunlight streaming through the large windows. Instead of the din of office equipment or clacking keyboards, you'll hear the laughter and conversation of the five team members who comprise the Stoneguide Realty team.
The story of Stoneguide Realty begins in the early 1990s, when Ben Shaunghnessy suggested to Tom Bennett that he obtain his real estate license. Having been part of the Peterborough real estate community since 1985, Ben felt Tom had what it took to be a successful agent and wanted someone he could trust to work closely with.
Tom jumped in with both feet. "That's when the bottom fell out," Tom recalls, shaking his head in reference to the market crash of the early '90s.
Instead of quitting, both realtors used the market challenges as an education in the ups and downs of the real estate industry — which today better serves the clients with whom they work.
The two agents went on to build successful careers in Peterborough with large franchise real estate offices. Both Ben and Tom earned the Royal LePage Award of Excellence for achieving production in the top 10 percentile for more than five consecutive years, and Ben received Royal LePage's Director's Platinum Award, recognizing his sales achievements as one of the top 5 percentile across Canada.
But both men felt something was missing from the large franchise offices: the spirit of camaraderie and teamwork that inspired Tom to begin a career in real estate in the first place. And that's where the Stoneguide concept of togetherness and interconnectedness began.

Tom and Ben formally established Stoneguide Realty in 2006 with the goal of creating a unique boutique-style agency. Seeing similarities between the bond they seek with their clients, Peterborough and each other, they chose the iconic Canadian Inukshuk to represent their brand.
Everything that guides them in business — most notably the realtors they choose to join the Stoneguide team — comes back to teamwork and trust.
"As a smaller office, we work very closely together as a team," Tom says. "While we each conduct our business individually, we also support one another. Unlike larger offices where there's rankings and competition, our office is based on support and mutual success."

Cathy Burningham, Kendra Buckton and Sheri Dietrich — all longtime Peterborough residents — round out Stoneguide's team of full-time professional real estate agents. Each brings her own unique set of skills and industry experience that make Stoneguide even stronger.
From Cathy's background in the construction and renovation industries, to Kendra's ownership of successful rental property, to Sheri's operation of a design studio, their diverse yet complementary experiences have helped Stoneguide Realty build a business based on referrals from happy homeowners.
"We do use traditional advertising including newspaper listings, but most of our business comes from repeat clients and referrals", Ben explains. "We don't get walk-in listings or inquires like a typical real estate office might."
"Social media also has a lot of power," Tom adds. "If people aren't talking about their experiences with a particular real estate agent at a neighbourhood BBQ party, then they're sharing them on Facebook and Twitter."
Ben points out it's not the details of a real estate transaction that Stoneguide Realty does differently — they dot their i's and cross their t's just like every other real estate professional. It's their approach to leading a client safely through a sale or purchase of a home that makes them different.
"We've actually talked clients out of buying a house," Ben notes. "When emotions run high, it's tempting to overbid on a property. We lay out the facts for them: will this house still be as valuable when they go to sell it five or ten years from now? The answer is usually no."
They take the same experienced and practical approach when a client lists a property with Stoneguide Realty. Their average sale price is 97% of list price and their average time on market is 49 days, proving that they understand the local real estate market and have their clients' best interests in mind.

But what truly sets the Stoneguide team apart is its collective dedication to Peterborough and its citizens. Ben, Tom, Cathy, Kendra, and Sheri are all committed to helping Peterborough's charities and service groups. This spirit of philanthropy is evident is their amazing accomplishments:
Tom is a current member of the Rotary Club of Peterborough-Kawartha, serving as president from 1999-2000. He also served as district governor in 2008/2009, representing and overseeing 45 Rotary Clubs in central and northern Ontario as well northern Quebec, and continued on as a Rotary leadership trainer. Currently chair of the 2013 Peterborough and Area United Way campaign, Tom has seen first-hand the positive effects philanthropy has on the community.
Instrumental in organizing the annual Scotiabank-Stoneguide Golf Tournament, Ben helped raise over $98,000 for the Alzheimer Society.
While Cathy has worked with Community Care, it's her efforts with the Peterborough Chapter of the Huntington Society of which she is most proud: she's has been recognized with a merit award from the Huntington Society for her service.
Kendra became involved with minor hockey clubs in Peterborough when her daughters began playing the sport, but her commitment goes beyond being the bleachers, having volunteered as a trainer and executive member.
With their clear and positive vision of building a community — and not just by selling a house to someone — the members of the Stoneguide Realty team are working together to help make Peterborough stronger.
[/tab] [tab title="
Contact Stoneguide Realty
"]
Stoneguide Realty
343 Stewart Street
Peterborough, Ontario
K9H 2J3
Office: 705-742-2800
Toll free: 1-866-626-2899
Fax: 705-750-0800
Web: www.stoneguide.ca
Email:
Ben Shaunghnessy – ben@stoneguide.ca Tom Bennett – tom@stoneguide.ca Sheri Dietrich – sheri@stoneguide.ca Cathy Burningham – cathy@stoneguide.ca Kendra Buckton – kendra@stoneguide.ca
[/tab] [tab title="
Location Map
"] [/tab] [/tabs]
All photos by Jennifer Pinarski except where noted.