Considering a new coat of paint to freshen up your cottage? Or maybe some new flooring in those high-traffic areas? Or how about some shutters for those hot summer days?
Bobcaygeon's Town and Country Decorating Centre, located in the heart of cottage country in the Kawarthas, can help you with all of that.

With the complete line of Benjamin Moore products on their shelves — from the high-end Aura series to contractor-grade Ultra Spec — repainting your cottage is simple.
You can find everything, from products for prepping your walls to professional quality paint brushes and tools to help with clean up, at Town and Country Decorating's 50 Anne Street location.
For cottagers investing in their home away from home, Town and Country Decorating Centre truly is a one-stop shop — or perhaps one-stop showroom is a more accurate description given their wall-to-wall samples of flooring and window coverings. Chances are that, even if you've only planned for a fresh coat of paint, you'll be inspired to take your reno to the next level when you lay your eyes on the many samples of gleaming hardwood, plush carpet, and stylish shutters.
"We've helped a few cottagers with some truly spectacular renovations," says manager Scott Livie.
A current project for a Bobcaygeon-area cottage family includes installing Shad-o-Matic automated blinds that can be controlled by a solar-charged battery pack. "Shade-o-Matic also has great-looking shutters," Scott adds.
The Ontario-based window covering company's shutters not only offer privacy to the cottager, but they also increase the energy efficiency of a home (with an average R value of six when the shutters are closed).
The technology that goes into manufacturing floor coverings also benefits cottage owners who want to renovate their floors. Vinyl plank is resistant to both heat and cold — important for seasonal residences — and comes in a huge variety of patterns and colours. But nothing can beat the timelessness of hardwood flooring. Quebec's Preverco the first choice for cottagers looking for earth-friendly floors with distinctive finishes.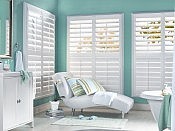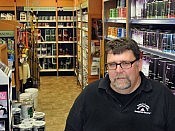 If you're researching a cottage renovation, Town and Country Decorating's website at www.townandcountrydecorating.ca is the best place to start. Weekly blog posts that highlight their top-selling products are sure to be a source of inspiration. Their Facebook page is also a great source of colour and design trends, with Benjamin Moore's popular Color Chat series a favourite.
Along with Benjamin Moore and Shade-o-Matic, Town and Country Decorating carries other popular and desired brands such as Kentwood Flooring, Preverco Hardwood, Peerless Carpet, Armstrong, and Torlys.
Started 25 years ago by Scott, his father Fred and mother Diane, Town and Country Decorating is a family-run business with years of experience and expert knowledge to help with your decorating and renovation needs.
Rounding out the team are design consultants Shannon and Ellen, along with a group of experienced and reliable installers.
If you're considering improvements to your Kawarthas-area home or cottage, you'll want to visit the lovely village of Bobcaygeon and check out Town and Country Decorating Centre. They're open Monday to Friday from 8 a.m. to 5:30 p.m. and Saturday from 8 a.m. to 5 p.m. (closed Sundays).
Photos by Jennifer Pinarski except where noted.