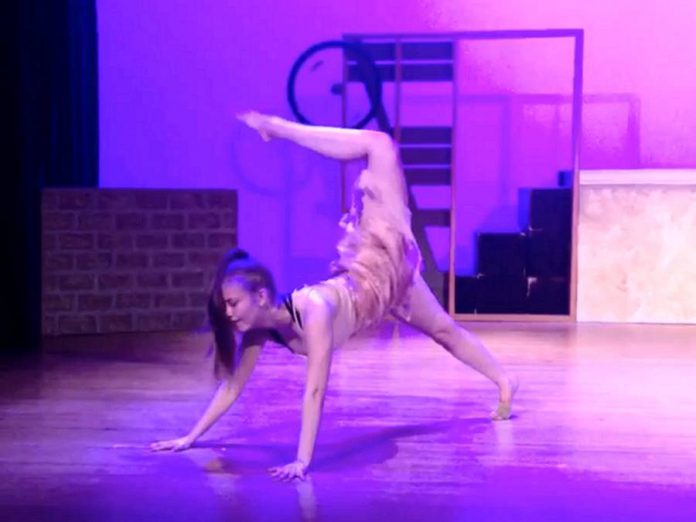 Now I'm going to admit it: I don't know much about dance. I've never studied it, and I can't do it. Dance is, more or less, something I watch from the sidelines.
However, I do know a thing or two about mental illness, which is the subject of "Erasing the Stigma", presented by Art for Awareness and the Peterborough Dance Collective. In 2005, I was diagnosed with an anxiety and depressive disorder that threw my life into chaos. Once I sought help and understood what was happening to me, I was able to restart my life — resulting in a happier and more productive existence.
Mental illness is often misunderstood and often goes untreated due to the shame, negativity, and secrecy that engulf the people who suffer from it, as well as families who are affected by it.
One in four Canadians suffer from mental illness, meaning that somewhere in our lives someone we love or care about is mentally ill. While awareness about mental illness is slowly becoming commonplace, it still carries a stigma. Not long ago, a well-meaning friend advised me that I shouldn't discuss my own battles with mental illness for fear of what others might think. I continue to watch friends and family members suffer as a result of their own lack of understanding and their refusal to get help.

"Erasing the Stigma" — led by director/choreographer Rachel Bemrose — attempts to open the doors of awareness and discussion about mental illness through dance, music, spoken word, storytelling, and drama.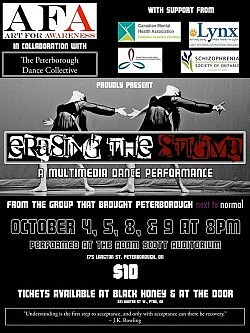 There's no doubt that Bemrose has brought together a dynamic and talented group of 26 dancers, ranging from pre-teen to adult. The group numbers featuring the teenage dancers are dynamic, and their energy and strength drew me into the drama.
A number of standout moments run throughout the performance, including a sweet dance number featuring Madison Stewart and Oliver Moriarty, and the finale by dancer Jessica Burrett who gracefully defies gravity as she conquers the full stage on her own.
I also have to give credit to the nine small girls who were dealing with some heavy material through their dance performances. At one point, they play what I heard Bemrose refer to as "Spirit Babies" (basically the ghosts of miscarried children). These little girls were not just graceful and playful, but eerie to watch.
The most impressive performance for me was the incredible interpretive dance of an anxiety attack — as someone who has suffered these attacks, I know how they feel. Bemrose and her dancers are able to express the feelings of pain, panic, and claustrophobia of an anxiety attack as the world spins out of control around you.
It's a bold and well-executed piece of art.
The glue that holds the production together are the real-life stories of mental illness shared by people in our own community — including a number of members of the cast and crew. Subjects range from depression, suicide, post-partum depression, schizophrenia, addiction, self-mutilation, self-esteem issues, and isolation. The result is a very intense evening, leaving the audience with much to think about.
"Erasing the Stigma" isn't without a few mixed messages. The most dynamic number of the night is a spectacular high-energy latin/mambo dance performance featuring drug dealers hooking girls on lines (a metaphor for drug addiction). The entire scenario is so thrilling and sexy that at no point does it makes addiction look unattractive. In fact, it's the most joyful moment of the entire evening.
Furthermore, a number that depicts people's battle with anti-depressant medication seems to dangerously preach against them — despite the fact that these medications are often necessary for people to clear their heads and rebuild their lives. Although the performance suggests alternatives to medication use, the message seems to create another stigma rather than erasing one.
For me, what the night truly lacked was a real overall feeling of hope. Mental illness can be a bleak subject to which to devote an entire night. Even in the final moments of the performance, the melodrama never ended. The truth is that — with proper treatment, medication, and therapy — we can lift the veil of confusion caused by mental illness for a happier existence.
"Erasing the Stigma" does offer two positive messages about mental illness. The first is "try to forgive yourself, because that's the hardest thing" — wise words and incredibly true. The second is that nobody who's dealing with the effects of mental illness in their life has to be alone.
At the best of times, "Erasing the Stigma" is captivating and riveting, filled with a talented and dynamic cast, and it's sure to open further discussions on the topic of mental illness. But it also deals with a complicated topic and leaves unexplored some important aspects of mental illness.
Preview trailer of "Erasing the Stigma"
Photos by Art for Awareness