[tabs style="1″] [tab title="
About the School
"]
Art is the expression of creative skill and imagination in a visual form, producing works to be appreciated primarily for their beauty or emotional power — at least according to the Oxford Dictionary.
To Jenni Johnston, the new Executive Director of the Art School of Peterborough, art has a different definition for everyone … and it's more than just what hangs on a gallery wall.

In speaking with Jenni, I learned that in our hearts everyone can be an artist; we just have to leave our inhibitions behind.
"Art is a universal language that can convey a message, evoke a feeling, at any age and any skill level," Jenni says.
"Art breaks down barriers, allowing even a true beginner — who may not even be able to draw a stick person — to create a visual masterpiece."

Using the popular Creative Tots class as an example, Jenni emphasizes that art should be fun.
"Parents are shocked when I tell them not to correct their child's 'mistakes'," Jenni says. "I want children to know it's okay if they can't draw a straight line, or if they colour in their snowman black. The joy on the children's faces — that's what art is about."
"Art is also about the process," she adds. "I aim to recreate this joy of process in all Art School of Peterborough classes, with students both young and old."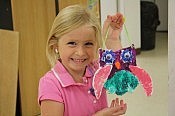 Fostering that early sense of creativity, and providing an environment in which artists feel comfortable, is what makes the Art School of Peterborough such an important part of the city's arts community. "Artists who come through our doors, regardless of skill, become a part of our community," Jenni says.
With the school recently celebrating its twentieth anniversary, Jenni now focuses on the future. She's proud of the courses and workshops that the Art School offers — all a result of listening to what the community asked for. Alongside courses in oils, acrylic, watercolour, pottery, jewellery, and drawing, are new innovative workshops featuring fused glass, animation, and felting.
"We're also fostering the local arts community by offering the Business series and Artist's Series of workshops," says Jenni. In these workshops, established artists and individuals — such as Anne-marie Kornachuk, Lucy Manley, and Fynn Leitch from Artspace — share their techniques and knowledge with registered students.
The school has also taken a fresh turn in the community by engaging with local organizations such as Community Living, the Kawartha Turtle Trauma Centre, and more. "We want to establish strong relationships with individuals, artists and organizations in our community," Jenni explains.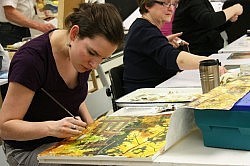 Important to note, it's not just the types of courses that have changed but also the duration.
The school's eight-week courses have all been extended to 10 weeks.
"We discovered students were just hitting their stride as the eight-week courses ended," Jenni recalls. "By changing them to 10-week courses, instructors are able to give students that extra time to help them further their skills."
The end result is not only pieces that students are very proud of, but confidence in their new skills and a stronger bond with the school.
Jenni credits the kindness of the Art School of Peterborough's instructors with the school's success. "The instructors truly want students to succeed, often offering their own time to help a student out," she says, noting that instructors are also pleased with the changes.
Instructor Brianna Gosselin agrees that the innovative new courses and longer sessions help Peterborough build its arts community. Both Brianna and Jenni feel that the school's welcoming atmosphere nurtures camaraderie among artists and students.
Furthering the goal of bringing more artists together, the school also opens its doors to members wishing to explore their skills at their own pace. Open studio and pottery studio memberships are available, with the pottery studio being a favourite with new members.
"Many people are introduced to the school through Pottery Date Night," Jenni explains. In this fun 2 ½ hour evening session, couples can create as many as four bowls or mugs.
"The couples may be husbands and wives or mothers and daughters," Jenni says of the diverse students at Pottery Date Night. But the one thing they have in common is that they have little or no formal art training.
"A pottery wheel is less intimidating than a paintbrush," she notes. "It allows individuals to experience something new together, it's engaging, and done in a fun environment."
For every course designed with a budding artist in mind, there is also one that helps artists improve their craft. The school offers courses in advanced drawing, watercolours, oils, pottery, and jewellery making, as well as new courses for artists wanting to turn their hobby into a business.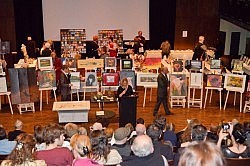 As a not-for-profit organization, the Art School of Peterborough relies on their two major fundraising efforts, the Art-A-Thon and the Art Auction, to help cover the school's operating expenses.
Now in its eighteenth year, the Art Auction is the school's marquee event, having grown to include live music and live and silent auctions.
Last year's inaugural "Celebrity Pots" saw local celebrities spending time at the school prior to the auction crafting one-of-a-kind pottery bowls, which were then auctioned off.
Jenni plans to offer Celebrity Pots again at this year's Art Auction, which takes place on November 30, 2013.
"Money raised during the Art-A-Thon and Art Auction does more than just keep the lights on," Jenni points out.
The Richard Hayman Mentorship Scholarship and the Art School of Peterborough's Richard Hayman Youth and Adult Bursaries are supported through the fundraisers. The scholarship and bursaries provide opportunities for individuals who can't afford tuition or supplies to attend camps, courses, and workshops.
In other words, fundraising and scholarships open the school's doors to new members of the school's "family".
The joy on Jenni's face as she talks about the Art School of Peterborough — to me, that's what art is about.
[/tab] [tab title="
Jenni's Top Class Picks
"]
For Children and Youth (ages 6-12)
Fused Glass Insects with Val Cowie
Saturday, November 23, 2013

For more information and to register, visit www.artschoolptbo.org.
---
For Teens (ages 13-18)
Portfolio Development with Hilary Philips
Saturday, January 4 and Sunday, January 5, 2014

For more information and to register, visit www.artschoolptbo.org.
---
For Adults
Byzantine Bracelet with Sandy MacFarlane
Sunday, October 20, 2013

For more information and to register, visit www.artschoolptbo.org.
---
For Potters
Pottery Memberships

For more information and to register, visit www.artschoolptbo.org.
---
[/tab] [tab title="
Contact the School
"]

Art School of Peterborough
178A Charlotte Street
Peterborough, Ontario
K9J 2T8
Phone: 705-742-3221
Web: www.artschoolptbo.org
Email: artschoolptbo@nexicom.net
[/tab] [tab title="
Location Map
"] [/tab] [/tabs]
All photos courtesy of the Art School of Peterborough.