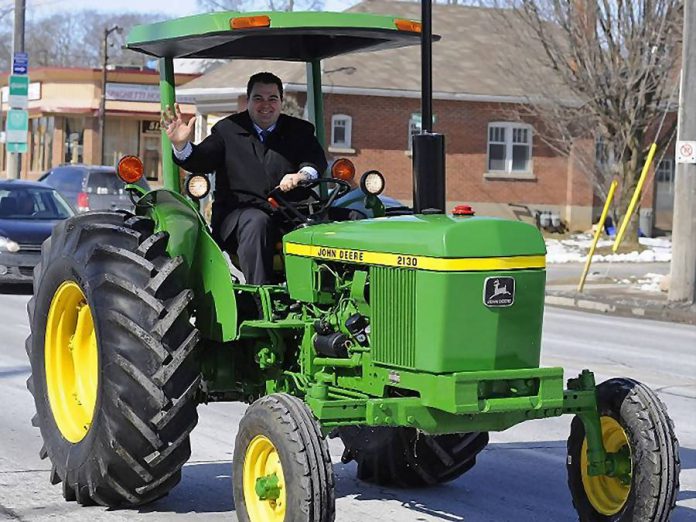 It's been a tough year for Peterborough MP Dean Del Mastro and, over the course of the last week or so, things have gone from bad to worse.
If for some reason you hadn't heard, MP Del Mastro has been charged with four counts under the Canada Elections Act.
It was an ironic shift in energy as he spoke at a breakfast meeting on September 26 (whose audience included fellow MPs) which Del Mastro was hosting for a retreat.
The retreat sounded like it was quite lovely, especially since Del Mastro hosted a private cruise up the Trent-Severn Waterway after the waterway had already closed, forcing workers to "volunteer" to operate the locks — but that's another subject entirely.
It was only a few hours after that breakfast that Elections Canada announced the charges against Del Mastro — three of which were shared with Richard McCarthy, Del Mastro's official campaign agent.
The moment that the news broke reactions began pouring out onto social media and, within a few days, local newspapers were printing letters to the editor on the subject.
One such letter said that "Dean Del Mastro is the hardest working MP we have ever had. The Liberals had the sponsorship scandal of $300 million with $42 million directed to the Liberal Party … I'm suggesting that allegedly overshooting his election limit by $21,000 of his own money is minor in comparison." (Peterborough Examiner, September 28, 2013).
On the subject of Del Mastro being the hardest-working MP we've ever had — that's obviously a matter of opinion. I would also quip that perhaps if he were working smarter, not harder, he wouldn't be in this mess. As for pointing out the seriousness of a previous offense by a competing party as Del Mastro's "hall pass" to break the law … well, I bet there are a lot of criminals who wish you were a judge.

I should be quick to point out that we do indeed need to allow the courts to decide guilt and that, until proven otherwise, Dean Del Mastro is an innocent man.
I should also point out that this is only one political tree to have fallen in Del Mastro's backyard — I have a feeling there's a second waiting to fall.
When all this began to play out over a year ago, the allegations did not only include questionable accounting on Del Mastro's part. They also included questionable donations to his campaign by employees of his cousin's business. Former employees of that business have alleged that Del Mastro's cousin gave them each a cheque for $1,050 with the agreement that they would make a $1,000 donation to Del Mastro's campaign. Those $1,000 "donations" would also be put down on their tax returns as deductions.
Now the charges that Del Mastro is facing under the Elections Act are serious. There's a potential for five years in jail for these types of charges. I'm not sure how the other campaign donation allegations would reflect on Del Mastro legally, but I don't imagine they'd bode well for him. I have to be clear here: these are only allegations. Don't take them as fact until they are proven that or otherwise.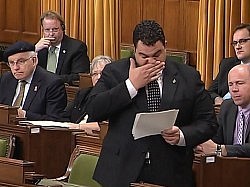 The charges under the Elections Act took over a year to file, a fact that had a lot of people up in arms. Dean Del Mastro himself famously stood before the House of Commons and teared up reading a prepared speech in which he voiced his displeasure with the length of the process, among other things.
My take on it is that, given the amount of corruption brought to light in the Conservative Party in the last year, the investigation took as long as it did because due diligence was required to create a strong case and compile accurate evidence.
If that theory holds water, I think the same may also be true for the campaign donation allegations made last year.
What you believe likely lays in the same sand as the political party you vote for.
If you vote Conservative, then you probably think Del Mastro is innocent and being chased down by Liberal rabid dogs. If you vote Liberal, then you probably think Del Mastro is guilty and that he'll get off of any charges because those pesky Conservatives get away with everything.
I'm not Conservative or Liberal. I'm not NDP or Green Party. I'm a free thinker. I'm a person who realizes that issues are far too complex to be solved by one train of thought. So my opinion on the subject is this: I haven't a clue if Dean Del Mastro is guilty, but what I know is that he's an embarrassment to this riding. Whether Dean is guilty or innocent, he doesn't have the positive energy that our riding deserves.
And back to an earlier point: unless you consider it's hard work arguing to review abortion laws, pushing closed-minded uneducated views for copyright laws, and insulting one of the greatest women to ever call this country home, I think it's safe to say that MP Del Mastro's been asleep at the wheel during the best of times.


Report on CBC's The National about the Del Mastro charges