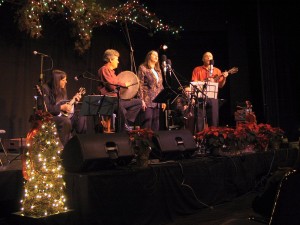 In From The Cold, Peterborough's coolest Christmas concert, is back for its 14th year on Friday, December 13 and Saturday, December 14 at 8 p.m. at the Market Hall.
Tickets are $17 (including all surcharges and taxes) and are available at Moondance (425 George St. N., 705-742-9425) or online from the Market Hall website at
www.markethall.org
.
In From The Cold was launched in 2000 by a group of Peterborough musicians who came together to establish an annual Christmas concert that would be unlike any other.
In a few short years, In From the Cold had become the hot ticket of the Peterborough Christmas season, selling out the Market Hall for two nights every year.
Over the years, the concert has raised approximately $80,000 for Peterborough's Youth Emergency Shelter.
As always, this year's show will be anchored by the acts that give In From the Cold its unique sound: folk/vocal group Carried Away, Soulstice Canadensis (featuring Curtis Driedger), The Convivio Chorus, fingerstyle guitarist Michael Ketemer, and Celtic harpist Tanah Haney.
This year, for the first time, In From the Cold will feature a different special guest on each night.
Friday night's special guests will be homegrown jazz phenoms Aaron Hoffman and Sam Gleason. Aaron Hoffman is an award-winning pianist and recording artist currently in his fourth year of studies at Humber College. Guitarist Sam Gleason, also a Humber grad, is a recording artist and performer who has shared the stage with Michael Occhipinti, among others.
Saturday night's special guest will be the multi-talented Beau Dixon, who was a big hit at In From the Cold last year.
Here's what you will see and hear at this year's concert:
Christmas carols and seasonal folk songs from Spain, England, Wales, Brittany, the Shetland Islands, Kentucky, and France
The sweet sound of instruments rarely heard at Christmas concerts, including Celtic harp, hammered dulcimer, banjo, concertina, tin whistle, fiddle, and bouzouki
The lush harmonies of Carried Away and the Convivo Chorus, featuring two new original choral arrangements by Susan Newman and John Hoffman
More Christmas originals from Curtis Driedger and band of intrepid local youngsters
Spirited contemporary music from Beau Dixon, one of Peterborough's best-known performers
Aaron Hoffman and Sam Gleason's new jazz arrangement of Joni Mitchell's "River".
Past Comments About In From The Cold
"The Yuletide cheer was enhanced by a cadre of talented Peterborough musicians presenting a charming and laudable program for the capacity house … A great cause, a great crowd and another outstanding night for Peterborough, the Youth Emergency Shelter and our plentiful local talent." – Jonothan Fiddler, The Peterborough Examiner
"In From the Cold is the start of the real Christmas season." – Concert patron