The main floor of Pete Hewett and Karen Hjort-Jensen's house looks like a war room. Large bristol board mockups of traffic routes are positioned throughout the hallway of their East City home. A large table normally used for dining is covered with pads of paper, brochures and handouts.
Rob Steinman, a retired teacher and the leader of a growing protest to stop construction of a Parkway extension bridge through Jackson Park, is sitting on the couch wearing cords and a t-shirt. A bright red "NO Parkway" button pinned to the front of his blue ski vest.
Exhausted from weeks of campaigning to stop the development and protect the urban-wooded park located in the heart of Peterborough, Rob says the $67 million bridge through Jackson Park will only solve 10% of traffic problems in the north end.
"People are surprised when they hear the proposed road will only save approximately three minutes of driving time," Rob explains while sipping a cup of tea. "We had a lot of people come through our booth at the 10th Annual GreenUp Expo at Lansdowne Place who weren't aware of this fact, and it changed how they felt about the proposed development. Five to one were not in favour of building a bridge through Jackson Park."
At the heart of the community-based and volunteer-driven Parks Not Parkways campaign are people committed to preserving greenspace in the City of Peterborough, including the Peterborough Greenspace Coalition — an alliance of Friends of Jackson Park, Friends of Peterborough Trails, the Peterborough Field Naturalists, and NO Parkway.

"We've all come together under this one umbrella to oppose building the bridge because we're committed to sensible, sustainable development," Karen says.
"The campaign has literally taken over our lives," Karen adds, nodding to her partner Pete. "But what are you going to do? We can't just sit back and let this happen."

The City's consultant, AECOM, takes its environmental assessment recommendation (the full Parkway with a bridge through Jackson Park) to Council's Committee of the Whole on November 13, with Council voting on the proposal on November 20.
AECOM is recommending a staged approach to construction that will ultimately see a four-lane road through most of the Parkway greenspace — from the existing Parkway at Clonsilla Avenue through to Chemong and then two lanes to the Zoo.
This will include a four-lane bridge that will span Jackson Park, four double-lane roundabouts, and one new traffic signal, as well as sound walls, rerouted streams, and raised roadways. The existing trail will run alongside the new road.
"They want to pave over precious greenspace, build sound barriers and new intersections with more traffic lights," Pete says, shaking his head. "What is now one of our largest and most significant natural habitats and a wildlife corridor for deer, fox, porcupines and many other animals will become 2.5 kilometres of walled street."
"While other cities are doing everything they can to preserve and protect greenspace, we're going to pave over what so many people love about this city: it's natural beauty."
Aside from the significant environmental impact, extending the Parkway through Jackson Park will also have economic consequences.
"Right now our downtown is fairly vibrant," Rob notes. "The Parkway extension will take people away from the downtown core and businesses will be hurt."
The four-lane project will cost approximately $67 million (for land acquisition and construction costs) and $236,000 per year to maintain. Land is to be acquired in 2019, the road and bridge is to be built in 2020, and the project will be operational by 2021.
However, once approved, the project could being construction at any time — as early as spring 2014.
Jackson Park's lineage can be traced back to Charlotte Nicholls, the wife of a prominent city businessman.
Upon her death in 1890, she left $60,000 "for the purpose of purchasing and improving public parks and recreation grounds in the said town of Peterborough" and "to hold them in trust for the inhabitants of the said town forever."
"Jackson Park is a gem that's accessible to everyone," Rob says. "People of all ages enjoy walking, running, cycling and cross-country skiing in the park. There are five schools along the Parkway corridor and building arterial roads near these schools puts the kids at risk. You can't play in a road."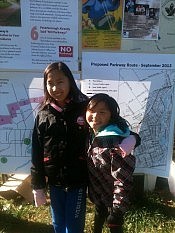 "Once you build the bridge you can't take it down," Rob points out. "Cities across North America are spending millions of dollars to make up for past mistakes that have left them with no greenspace."
To help raise awareness and funds for the campaign to protect greenspace and stop the Parkway and bridge through Jackson Park, the Peterborough Greenspace Coalition is presenting "A Concert for Greenspace" at Market Hall on Sunday, November 17, at 7:30 p.m.
Performers include Rick Fines, The 3 Martinis, Kristen Addis, and Al Black and the Tonemasters. There will also be a silent auction with items donated from local authors, artists, and businesses.
Tickets are $20 or PWYC, and are available at Moondance (425 George St. N. Peterborough, 705-742-9425), at Market Hall (140 Charlotte St., Peterborough, 705-749-1146), or online at tickets.markethall.org.
All photos by Carol Lawless