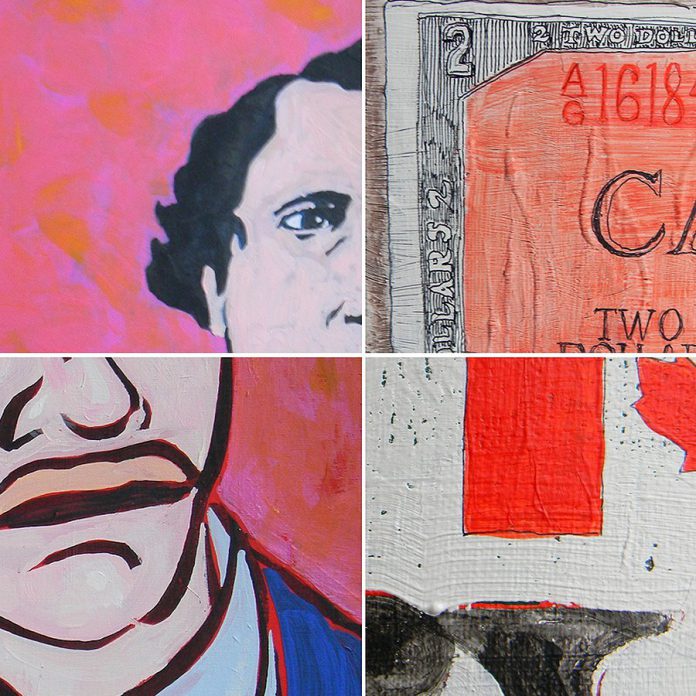 Jeff Macklin's "new work" and an opening night extravaganza at Gallery in the Attic
Jeff Macklin is well known to many. He's the man behind Prevail Media + Design (prevailmedia.ca) and Jackson Creek Press (www.jacksoncreekpress.ca).
He is about as community as they come. In both his personal and professional life he is a constant presence and supporter of all things Peterborough, particularly in the realms of arts, culture, and music. His recent client list includes Peterborough Careers, The Sapphire Room, Jos. Fortin, and Wild Rock Outfitters.
Custom and original hand-crafted letterpress designs are Jeff's claim to fame. If you've been in Peterborough for any period of time, chances are you've happened upon his handiwork on a sign or poster somewhere. He's has also got plenty of excellent mixed media work under his belt, but this time Jeff is being called upon to stretch his artistic mettle in new directions.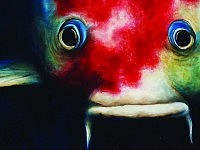 His "new work" includes three-dimensional sculptural work using scroll saw cut wood. Jeff admits that doing this kind of wood work is rather foreign to him. This time around though he's taken to things with some abandon.
"I wanted it to be a bit crazy," Jeff says. "I wanted people to say 'What the hell is that!'".
The exhibition explores Canadiana and pop culture with a bit of wit, whimsy, and sarcasm. After all, what's more Canadian than poking fun at ourselves?
Jeff will be headlining an opening night extravaganza that includes the opening of another new exhibit in the Brick Room, Brianna Gosselin and Kris Seiber's "DREAMEREALIST". Theirs is an examination of the point at which dreams and reality meet, or perhaps from which they diverge.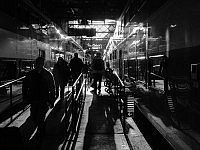 The Little Red Hen Collective is also back in the main gallery with new works for their holiday show.
Opening night is Friday, November 8, 2013. A reception with the featured artists will run from 5 – 9 p.m. with a special performance from local music phenoms Kennedy Cult (kennedycult.com) and Alex Unger's electro pop sensation ELMS (elms.bandcamp.com/) from 9 – 11 p.m. (admission for the musical performances is $5).
Gallery in the Attic (140 ½ Hunter St. W., Peterborough) is open Wednesday, Thursday, and Friday from 2 – 6 p.m., and Saturday from 12 – 5 p.m. Call 705-740-1162 or visit www.facebook.com/GalleryintheAttic.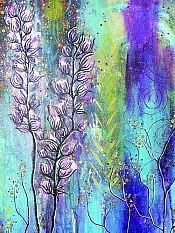 ---
Considerable caché at Artspace this month
You'll be surprised by what never happened. Some folks on the Artspace mailing list may have been mildly alarmed to find postcards in their mailboxes featuring a picture of their homes. They would soon discover they are invitations to this month's feature exhibition of Joshua Schwebel's [Caché]. The images of people's homes on the invitations were obtained from publicly available images taken by Google, making each invitation a unique production.
Joshua engages in what Artspace Director Fynn Leitch describes as "very time-consuming practices of mimicry".
Far from merely making busy work for himself, Joshua's painstaking efforts at reproduction are pointedly aimed at demonstrating that there is much that remains hidden whose existence is often impossible to verify, although nevertheless real.
From nigh-perfect hand-drawn recreations of TDK VHS cassette covers to hand-typed copies of guides from his Paris exhibition "Nul Si Décovert", Josh is willing to go to considerable lengths to show that, as human beings, hidden realities leak out. It's as if he might be trying to show you what lay behind the blind spot created by your optic nerve, or allow you to get inside the box with Schrödinger's cat.
"He's sort of a meticulous faker," says Fynn.
The point is not to deceive but rather the opposite. Like the Sufi mystic fakirs of India and the Middle East, Josh alludes to things that can't be shown.
"These things that we try not to think about, that are going on all the time, are not going away just because we don't talk about them," Josh explains. "They're just going to come back and come out in other forms, in other ways. That's why the show is walls and doors and surfaces. There's no actual contact or connection with a thing, it's only trembling on the side of your vision."
There will be an opening for the exhibition on Friday, November 8 from 7 – 11 p.m., with schnazzy new glassware for you oenophiles. The exhibition will run until December 17th and features plenty of complimentary programming (both supportive and free). Joshua will return from la belle province, where he makes Montréal his home, on Saturday, December 7 to give an artist talk and inspire further revelations.
Joshua's exhibition [Caché] is partly inspired by the 2005 thriller Caché written and directed by Michael Haneke. On Wednesday, December 4, the Trent Film Society (www.facebook.com/trentfilmsociety) will be screening Caché at Artspace (show time is at 8 p.m.). A post-show talk and Q&A will be led by Professor James Penney from Trent University's Cultural Studies department.
Artspace (378 Aylmer St. N., Peterborough) is open Tuesday and Wednesday from 12 – 6 p.m., Thursday and Friday from 12 – 8 p.m., and Saturday from 12 – 4 p.m. Call 705-748-388 or visit www.artspace-arc.org.
---
Artspace in the community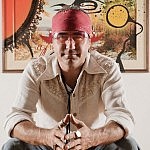 Far be it from Fynn and Media Arts Coordinator Vincent Chevalier to be satisfied with remaining within the confines of the four walls of Artspace though. Their creative cultivation is extending out into the community as well.
Electric Blue will be at The Sapphire Room (137 Hunter St. W., Peterborough) on Thursday, November 7 starting at 10 p.m.
The event features the mad skillz of DJs Riled Up! and Dauri Cems, as well as visuals and the screening of works from Media Arts Peterborough (www.facebook.com/mediaartspeterborough).
The event is a fundraiser for the Artspace Media Lab. Admission is $10 or pay what you can (no one will be turned away).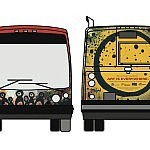 But the big news is the reveal of the bus wrap project.
A City of Peterborough bus, adorned with artist Jimson Bowler's "Big Loon Portage", will be unveiled at the Art Gallery of Peterborough (250 Crescent St., Peterborough) on Tuesday, November 12 at 1 p.m.
A reception will follow at Artspace.
This colourful collaboration between the City of Peterborough and Artspace will soon be seen plying the streets of Peterborough.
---
A Mustang (and some other horses) ride into Black Honey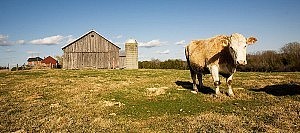 Esther Vincent has for years been a force to be reckoned with in the Peterborough arts scene.
From early involvement in The Union Theatre to extensive work with Public Energy and recent success with the Peterborough Storefront Photography Project, her presence has consistently been associated with getting things done and getting them done right. Many people in the community will also know her from the days when she owned and managed Marginal Books, a once beloved "fringe" bookstore frequented by artists and the counterculture set.
Esther has many talents, but she is perhaps best known for her ubiquitous presence in the community as a photographer. She is the one-woman dynamo that is Mustang (evmustang.ca), a business whose centrepiece is photography; a focus that allows Esther to cast herself in her favourite role.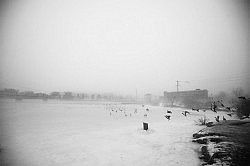 Despite a tremendous body of work, Esther has rarely had solo exhibitions. So it is with this latest offering that we're afforded a rare treat to see her artistic work on display.
What is certainly apparent in her work is her love of nature and simple grandeur. Her love of horses is evident in several images featuring the magnificent draught horses from this year's Norwood Fair. Though you may have passed the ducks by the London Street Bridge thousands of times, Esther's particular talent for capturing the beauty of an everyday scene makes these images striking. The drama of expansive skyscapes may be her most defining moniker.
Confident in her talents, Esther is nevertheless typically self-effacing.
"That $1,700 lens was a big investment at the time, but it has since paid for itself several times over", she says with a wry smile, as if to say the lens did the work and she merely pointed the camera. Such an implication could hardly account for the majesty instilled in these photographs by her keen eye and formidable talent.
Several large, medium, and small format photographs are currently on display for show and sale. Esther will be on hand on Sunday, November 10 from 3 – 5 p.m. for the official opening of the exhibition, which will continue showing until mid-December.
Black Honey (217 Hunter St. W., Peterborough) is open Monday to Thursday from 8 a.m. – 10 p.m., Friday from 8 a.m. – 11 p.m., Saturday from 10 a.m. – 11 p.m., and Sunday from 10 a.m. – 6 p.m. Weekend brunch is served from 10 a.m. – 3 p.m. on Saturdays and Sundays. Call 705-750-0024 or visit www.blackhoneydesserts.com.
---
The illusion continues with Victoria Wallace at Ashburnham Ale House
If you missed it at Gallery in the Attic last month, you're doubly lucky for the opportunity to see "Chimirage ~ the illusion continues …" at Ashburnham Ale House in East City.
Lucky because the inspired dreamworld of Victoria's playful images of circuses, amusement parks, and commedia de'llarte are not to be missed, and lucky because you can enjoy seeing them at Scott Wood's beautiful Craft Beer Café.
What could be better than taking in great art while quaffing a magnificent craft beer, or enjoying a superb glass of wine with an excellent meal?
Victoria brings her experience as an artist — doing everything from mural painting to plaster — to bear upon her brilliant combination of encaustic techniques and acrylic painting. "I can find bridges between everything I do," she says when I ask her about the connnection.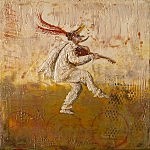 "You are what you are. You learn and apply all the knowledge you have, over your existence, to whatever you do … even though it might be completely irrelevant," she explains. "I think you can't help but bring everything that's in there."
The sophistication in her technique and the breadth of her experience certainly breathes life into these paintings.
They manage to look both vibrant and washed-in, care-worn nostalgic at the same time.
Her experience certainly has a lot to offer. Victoria spends much of her time teaching encaustic techniques and painting to others, in addition to being an enthusiastic contributor and participant in Peterborough's arts scene.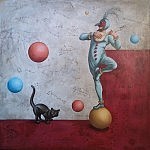 She and her partner Scott Delaney moved here several years ago from Toronto and opened up Victory Arts Supply (www.facebook.com/VictoryArtSupply) in the historic Cox Terrace on Rubidge Street.
"Chimirage ~ the illusion continues …" is showing now and will have an opening reception Sunday, November 10 from 3 – 5 p.m.
Victoria's work will remain on display until December 1st and then the show will continue with the photography of friend and collaborator Roz Hermant (www.rozhermant.com).
Ashburnham Ale House (128 Hunter St. E., Peterborough) is open Monday to Sunday from 8 a.m. – 11 p.m. Call 705-874-0333. For more information about the Ale House, read our story from June 2013.