Some of the best ideas are born from a day of cycling.
That, and good food and drink — shared with family and friends.
If you're Scott and Nollie Wood, you spin that passion for what you love most in life and create one of East City's most anticipated developments since the completion of the Lift Locks.
Situated amidst the backdrop of the Rotary Trail in the historic village of Ashburnham, the appropriately named Ashburnham Ale House is a reflection of all that the Woods hold near and dear: food and drink made in the time-honoured traditions of smoking, curing, and small-batch brewing, shared amongst friends and community in a setting that's warm and welcoming.

"We love living in East City," Scott says.
Just over six years ago, he and Nollie — his partner in life and work — made a house on Mark Street their permanent residence.
Avid cyclists, they wanted to be close to the Rotary Trail, among other things.
"Ashburnham is filled with great businesses and a lot of really nice people," Scott explains. "We wanted to create a place that everyone in the neighbourhood would feel welcome to enjoy, whether they're walking to work or coming in after a cycle on the trail."
Featuring three patios facing the east, west and south sides of the building — including one right beside the Rotary Trail — the "Craft Beer Café" is built primarily of cedar from Douro.
"We like wood," Scott grins. "So there's plenty of it."
The Ale House's windows are trimmed with pine from Bancroft. The massive bar that houses eight gleaming taps — where they serve a variety of craft beers hailing from all across North America, including Quebec, British Columbia, Ontario, and New York State — is made of solid oak from Woodview Farm & Forest, just outside of Lindsay.
"Our opening beers include King Pilsner, Flying Monkey Hoptical Illusion, Muskoka Cream Ale, Farmstead Saison, Denison's Weissbier, Maudite, Publican House (seasonal) and two from the Olde Stone — Stout and Dry Hop Bitter," Scott says.
If you prefer a glass of wine by the hearth in the centre of the café, there's a selection of white and red — served by the glass — from Prince Edward County, Niagara, British Columbia, California (mostly Sonoma), France (Burgundy, Loire, Rhone), Italy (Tuscany mostly), and Spain.
Dedicated to serving food that's simple, fresh, and flavourful, the Woods have created a menu of locally inspired dishes including thin-crust pizzas and European-style panini. For lovers of cured meat, the brisket sandwich — made daily from their own smoker — is a house favorite. Seasonal herbs and greens from local producers complement the hearty fare.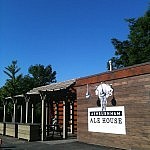 Of course, you can't have a café without coffee, and Ashburnham Ale House's espresso machine will satisfy the caffeine cravings of everyone. Whether you call it allongé, café lungo, or Americano, Ashburham Ale's coffee is a long poured espresso of a slightly coarser grind.
People who like robust and full flavour will enjoy the coffee alone, but Scott and Nollie also serve espresso and cappuccino.
"We think the perfect end to a great meal is a good cup of coffee, but people also want their morning buzz," Nollie says. "We're located right beside the Rotary Trail, where many people start and finish their walk, bike ride, or roller blading. We couldn't resist opening in the summer months to share our space with neighbourhood residents."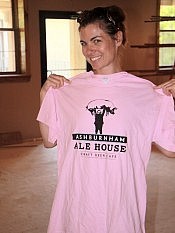 Coffee lovers can get their fix starting at 8 a.m. when the café opens. For people who want to drop in and read the newspaper or grab something on their way to work, freshly baked goods and breakfast sandwiches are also available. Nollie's famous home-baked cheese cake, decadent brownie and apple-cranberry crumble can be enjoyed throughout the day.
Ashburnham Ale House is the seventh restaurant venture and eighth renovation for Scott — famous for driving around town in his red truck and trailer filled with building materials.
"I've got a hole in my boot to show for it," he laughs.
Prior to gutting and renovating, the building was home to Fergusons Dry Cleaners. At one time in the 1800s, it was also the residence of Strong Man Dan Macdonald, renowned for his feats of strength — including hoisting a pig over his head.
"We thought it would be fitting to have an artist's rendering of Strong Man Dan for our logo," explains Nollie. "Everyone is very curious about it and it's a fun to share this story with our customers and pay homage to a man who was a big part of this community more than 100 years ago."
Opening day is Thursday, June 27 at 8 a.m., when Scott and Nollie will be serving up the jo for their morning customers. They invite you to join them.
Ashburnham Ale House is located at 128 Hunter Street East in Peterborough (phone: 705-874-0333). Hours are 8 a.m. to 11 p.m. seven days a week, with last call for food at 10 p.m.
Follow @alehouseptbo on Twitter to keep up with news on Ashburnham Ale and the hashtag #ashburnhamalehouse
.
---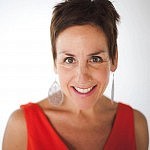 Carol Lawless is a writer and editor with more than 25 years' experience.
She lives in Peterborough with her daughters Grace and Joan and their beagle, Lally.