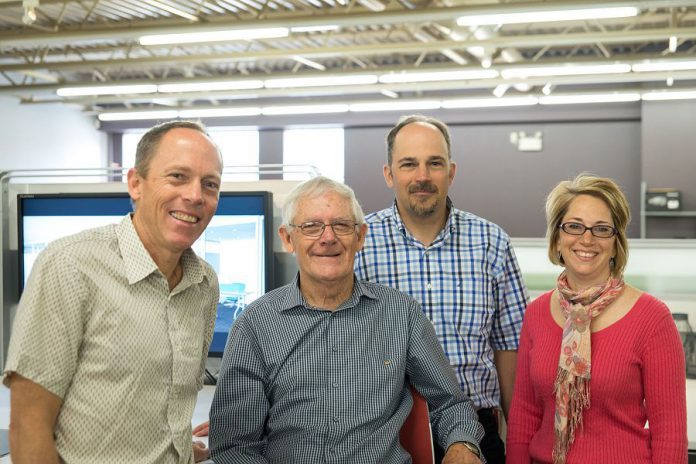 About Brant BasicsContact Brant Basics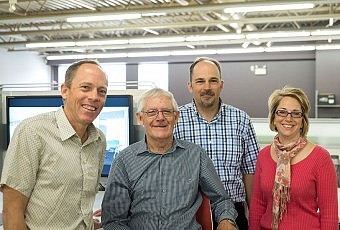 2013 is rapidly shaping up to be a milestone year for Brant Basics.
In addition to celebrating its 49th year in operation, the intrepid company is embarking upon an innovative merge with Dave Curtis of office furniture retailer Dave's At Work. Together under the Brant moniker, the united brands will continue to offer their expansive customer base the premium in service and honourable products at competitive prices.
Brant may possess the streamlined veneer of a chain franchise, but this singular business has been a locally honed pillar of downtown Peterborough for almost half a century.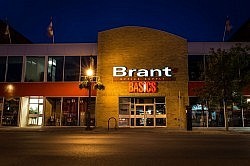 Though Brant has become a revered fixture on the landscape of George Street, its 25,000-square-foot head office and physical retail space is but the tip of the iceberg, representing about 20% of the ever-expanding retinue's total services and market presence.
At the heart of Brant's success lies the indomitable dynamic of the Cox family. Founded by patriarch Morris in 1964, Brant as we know it began in the familial homestead, with Morris selling typewriters and related ephemera from the basement.
Marketability was swift, and the burgeoning store quickly moved through two locations on Charlotte Street before settling into its permanent home at 296 George. Now the main floor houses over 5,000 different products, while the second floor showcases furniture and a sophisticated network of offices.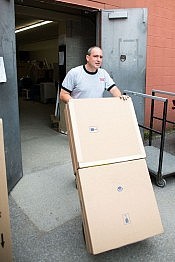 Jeff Cox along with his brother David and sister Susan Sharp, current owners at Brant, and their great staff work tirelessly to ensure their customers get the best possible experience and service from their company.
This commitment to quality has seen their reach expand far beyond Peterborough's city limits. A remarkable 80% of Brant's clientele exist beyond their front doors. Offices in Belleville, Haliburton, Toronto and beyond receive regular shipments of a plethora of merchandise.
"While we love to have customers visit our retail store, many people work with us who have never set foot in the store and wouldn't know what it looked like, other than from seeing images in our catalogue," Jeff says.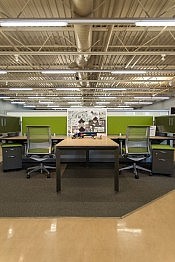 The rapid boon of online communication and shopping has seen Brant transform from a comprehensive supply outlet to a full-on distribution company.
"The whole industry is moving beyond supplies and embracing total distribution," explains Jeff. "In the same way that a store like Sobeys has become the one-stop shop for families, we're the one-stop shop for the office."
Offering essentially anything you could possibly need to operate a successful office smoothly — from cutting-edge contemporary furniture designs, to coffee and candy and absolutely everything in between — Brant's online and print catalogue is a veritable wish book of products that are not only fundamental essentials, but environmentally conscious.
Many companies now adhere to the Environmentally Preferable Product (EPP) certification and work with 100% post-consumer recycled materials.
A leader in that field is Steelcase, a brand that has received much recognition in the industry for its trend-setting designs, progressive encouragement of the office as a collaborative space, and engineering that guarantees its pieces a long lifespan.
As Jeff surmises, "It's the anti-Dilbert."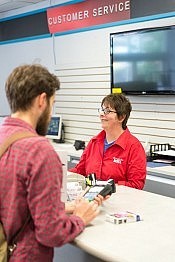 While a growing portion of their business with customers is done online, Brant retains their independent sensibilities — as opposed to larger companies that tend to rely on tedious automated systems.
"Absolutely every single order we receive from our customers is thoroughly double-checked personally by our staff," Jeff says. "And there's always an expert here who's only a phone call away."
The Brant team now includes over 20 full-time staff, some of whom have been there for over 25 years.
"Our long-term staff bring invaluable experience, while our newer staff have lots of fresh ideas and a firm grasp on things like social media and the mobile work force," Jeff says. "It's great to have a mixture — the same as our customers."
Each area of Brant's products features a co-ordinating field expert: Sean Miller is the residential office technology guru; Susan Sharp and Linda Bradley take the reigns on interior design; and there's also a factory-certified home installation team.
Brant remains proud of its connection to the downtown area and especially to the district's creative community.
"We're convenient for them, and they're convenient for us," says Jeff.
January saw the beginning of a highly successful charitable program where local organizations can use Brant's sought-after front window space for month-long promotions. Currently booked through June of 2014, the program — and the Cox family itself — shows no sign of slowing down.
One can only anticipate what great things will come in their 50th year.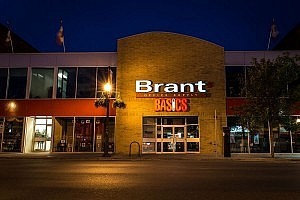 Brant Basics
296 George Street North
Peterborough, Ontario
K9J 3H2
Telephone: 705-748-2291
Fax: 705-748-0671
Web: www.brantbasics.com
Email: info@brantbasics.com
Hours
Monday – Friday: 8:30 am – 5:30 pm
Saturday: 9:00 am – 5:00 pm
All photos by Pat Trudeau, Trudeau Photography (www.trudeauphotography.ca)