Celebrating an inclusive city and county, Community Living Peterborough has organized a vast exhibition of "Peterborough portraits" on display now at the Canadian Canoe Museum (910 Monaghan Road, Peterborough).
The exhibition includes portraits by amateurs, professionals, kids, grandparents, and everyone in between. Diversity is reflected both in the images themselves and in the community perspective of the makers.
What makes this exhibition work is the overpowering "wow" of seeing all these faces, people, and community members together. It literally comprises hundreds of works, side by side, top to bottom — the walls of the Canoe Museum meeting room are chock-a-block full.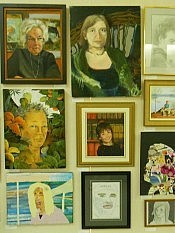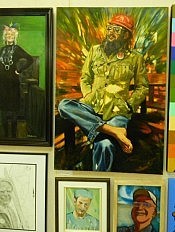 Seeing such a range of diverse works together is more than a little bit overwhelming. It's difficult to take in the impact of an individual piece, with other pieces jammed up against it. Unlike a normal gallery setting — and given the sheer quantity of work presented here — there just isn't enough room to allow enough space between works.
So you'll need to stand back, maybe 20 feet from any one wall, and take in the big picture. It's from this perspective that the depth of the work shines through.
The range of skill is broad. From amateur to professional and from semi-abstract to children's renderings, this group of work runs the gamut.
The exhibition is open from 10 am to 5 pm until this coming Sunday (June 23). There isn't much time, so make sure you check it out soon. The cost is "pay what you can".
Editor's note: Due to the overwhelming positive reception, the Canadian Canoe Museum has extended the exhibition to Wednesday, June 26.
All photos by Jeff Macklin.