I've seen Rocky Horror before. I've seen it on television, in midnight screenings with full audience participation, on the stage, at parties on every video format imaginable, and have done the Time Warp at every wedding I've been to over the past 20 years.
Once a cult phenomenon, it seems that Rocky Horror has become positively mainstream and, well, a bit boring. When it became a special Hallowe'en episode for Glee, to me Rocky Horror had officially "jumped the shark."
So when Peterborough's the motley collective decided to stage the original Rocky Horror Show for this Hallowe'en season, I wondered to myself, 'do I really want to do the Time Warp again?'
Well, it seems that I did. The motley collective has made me fall in love with The Rocky Horror Show all over again, by presenting it in the way that Richard O'Brien intended. I haven't been this excited about Rocky Horror since I first saw it when I was 15 years old.
Written by Richard O'Brien as a loving tribute to the horror and science fiction films that he watched in his youth, The Rocky Horror Show premiered on the London stage in 1973.
It tells the story of Brad and Janet, a young couple who get stranded on a deserted highway in a late night rainstorm and seek refuge in a strange castle, where they are seduced by mad scientist Dr. Frank N. Furter and have their moral and sexual boundaries stripped down in a surreal musical farce.
The motley collective lovingly restores the production, directed by Amy M. Cummings and Jessica Lynch, to its original form — giving the audience a brand new experience beyond what they may be expecting.

One of the biggest problems faced when staging a production where the characters have become as iconic as that in The Rocky Horror Show is that often the actors are reduced to doing poor imitations of the big screen versions. Rocky Horror has always been victim to this as the film's actors — which were made up primarily of the stage show's original cast — have become so tied into their characters.
The motley collective wisely avoids imitation, which is what makes this production an absolute triumph. The cast members finds their own personal interpretations of their characters, creating a familiar yet altogether different (and in some ways even superior) version of the characters they are playing.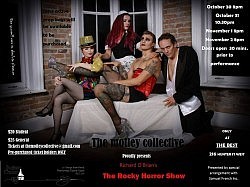 It's difficult to pinpoint a stand-out performance because each member of the cast adds a unique stamp on the production, delightfully transforming The Rocky Horror Show into a new experience. Andrew Sheddan brings the role of Eddie back to its roots by playing the character more Elvis than Meatloaf; Jean Francois Tremblay plays Riff Raff as French instead of, well, creepy; Jessica Lynch plays Magenta subtle and sexy instead of loud and garish; and Shawna Blackwood gives a fun and energetic performance as Columbia.
Meanwhile, the show's funniest performance goes to Taylor Beatty as Rocky. With wide-eyed bewilderment and a soft voice, Beatty steals every scene he is in. While other versions of Rocky have little to offer, Beatty's performance makes him the most popular character in the production and a true crowd pleaser.
But the success of Rocky Horror always rests on the shoulders of the production's Frank N. Furter character — and Carl Johann nearly out-Frank N. Furts Tim Curry himself. Charismatic, funny, sexy and dramatic, Johann is an absolute delight to watch.
A special shout-out goes to Caitlin Currie, Heather Boyd, Simon Turner and Megan O'Sullivan for their unique presence in the production. The only actors that remain on the stage for the entirety of the production, the four work as chorus, extras, set changers, and even lend their bodies as props and set pieces. These performers become an important part of the production's structure and become the unsung heroes of The Rocky Horror Show.
Even the musical performances offer something just a little bit different for the audience. Led by Sam Quinn, a full band — located in a makeshift orchestra pit behind the stage where the audience can just see them peeking behind the minimalist set — gives a rich and full sound to the songs as the performers, once again, put their own musical spin on the numbers.
Caitlin Currie's folky rendition of "Science Fiction/Double Feature", easily one of the highlights of the show, sets the audience up for what will be something different. Hannah Bailey, in the role of Janet, throws away the girlish pitch of those before her and replaces it with a strong and confident vocal performance (it's wonderful to hear "Touch-a, Touch-a, Touch-a, Touch Me" sung by someone who can sing).
The motley collective also restores all of Brad's solos that were taken out of the film — thus often chopped from stage productions — such as "Once in a While" and a second verse to "Over at the Frankenstein Place", giving Terry Convey more stage time. But it's the cast's ensemble pieces — such as "Rose Tint My World", "Eddie's Teddy", "Planet Schmanet Janet", "Don't Dream It, Be It" and, of course, "The Time Warp" — which become the outstanding musical moments.
Finally, the motley collective manages to give The Rocky Horror Show a complete makeover in style and sophistication. With a minimalist set — proving that less is often more — the characters and performers manage to create a smart and sexy performance instead of the campy and often garish production values of the film and copycat stage performances. Erotic without ever becoming uncomfortable, it's difficult not to have a crush on this entire production.
This Hallowe'en season, give yourself over to absolute pleasure. The motley collective's production of Rocky Horror is not yet another knock off of something you've seen already a million times. This is the superior product.