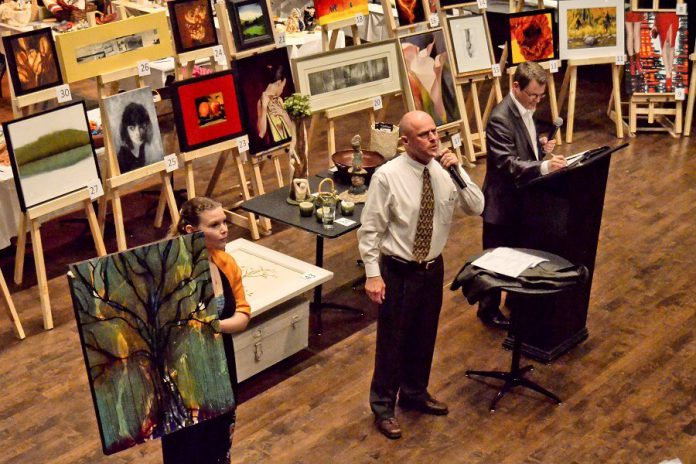 The Art School of Peterborough (ASOP) has been an important touchstone in the continuing development of the art scene in Peterborough for two decades. Offering programs for people of all ages from their location in the "Arcade Tunnel" at Charlotte Mews, ASOP has become one of the city's most visual and important art establishments.
However, as a non-profit organization, finding funds to keep the school's programming going — especially that aimed towards children — has often been a challenge.
That's why the school's annual art auction has become essential to the continuation of ASOP's role in Peterborough. First held 18 years ago, the event has become the cornerstone in ASOP's success, and essential for its continuation.
The 18th annual Art School of Peterborough Art Auction is being held on Saturday, November 30th at the Market Hall in Peterborough and has something to offer for everyone. An evening of art and wine, the auction is very much a gala event with a heavy touch of sophistication but, at $5 admission, it allows people to participate at an affordable price — which will allow them to open their cheque books as they vie to win works of art from some of the area's most notable artists.
According to the school's executive director Jenni Johnston, last year's auction brought in a total of $15,000, which helped fund both the operation of the school and special programming of the school — including bursary programs for both children and adults, the school's mentoring program, and summer camp programs.
"No one is refused if we can help," Jenni says. "We take recommendations from Big Brothers/Big Sisters and Children's Services, and we try to accommodate them if they are willing and wanting."
Affiliated with the school for 12 years, Jenni has donated a piece ("Cottage Chairs") to this year's auction. Teaching oil and organizing the toddler program, Jenni tells of the role that families play in the school.
"With the toddler program, we bring them in with parents and guardians and do crafts with paints and glue and glitter," she explains. "Kids have a blast and they always want to come back. When the kids count their sleeps to come to art school, that's a pat on the back."
Although the auction benefits ASOP, the 40 pieces in the live auction have been donated by a number of local artists not necessarily affiliated with the school, including Anne Cavanagh, Mickey Renders, Peter Baron, Anne-Marie Kornachuk, Anne Renouf, and Christy Haldane.
"They may not have a connection but they support our organization," Jenni says. "We also have pieces by students and teachers who have gone through the school."
Popular artist Brianna Gosselin, whose art show "Dreamer vs. Realist" recently showed at The Gallery in the Attic, is also donating a piece to the auction and has been a fixture at ASOP for five years.
"I started taking classes at the school five years ago," Brianna says. "I won the Richard Hayman scholarship which allowed me to quit my job and focus on art. I began volunteering and teaching summer camps and then creating my own programs, including the manga and pottery classes for teens."
Brianna is currently developing an abstract painting course for teens and adults. "It'll teach people about not painting what you see but painting what you feel," she explains.
Brianna is also participating in the creation of 200 special mini-paintings that will be sold at the auction for the price of $20 each. The 4×4 paintings are being done by a variety of artists throughout Peterborough.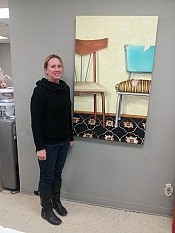 Beyond the 40 pieces in the live auction and the 200 mini-paintings, ASOP is also having a silent auction with a number of unique items, including tickets to the Toronto Maple Leafs and Raptors, and a number of pots created by "local celebrities".
Jenni defines a local celebrity as "someone with a face in the media or who is making a difference in the community." Participants who created pots for this year's auction include Maryam Monsef, Mike Judson, Tyler Calver, Elizabeth Hart, Jeannine Taylor, Catherine Hanrahan, Dean Pappas, Jack Doris, Chase Hatcher, Josh Maguire, and Matt Davis.
Even if you can't afford to bid, the Art Auction is a fantastic night out and a chance to look at some art and connect with your community. Doors open at 6 p.m., with the live auction starting at 7:30 p.m. Keith Monk will be conducting the auction, and there'll be live music provided by Charlotte Melby and Bob Forde.
The funds raised at the auction are pivotal to keeping the future of Peterborough's art scene vibrant and healthy, by inspiring young people and connecting them with other artists in the community.
"It's a real community here," Jenni says. "Once you're in it, it's hard to leave."