Comic strip inspired charm from Christopher Patch at Evans Contemporary
Paolo Fortin and Laura Tregenza continue to bless us with offerings from national and international contemporary artists in the beautiful salon-style setting of their 1907 Edwardian house on Pearl Avenue in Peterborough. The hardwood floors, elegant white walls, and beautiful lighting provided by bright chandeliers is both refined and inviting.
I met Paolo at the November 14th opening of Christopher Patch's "SEA HAG!" and found him to be a charming, warm, and attentive host.
The setting proves to be a fitting contrast for Christopher's rough-hewn but meticulously crafted works of woodblock-printed, stenciled, and hand-painted pictures.
The multiple runs and folding required in his use of an 18-inch press to produce the larger pieces on untreated canvas create a careworn nostalgic appearance that fits well with the maritime mythology he summons from his study of the 1930s Popeye comic strip arch-nemesis.
You won't find the anatomically bizarre sailor anywhere here though; he's strictly persona non grata.
"Popeye was always rather boring to me", explains Christopher. "But the character of Sea Hag is intriguing; the island hermit sorceress who uses her guile and charms to get what she wants, that's interesting".
Other intriguing characters like Geezil, Barnacle Bill, Alice the Goon, and Sea Hag's vulture Bernard — along with a few others — also prove themselves worthy of depiction.
And Mr. Patch himself might possibly be a character in this exhibition too; which is perhaps as insightful as it is fun and appealing. A recent repatriation from New York City to his home state of Maine fuels Christopher's exploration of seafaring legend, through the lighthearted lens of comic book depictions that may belie a serious examination of the artist as outsider lurking just beneath the surface.
"SEA HAG!" runs until December 22nd at Evans Contemporary (302 Pearl Ave., Peterborough). Exhibitions can be viewed between 5:30 – 8 p.m. on Wednesday and Thursday evenings. Viewings can also be made by appointment. Email evanscontemporary@gmail.com or visit www.evanscontemporary.com.
---
David Hickey's iconic windswept pines and more at Nuttshell Next Door
If a member of the Group of Seven had got hold of a plasma torch and a yen for working with metal, then they might have produced something akin to David Hickey's beautiful metal sculptures of windswept Jack Pines. Or perhaps they wouldn't have … after all, none of them is David. His work draws comparable inspiration from the lakes and woodlands that surround his home in Warsaw, and from the rest of the wilderness of the Kawarthas.
David is possessed of a raw impulse to create. His workshop and the environs around his home are a testament to his continual acts of making. While metal sculpture has emerged as something of his chief oeuvre, David lays his hands to any medium that nature inspires him to, including oil painting, photography, wood sculpture, and combinations of these media.
Striking colourful acrylics on metal sculpture, many forms of garden art, and sculptures made of dense birch driftwood that he's fished out of lakes are a few of his many eclectic creations.
"I cannot NOT work with multiple mediums," he says enthusiastically. "It comes naturally. It's like breathing."
Some of what he likes to call "abstract realism" comes in the form of oil paintings inspired by shorelines. Some of these he finishes using a two-part epoxy technique he explains as being rather persnickety. His careful efforts are rewarded with the beautiful accentuation of colour and the glazed ceramic quality these pieces take on. Each of his creations are unique and he often works carefully to create custom pieces suited to each client's specifications, décor, and their budget.
David is quite affable and humble about the success he has enjoyed. Sometimes his freehand with the plasma torch creates some fairly "whimsical" shapes he says, indicating some metal bird ornaments he's currently creating at his work table. David's whimsy is quite infectious it seems, as his one-of-a-kind creations have certainly proven popular.
If you missed David's Christmas Show this past weekend at his place in Warsaw, don't worry. His works will be on display at Chef Jay Nutt's most excellent café until January.
Nuttshell Next Door (33 Queen St., Lakefield) is open Monday to Saturday from 8 a.m. – 4 p.m. and Sunday from 10 a.m. – 4 p.m. Call 705-652-9721 or visit www.facebook.com/nuttshellnextdoor.
For more information on David Hickey, his works, and other shows, visit www.davidhickeyartist.com.
---
The Community Foundation of Greater Peterborough Timeraiser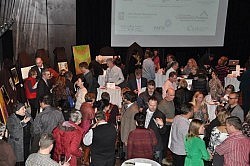 I couldn't post this month's "Art in the Street" without making mention of the fantastic success of Peterborough's first Timeraiser, organized by the Community Foundation of Greater Peterborough (CFGP). The event took place on November 20th at the Market Hall in Peterborough.
What is a Timeraiser, you may ask?
It's part volunteer fair, part silent art auction, and part night on the town. At the art auction, participants bid their time rather than their money on the artwork. The beauty of this idea is that it's a win-win-win.
Win number one: the artists get paid. In this case, the CFGP paid out over $8,000 to the participating artists. Win number two: volunteers are rewarded for the generosity of donating their time with beautiful artwork. Win number three: the community benefits from the volunteer hours raised and completed among participating community organizations or with other organizations. The wins keep coming too. It's also a fun social event that's a great community builder in and of itself.
This first Timeraiser event brought out a great crowd and the bidding competition really heated up. It soon became apparent that you weren't likely to walk home with your coveted piece of artwork for anything less than the maximum 100 hour bid. Of the many submissions CFGP received, 20 carefully selected works of art were on offer including lovely pieces by Shannon Taylor, Michael Bombala, Jenni Johnston, Rob Niezen, Dianne Latchford, and Brianna Gosselin. Close to the maximum number of volunteer hours were raised: 1,910 hours at the final tally.
The CFGP and team are to be commended for doing a fantastic job of hosting this event. Mucho kudos go out to Jeff Macklin, Lisa Clarke, Vince Bierworth, Karen August, Victoria Van Veen, Tina Johnston, and Andrea Dicks. A big thanks also to all the supporters, participating organizations, Market Hall, Black Honey and our servers for the tasty hors d'oeuvres, all the enthusiastic participants and volunteers and, of course, to all the artists.
For more information, visit www.timeraiser.ca and www.cfgp.ca.
---
"Chimirage" continues with Roz Hermant at Ashburnham Ale House
The ongoing collaboration between painter Victoria Wallace and photographer Roz Hermant called "Chimirage" heads into the second part of sequential solos to feature Roz's photographic work and her creative use of alternative processes.
Roz and Victoria met years ago in Toronto and moved to Peterborough quite separately before discovering each other again. Roz explains why collaborations such as this tend to be rare:
"My experience is that photographers don't tend to collaborate very often. Hearkening back to darkroom days, they would usually go into a black hole and come out hours later. And if you saw another person it was: 'Wow. Hey, there's somebody else here.' I've never really collaborated with anybody."
But Roz found an intersection between her and Victoria that spanned more than their coincidental geography. A body of work she took at Carnevale di Venezia — with its famous Venetian masks — was a natural fit with Wallace's exploration of circuses, amusement parks, and commedia dell'arte.
If any debate remains whether photography can truly be considered art, then Hermant's work serves as a final statement that it most certainly is. She employs alternative techniques she learned at the Emily Carr University of Art + Design that include Polaroid emulsion lifts. Using this technique she removes the tissue-like image layer from a sheet of the now-extinct instant film and integrates it into pieces featuring hot-air balloons, cannons, carousels, and her distinctive out-of-focus figures. The latter impart the mirage-like quality to all the carnival fun from which the series derives half of its name. Her excellent use of white space lends high impact to these images.
The upcoming exhibition also includes a separate series in the private function room called "Flows" that also features Hermant's signature out-of-focus style. The series focuses (well, not always) on colourful aquarium fish, and her "blurry" approach often creates something special here.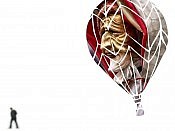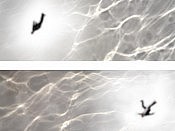 The priority Roz gives to framing and composition rather than focus allows you to take in the particulars of colour and form in a completely different way. She sometimes endures criticism about her approach, or potentially trying remarks like "Hey, you're the blurry girl!", but she takes it in her good-natured stride. She explains the reason for her fascination with out-of-focus beautifully:
"There's something about the idea of something, without fully exposing exactly what the content of the image is, that allows the viewer to see themselves in it."
You can come see yourself in Roz's work beginning Sunday, December 1st and running until January 4th of the new year.
Ashburnham Ale House (128 Hunter St. E., Peterborough, 705-874-0333) is open Monday to Sunday from 8 a.m. – 11 p.m. Make sure you read our story on Ashburnham Ale House.
---
Rob Niezen reveals the overlooked dream world of our cities at Gallery in the Attic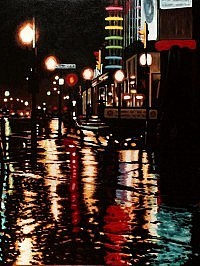 It would often go without saying that it is the role of the artist to draw the eye and the mind to the unexamined, but this is especially so with the everyday world of our cities.
Rob Niezen sees the subject matter as a challenge and a contrast to much more often appreciated scenes of nature.
"Every artist has a way of looking at things and seeing things in a way others may not," he says.
For Rob, it has been a careful examination and ongoing fascination with the reflections of wet surfaces on rainy urban nights. His series of oil paintings probe into the surreal world exposed by artificial light and that which is largely dismissed as merely utilitarian.
He gives consideration to the need for committing to a consistent body of work.
"I think craftsmanship is still a part of being an artist," he explains, without any sign of affront for the new order but in commentary to a modern art scene increasingly impelled by ideas rather than craft.
Rob's analysis shifts context from recognizable city scenes — in places like Toronto, Peterborough, Lindsay, and Lakefield — through gradations of closer focus until the reflected scenes become almost abstract. The natural bleeding of unnatural light in the subject matter and the blending of colour inherent in the use of oils lends itself to the shift in perception brought on by a rainy night. There are changes in the perception of colour brought on by what nighttime in the city means to us.
People will often relate to Rob's paintings in ways that don't necessarily correspond to the actual or geographic truth about the subject matter. That personal identification or interpretation doesn't bother him one bit. It's exactly the kind of response he loves to see from someone taking in his work. "You can see anything that you want to see," he says. "Everyone has their own view of reality."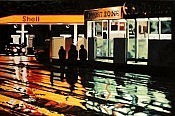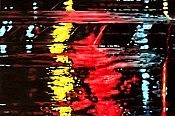 But sometimes it's not about interpretation at all. Sometimes it's really as simple as matter-of-fact realism. You can look at his pieces and simply get lost in the way the colours explode and dance across the wet pavement. This is the basic suchness of this context's additional drama in a movie scene, or the theatrical. It has straightforward visual impact, and Rob's use of oils succeeds in conveying this quite directly and immediately. "A lot of it is about seeing," he says, and I couldn't agree more. Something about the way he paints these images just makes you want to look at them.
Rob's exhibition "Night Spots" features mostly new paintings from him and runs from December 4th until the 30th. The Opening reception is on Friday December, 6th from 7 – 10 p.m. You can find out more about Rob and his work at www.robniezen.com.
Also featuring at Gallery in the Attic in the coming month will be "The Rose and the Beast and the Wolf and the Girl", a two-person multimedia effort by emerging artists Astrid Ackerman and Erin Cole. Their work is a visual retelling of two classic Victorian tales incorporating sculpture and assemblage, painting, and drawing. The ongoing holiday show from the Little Red Hen collective also continues featuring over 30 member artists with work ranging from fine art, cards, candles, holiday craft items and jewelry, and Hartley Stephenson's amazing balls.
Gallery in the Attic (upstairs at 140-½ Hunter St. W., Peterborough) is open Tuesday to Friday from 10 a.m. – 7 p.m., and Saturday and Sunday from 10 a.m. – 5 p.m. The gallery is closed on Mondays but curator Liz Fennell is open to suggestions. Call 705-740-1162 or visit littleredhengallery.wordpress.com.
And on a related note to all things GITA …
---
Gallery in the House is back!
Galvanized by recent events (Art Battle #77), stained-glass artisan Paul Oldham has been inspired to create a new series of paintings and prints, using techniques and tools transferred from one of his other trades, dry-walling.
Using his day job as inspiration, Paul will be applying the bold graphic colours of his stained-glass to painting.
An opening reception takes place on Friday, December 13th from 7 – 10 p.m.
Gallery in the House (82 McDonnel St., Peterborough) will initially be open from noon – 5 p.m. on Saturday, December 14th and Sunday, December 14th, and Saturday, December 21st and Sunday, December 22nd, and by appointment from Monday, December 16th to Friday, December 20th.
For more information, call 705-743-6471 or visit www.facebook.com/pages/Gallery-in-the-House/165391000158786.


Photos by Michael Fazackerley except where noted.