It seems that more and more businesses — both large and small — are jumping on the green business bandwagon.
You can visit the website of just about any large corporate entity and you'll find a statement of environmental values and how that company is applying them to day-to-day operations.
The same can be said of small mom and pop shops. They may not have the capabilities to take the giant green steps the Canadian Tires and Home Depots of the world are, but every little bit helps.
The business community as a whole is stepping up to the plate and doing its part to protect our environment.
Any business can become greener, no matter the size. A wide variety of sustainable practices can be put in place that will result in significant improvements. Energy efficiency and other sustainable practices frequently offer long-term cost savings, allowing businesses to contribute to the community while becoming more economically competitive.
We all need to take responsibility to preserve and protect our environment. Small changes and actions can collectively have a huge impact. Going "green" is good for your business, good for your customers, and good for your community.
To assist the local business community, Green Business Peterborough was launched in 2011. Green Business Peterborough is a web-based recognition program serving Peterborough and area as a joint venture of the Greater Peterborough Chamber of Commerce and GreenUP. Green Business Peterborough recognizes local businesses that have pledged to and have implemented strategies to reduce waste, save energy and adopt sustainable business practices.

There are many benefits to participating in the program including being recognized as an environmental leader, operational efficiency to strengthen the bottom line, improved employee health and productivity, and holding a marketing edge.
Our community recognizes the importance of preserving and protecting the natural environment. Green Business Peterborough provides a means to recognize those businesses with exemplary environmental performance and to better educate and engage businesses in environmental stewardship. In addition to a recognition program, the program will serve as a guide to educate businesses on actions they can take that will both improve operational efficiency and reduce the impact on our environment.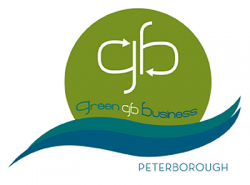 Green Business Peterborough makes it easy for any business to participate, as there are no expensive or cumbersome certification processes to take part.
The goal is to get business owners to start thinking about green policies and sustainability.
The Green Business Peterborough website has been designed to be simple and easy to use. A short application form leads to a self-audit that can be completed in ten minutes or less.
The pledge consists of three steps. The first step asks for basic contact information, details about how many people are employed at your business and the type of building the business is housed in.
Step two goes more in-depth, asking questions about your current green habits. Do you recycle? What do you recycle? Do you compost? Do you have a green purchasing policy? These are all questions that you can either answer "yes" or "no" to. Step two goes on to ask questions about social and community responsibility, energy conservation, and supply chain.
Step three is the final step and where you take the "Green Business Pledge". The pledge is where you can list what your current and future green endeavours are and make a commitment to do your part to help our environment.
Every business that participants in the program will be recognized with a wall plaque and window cling for marketing purposes, and will be allowed use of the program logo in their own material. They will be promoted by the Chamber of Commerce on its directory website, and other Chamber and GreenUP initiatives. Businesses will also be recognized on the Green Business Peterborough website found at www.greenbusinesspeterborough.ca.
GreenUP will follow up periodically to track progress and determine participants' interests. The program database and contact information will serve as a marketing and education platform to provide participants with other useful program information, fresh ideas for sustainable initiatives, and other educational resources.
To learn about some local green initiatives first hand, you're invited to attend the Peterborough Business Exchange on February 4 from 4 to 6 p.m. The event will be held at Peter Gzowski College Florence Benedict Gathering Space, 1600 West Bank Drive. There is no fee to attend this fun, casual networking event.
Trent University has a long-standing reputation for being a green campus and a leader in our community for sustainable initiatives. Those in attendance will learn about Trent's many initiatives including energy saving retrofits, waste management practices, the Gold LEED accredited Athletic Complex, the Camp Kawartha Environment Centre, and much more.
For more information on Green Business Peterborough, contact GreenUP's Cathy Mitchell at cathy.mitchell@greenup.on.ca or 705-745-3238 ext 201.