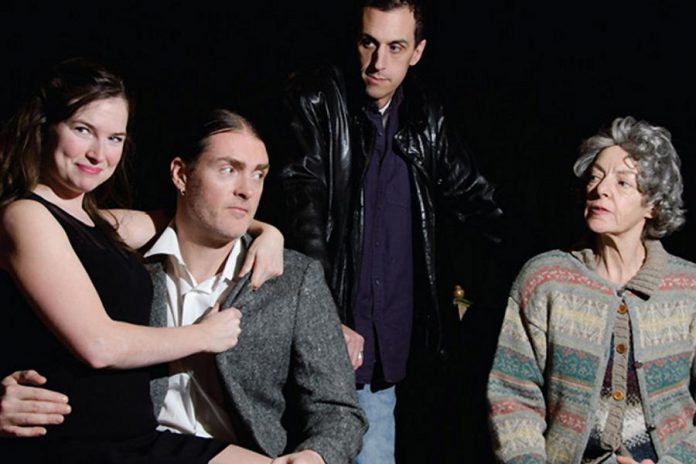 Director Jerry Allen has taken some big risks staging The Beauty Queen of Leenane at the Peterborough Theatre Guild, but the risks definitely pay off.
The most provocative production of the current Guild season, the show straddles a fine line between "black comedy" and "psychological drama", which managed to both delight and shock an unsuspecting audience during its opening night performance.
But through an intelligent script and four strong performances, what might have been a bit too intense for a typical Friday night audience instead left a powerful impact on everyone who saw it.
Written by Irish playwright Martin McDonagh — who won the 2005 Academy Award for Best Short Film for writing and directing Six Shooter and who wrote and directed last year's film festival favorite Seven Psychopaths — The Beauty Queen of Leenane looks at the rocky relationship between an elderly woman, Mag Folan, and her daughter, Maureen, who live in the small Irish village of Leenane.
Forced to take care of her ailing mother, Maureen feels trapped in her existence, while her mother takes every advantage to manipulate her daughter through her demands and nattering, creating an often hostile relationship between the pair.

However, things change forever when neighbour Pato Dooley comes home from London and hooks up with Maureen during a party. While Maureen looks at a potential relationship with Pato as a way to escape the bleakness of her life, Meg seeks to control the situation so that nothing will change.
The beautiful thing about The Beauty Queen of Leenane is that the audience has no idea what sort of roller coaster ride they're in for during the first act. Full of witty dialogue, the production begins with equal parts comedy and drama. But then we get to the second act … and what a second act it is. Just as you think you've gotten to know the characters and have figured out their personalities and motives, you find out that you don't really know them at all. A series of powerful scenes shocks the audience into silence, while leaving them at the edge of their seats.
The Beauty Queen of Leenane might not be the typical type of production you'd expect from the Peterborough Theatre Guild but, due to the heart-felt performances by a talented cast, the actors are able to draw an audience in and have them invested in the characters before the real drama begins to start.
Patricia Young and Alex Saul, as bickering mother and daughter Mag and Maureen, carry the weight of the production on their shoulders and give equally powerful performances. They find a fine line between hostility and love for one another, creating a believable mother/daughter dynamic — especially one in which someone has sacrificed her youth in obedience to take care of her mother.
Under heavy make-up and a grey wig, Patricia Young believably transforms herself into an elderly woman through body language, voice, and movement. She becomes the embodiment of an embittered old woman who acts more helpless than she really is. Young brings a pathetic sweetness to the role, despite constant demands and cruel head games. Although she may remind you of one of your own dearest elderly relatives, Young manages to create a character that is both endearing and horrid.
Meanwhile, Alex Saul creates a multifaceted character who can be sympathetic, sexy, cynical, sarcastic, and manic. Possibly the most complex of the characters in the show, Saul's performance is powerful — especially as her mother pushes her to her breaking point. A complex heroine, Saul's character manages to delight and shock the audience through a wide range of emotional manifestations.
The production's male supporting cast has an important impact on the production as well.
As love interest Pato Dooley, Scott Drummond enters the show confident and almost cocky, but quickly finds himself in a situation that is over his head and becomes a pawn in the power struggle between mother and daughter. A well-performed monologue in the second act displays a softer side of his character, which not only sets up the dramatic twists and turns to come, but shows that Pato might be the kindest character in the production. Drummond creates a character who is not only a voice of reason, but at times the most sympathetic.
While Luke Foster's character Ray Dooley (Pato's brother) never seems to be in the centre of the production's drama, he is a lot of fun to watch and offers some much-needed comedic relief to what is otherwise an intense audience experience. Via his own brand of aggressive humor, Foster generates laughs when things get extreme, especially in the final scene where it is needed the most.
With the audience still trying to catch their breath after the dramatic events of the second act, Foster's comic timing brings a sense of fun back to the final moments of the production, allowing the audience to reconcile with the drama on the stage.
A shout out as well to the make-up artists — Beth Needham and Glen Walker — who are able to transform Patricia Young into a 70-year-old woman every night. It's a brilliant and believable transformation.
Also, Irish-born Sharon Gildea was on hand coaching the cast on believable Irish accents, creating a subtle realism to the production (instead of having the group walk around doing over the top Irish accents as if they were in a Lucky Charms commercial). The performers rarely drop their accents, giving their performances a nice authentic feel.
Powerful, provocative and perhaps not what it seems, The Beauty Queen of Leenane combines a good script and a great cast into a magnificent performance and gives Peterborough audiences a different sort of engaging production. This city needs a little less musical theatre and a lot more productions like this. Jerry Allen should be applauded for daring to bring The Beauty Queen of Leenane to our community.
The production runs until March 8th at the Peterborough Theatre Guild (364 Rogers St., Peterborough, 705-745-4211). For more information, visit www.theatreguild.org. For additional insights to the production, make sure to check out Alex Saul's special Beauty Queen of Leenane blog at peterboroughbeautyqueen.wordpress.com.