It's a tremendous challenge to define our identity — something that most of us wrestle with throughout our lives. Nevertheless, it's an almost daily activity to define ourselves to others in some way.
As an accomplished Canadian actor, Dianne Latchford is more familiar than most with the warp and weft of these definitions. She's been committed to an ongoing professional and personal enquiry into the human condition for most of her life. Now she finds herself surprised by a new identity she's taken on of late — that of an emerging artist.
There's something of a contradiction in this, of course. As a talented actor, performer, singer, musician, and songwriter, Dianne has been an artist for most of her life. It's something of a peculiar cultural quirk that we tend to reserve the artist moniker for visual artists.
Only in the past two years has Dianne has taken to painting, and she's still getting used to the peculiar experience of being talked about and identified as a visual artist and a painter.
This is much to her surprise, because Dianne had always thought of visual art as something that really wasn't a part of her make up.
"Visual art was always very intimidating to me," she says. "There were people who could draw, who could paint … I wasn't one of them."
Visual art was always something she had wanted to try though, and she took up her first classes on something of a whim — thinking that it might be an occasional hobby. When she found herself seriously immersed in the craft, it was totally unexpected.
"It was kind of like diving into something that was solely mine," she says. "It was something I could do, just me. There was something that was, at the end of it, very odd. Because theatre is just up and gone."
Having spent much of her acting career as a theatre actor and as a musician performing live, Dianne has become quite accustomed to the proceeds of her art being ephemeral. Having something tangible to return to, and to appreciate in different ways as she progresses, has been a novel experience.

When her work as a visual artist began getting noticed, she was both surprised and delighted. Part of the reason for her getting noticed could be the experience she brings to her work. Her goal is to create work that draws someone in, in both the literal and the figurative sense. Her depth and her discipline as an actor seem to have given her the basis to progress very quickly in creating depth and perspective in her painting.
"I want somebody to feel like they're there, or to feel like they're going to go around that corner — the corner that isn't in the painting," she affirms. "That's what I want."
I first saw one of Dianne's works on display at the first Peterborough Timeraiser. I didn't quite get the full effect until I looked back at the piece from the other side of the room.
When I did, I was tremendously struck by how much depth Dianne achieved with a few simple details, an effective palette, and remarkable balance.
So far Dianne has kept to the representational world of landscapes and still life, admitting that she doesn't quite get the abstract and conceptual yet — although she is beginning to see how she can get there.

That's the elusive impact she's looking to achieve, and she continues to push beyond her comfort zone as she develops into new forms of expression in her painting.
Making the three-dimensional into the two-dimensional is a whole new world that she credits local artist John Climenhage for opening up to her. She tells me how exciting it has been to begin seeing everything in this new way.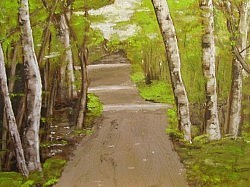 "I love shadows," she explains. "I love the way light falls on things now, and what it spills over and creates."
Now immersed in learning technique, Dianne is finding tremendous joy in demystifying things like composition. She's finding her own window into understanding a new world, and a new terminology for things she never realized she'd already developed an appreciation for.
"It's interesting because I'm itching to paint," she says. "I want to paint something right now. I don't know what it is. If I had a particular thing that I wanted to paint, I'd be painting it. But I'm sort of looking right now for what the next thing is, so we'll see."
Dianne is very excited to be presenting her first solo show showcasing the culmination of the work she has created thus far.
The show, simply titled "Paintings by Dianne Latchford", will be on display at Black Honey from May 12th to June 30th. There will be a celebratory "Installation Party" on Sunday May 18th, from 4 p.m. to 6 p.m.
Black Honey is located at 217 Hunter St. W. in Peterborough and is open from 8 a.m. to 10 p.m. Monday through Thursday, 8 a.m. to 11 p.m. on Friday, 10 a.m. to 11 p.m. on Saturday, and 10 a.m. to 6 p.m. on Sunday. Weekend brunch is served from 10 a.m. to 3 p.m. on Saturday and Sunday. For more information, call 705-750-0024 or visit www.blackhoneydesserts.com.
Dianne's joy and excitement in taking on this new artistic milieu certainly is infectious, and I'm eager to see what her next efforts will bring.

All photos courtesy of Dianne Latchford.