An unprecedented event with a precedent … such are the paradoxical wonders and mysterious happenings soon to unfold as Public Energy wraps up its 20th anniversary season with a new site-specific arts festival: Erring on the Mount.
With scores of local and regional artists collaborating on over 50 art installations, performance pieces, choral groups, and interactive works, nothing with the scope and magnitude of this project has ever been staged in Peterborough before.
Erring on the Mount will present works in evening and afternoon programs from Friday, May 30 to Sunday, June 1 at The Mount Community Centre (1555 Monaghan Rd., Peterborough).
To allow as many people as possible to see the wonders of this event, the festival is divided into two program streams running on each day: Program A is admission by donation and includes all of the art installations and some performances; Program B is ticketed and includes admission to all of the art installations and a much broader choice of select performances.
Tickets for Program B are $20, or you can bundle a pair of days for $35 which allows you the opportunity to see every performance offered. Tickets are available through the Market Hall Performing Arts Centre Box Office (see the sidebar for more information).
Erring on the Mount is generously supported locally by Christensen Fine Art, Grady's Feet Essentials, and Home Depot, as well as provincially through Celebrate Ontario and the Ontario Arts Council's Multi and Integrated Arts Program.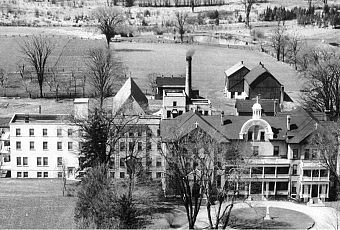 While it's a completely new event, Erring on the Mount has its roots firmly planted in the history of the Peterborough arts community and the history of the Mount St. Joseph convent (now The Mount Community Centre). The site is the sprawling 131,000 square-foot former Mother House of the Sisters of St. Joseph Congregation (1894 to 2009) and its grounds — originally built around an 1860s-era farmhouse.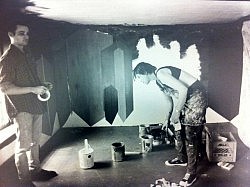 The mysterious name is inspired by a concept dating back to the summer of 1996.
Having recently lost their space, members of the Union Theatre collective were an errant troupe of performers in search of a place to play. They seized upon the opportunity of vacant apartments above The Only Café about to be renovated into The Gordon Best Theatre.
Putting together multidisciplinary teams of writers, visual artists, musicians, and performers, they transformed these spaces into site-responsive works of performance and visual art. They called the event "Erring".
Many familiar with the idiom "to err is human" will think of sins or mistakes, but the Latin root of the word is errant, which means "to go astray or wander".
Erring on the Mount embraces these varied meanings as both expressions of the artistic process and the experience of the event. Visitors will wander through the now-vacant building and its grounds encountering performances, artistic offerings, and opportunities to participate in art-making.
With over 60 participating artists, there will be many familiar faces along with new ones.
Well-known to Peterborough's performance scene is David Bateman. He's teaming up with Em Glasspool of Mysterious Entity Theatre to present "On a Hot Convent Roof". Bateman appeared in the original 1996 Erring and is a multidisciplinary artist in his own right: a performer, poet, professor, and visual artist. He and Em will be using their collective talents to create an entirely new performance work that will explore themes of gender, while using unique aspects of the Mount's architecture as their stage.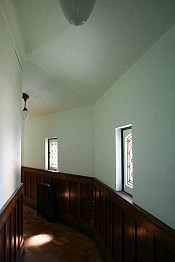 Another connection to the earlier version of Erring is Kim Blackwell, who was part of the production team in 1996 and is now creating an original performance titled "Les Soeurs" ("The Sisters"). A theatrical experience exploring the lives of three Sisters of St. Joseph, as told by three little girls, the piece will incorporate movement and music to tell the stories of these women's lives in their own words. As well, it is a physical exploration of younger people inhabiting characters almost eight decades older than themselves. Peterborough composer Beau Dixon is providing music for the work.
Relative newcomers to Peterborough, the three-person team behind "Rupto Silentio" originally hails from Toronto. Photographer Roz Hermant and visual artist Victoria Wallace will team up with musician/sound artist Jan-Paul Campeau to create a barrage of sound in the ambulatory of the Chapel. A normally silent passageway behind the altar, the ambulatory's original intent will be transformed into its opposite.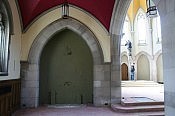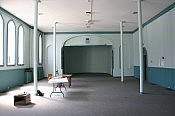 Another Torontonian who now calls Lakefield home is also taking part: retired film and television director Paul Cade. He is returning to his first love for visual art with "The Garden of Infinite Possibilities". Paul's Erring piece will invite community members to collaborate with him on an infinitely expandable "garden" sculpture made of recycled materials. Members of the public and artists alike are invited to participate by adding to the garden during the three-day festival.
Many other works will also invite public participation and interaction. Known for many years in Peterborough for his amazing contributions to theatre set design, Robert Edmondson is a genius of kinetic sculpture. Robert's whimsically titled project "Exploring the Boundary Between Art & Corn" will be animating the chapel with a mechanical sculpture that festival goers will be invited to operate — featuring a dove that flies through the air, hovers over a sculpture of a nun, and sets off a chime.
These are just a few of the wonders that await visitors from Peterborough and the surrounding region to this unique and visionary arts festival.