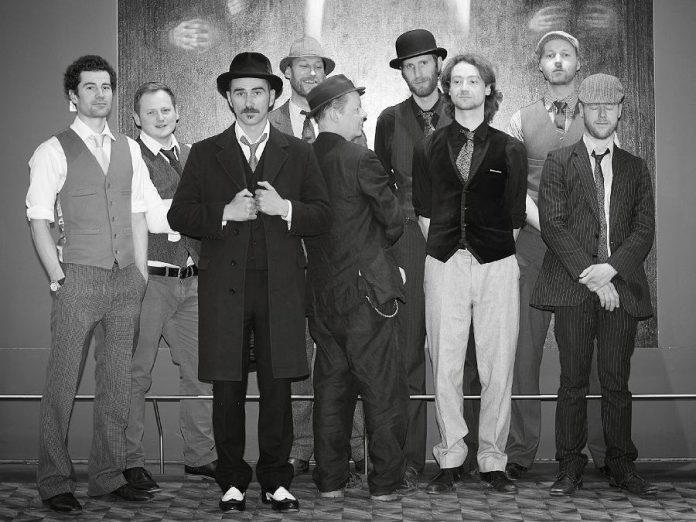 Residents of Peterborough and Port Hope have a chance this June to see Scottish roots rockers The Black Diamond Express — only days after they perform at the annual North By Northeast Festival and Conference (NXNE) in Toronto.
A nine-piece band from Edinburgh, The Black Diamond Express have forged a reputation for blistering live shows with music that successfully fuses the traditional with the contemporary.
Their sound is essentially an amalgamation of Celtic and American roots styles, but with a modern and dynamic sensibility. You'll hear echoes of old-time blues, chain gang work songs, gospel hymns, gutbucket jazz, and plaintive melodies, but all presented through a high-energy ensemble showcasing slide guitar, fiddle, layered vocals, harmonica, and a pounding rhythm section.
One reviewer says the band "somehow stays true to both Robert Johnson and The Sex Pistols". Another describes the band as "the soaring sound of Arcade Fire coupled with the dark cabaret of Tom Waits".
The Black Diamond Express consists of Toby "Jack of Diamonds" Mottershead (vocals/guitar), Cameron Henderson (fiddle/vocals), Steve MacLennan (guitar/vocals/mandolin), Stephen Robinson (dobro), Ewan Gibson (electric bass), George "Dr. Keys" (piano/keys), Andy "The Duke" (drums/vocals), Tommy Rodriguez (percussion/vocals), and Tom "Harpo" McClelland (harmonica).
The band takes it name from a 1927 sermon called "The Black Diamond Express Train to Hell" (Sin is the engineer. Pleasure is the headlight, and the Devil is the conductor), one of 57 sermons recorded by Reverend A. W. Nix in Chicago beween 1927 and 1931. The sermon's metaphorical train is a reference to "The Black Diamond", the flagship passenger train of the Lehigh Valley Railroad that ran from New York to Buffalo from 1896 until 1959. The train was named for the railroad's major cargo, anthracite coal, which was known as "the black diamond" because of its exceptional hardness and high value.
The band's anachronistic name reflects the vision of front man, songwriter and lead vocalist Toby "Jack of Diamonds" Mottershead. Toby formed the band as a loose collective in 2007, intending to recreate the kind of music one might find in the whiskied speakeasies of prohibition-era Chicago. While Toby recognizes the strong influence of the blues (Chicago and otherwise) on the band, he refuses to pigeon-hole The Black Diamond Express as simply a blues band.
"Blues is the reason I got into playing music, and it's deeply embedded in our sound," he admits. "That said, I try not to refer to the band as such. The blues is an ever-evolving form, from the early delta sounds, to jazz, rock, hip hop and beyond. It has continued to change and incorporate new things into what we understand to be blues."
In 2012, the band was nominated for a Scottish BAFTA for their work on the short film A Zombie Musical. In May 2013, the band released its debut album Brimstone for Hell to much critial acclaim. The record is unique for two reasons: it was self-funded and it was a live album. Even though they had received interest from music labels, the band decided to go it alone for their first release.
"It was at a time in the band's career when we just weren't ready for it," says fiddler Cameron Henderson. "It would've been bloody dangerous for a band like ours to get all starry-eyed over attention from major labels. We were still getting to know each other socially and musically, we knew we had to form our sound ourselves and there was serious concern that the labels would take this freedom away. The very fact that our debut album is a live one is something most labels would have baulked at, but it's something that we felt was essential and right and proper."
Releasing a live record as a debut can be risky, but Toby thinks it was the right decision.
"We're not the sort of band that go to a rehearsal room every couple of days," he explains. "For a long time, the only time we would meet up was on stage. The stage is the only place this band knows."

From all accounts, performing live is where The Black Diamond Express truly excel. The band opened for U.S. alternative country band The Mavericks during the latter's 2013 tour of Scotland, and reports suggest that the support act blew their highly rated headliners off stage at Glasgow Royal Concert Hall.
"Judging from the response we got at the gig, I'd say their fans sure took a shine to us," Cameron recalls. "Our music is pretty universal."
Not having the muscle of a music label behind them means that The Black Diamond Express has had to fund themselves, but Toby doesn't see this as a drawback.

"If you get signed, then you may be lucky enough to have the label bankroll your recordings and tour," he says. "But then you're in debt and anything you earn goes into paying off that debt. I think bands struggle to make any money in that position — unless you sell millions of records."
Toby also points out that the internet has had a massive impact on the way music is distributed and promoted, and it's possible to reach a wider audience without the aid of a record label.
"If there isn't a place in the modern industry for music with integrity, then we're screwed," he says. "I think the most important thing for an unsigned band is to be pro-active. Nobody is going to come knocking on your door — you have to go out there yourself and do some knocking."
According to Toby, it appears that The Black Diamond Express's hard work hasn't been in vain. "Some pretty serious backers are again pricking up their ears," he says.
For more information about the band, visit www.theblackdiamondexpress.com.
Every Night About This Time – The Black Diamond Express

Draw The Lightning – The Black Diamond Express

Preachin' Blues – The Black Diamond Express

---
Mayhemingways
Peterborough's Mayhemingways open for The Black Diamond Express at the Showplace show.
Featuring multi-instrumentalist Benj Rowland and drummer Josh Fewings, the duo has a full sound that combines alt-country with bluegrass and Cajun. They play music of long-established country foundation, telling stories of heartache, travel and landscape, and the turmoil of being simple men in a computer age. Appealing to any age, this music is fun, danceable, deep and thoughtful.
For more information about Mayhemingways, visit mayhemingways.wordpress.com.
Atlantic City by Bruce Springsteen – Mayhemingways