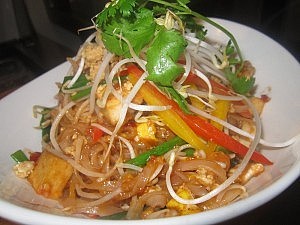 Riverhouse Co. Kitchen and Drinkery in Lakefield
Husband-and-wife team Jeff Kirker and Karrie Galvin opened Riverhouse Co. Restaurant in 2009 and for five years it was the special occasion destination restaurant in Lakefield.
With limited hours of operation and an expensive price tag, the Riverhouse Co. was initially known for its sophisticated menu and extensive wine list — the kind of place you frequent for special occasions.
But times change and Jeff and Karrie seized the opportunity to change the attitude and focus of the restaurant. They began with a name change: welcome to the Riverhouse Co. Kitchen and Drinkery.
Open Tuesday to Sunday, with food service from noon until 8 p.m. and the Drinkery open from noon until closing, Riverhouse Co. Kitchen and Drinkery now serves more approachable, affordable, and fun food.
The food features eclectic flavours from Asia and Mexico, with a focus on grilling and smoked foods. Black bean ginger mussels, slow smoked mesquite pulled pork sandwiches, and spicy pad thai are just a few staple menu items.
The menu will change daily and weekly to allow for more creative food creations, with the inclusion of tapas-style dishes designed to be shared for a more social way of eating. The whole vibe of the transformation is far more relaxing and casual.
They don't take reservations, so just walk in, grab a seat at the new bright and open bar, or find a comfy table — and in the nice weather, enjoy your meal on the porch.
Riverhouse Co. Kitchen and Drinkery at located at 36 Bridge Street in Lakefield. For more information, visit www.riverhousecompany.com or call 705-652-7407.
---
Lantern Restaurant & Grill in Lakefield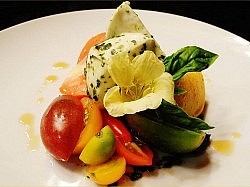 Food enthusiasts and husband-and-wife chefs Geoff and Lesley Kirkland have followed their hearts back to Stony Lake to open
Lantern Restaurant & Grill
, right on the shores of the lake at McCracken's Landing.
Combined, Geoff and Lesley bring over 20 years of culinary expertise and offer upscale cottage dining in a casual atmosphere.
The menu features simple classic dishes rich with the flavours of French and Italian cooking blended with grown-in-Ontario ingredients. The gourmet casual menu changes seasonally to reflect the produce available and, in an effort to maintain a strong local support system, Geoff and Lesley shop locally whenever possible.
Many items are handmade, from pastas, bread, and salad dressing to bitters and flavouring agents used at the bar.
Soups, salads, sandwiches and burgers are the standard fare for lunch on the patio overlooking the water. Dinner options include grilled calamari with peppers, scallions and white wine and beef tenderloin carpaccio with toasted crostinis, shaved grana padano and truffle oil on fresh arugula.
For something more robust, enjoy seared pickerel, seared scallop fettuccine, or mushroom linguini with hand-made pasta tossed with sautéed Waymac Farms mushrooms, spinach and kale served in a mushroom thyme cream sauce.
The bar serves up all Ontario craft beers and several premium Ontario liquors.
Located at 2281 McCracken's Landing Road in Lakefield, Lantern Restaurant & Grill is open Wednesday through Sunday from 11 a.m. to 8 p.m., and Friday and Saturday from 11 a.m. to 9 p.m. Beginning June 21st, the restaurant will be open daily for the summer; breakfast is served on weekends from 8 a.m. to 11 a.m. throughout the summer.
If you're arriving by boat, there's easy access and public boat parking at McCracken's Landing. For more information, visit www.lanternresto.ca or call 705-652-3666.
---
The Food Forest in Peterborough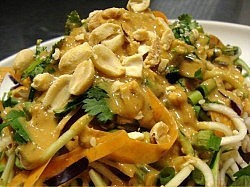 If you're a vegan or vegetarian or if you follow a strict raw food diet,
The Food Forest
in Peterborough is the perfect spot for you!
Sourcing as much organic and local food as possible, the menu offers 100% plant-based dishes containing no meat, dairy, egg, or gluten.
Start your day off with one of five organic juice blend creations guaranteed to nourish your body.
Feeling under the weather? Try a blend of orange, carrot, lemon, ginger garlic and cayenne powder to boost your immune system.
Or perhaps a smoothie loaded with fruits and vegetables.
Light meals include daily homemade soups and luscious salads brimming with fresh garden goodness, sprouts, seeds and whole grains.
For something heartier, try their Black Bean and Chickpea Burger loaded with roasted pumpkin and sunflower seeds and caramelized onions, dressed with hints of smoked paprika and oregano and served on a gluten-free bun — topped with tender baby greens, tomato, sprouts and smothered in your choice of sweet or spicy home-made BBQ sauce.
Or dive into a bowl of Nutty Pad Thai: raw cabbage, carrot and zucchini noodles topped with green onions, cilantro, sunflower sprouts and crushed cashews drizzled with tangy and nutty cashew lime sauce.
The Food Forest offers daily specials, a wide selection of free-trade organic teas and coffees, and is licensed. The restaurant accepts cash or debit only.
Located at 641 George Street North in Peterborough, The Food Forest is open Monday to Wednesday from 9:00 a.m. to 4:00 p.m., Thursday from 9:00 a.m. – 8:00 p.m., and Friday and Saturday from 9:00 a.m. to 9:00 p.m. For more information, visit www.foodforestcafe.com or call 705-874-1888.