A tearful farewell to and a heartfelt celebration of Fynn Leitch at Artspace Peterborough
While it would not normally be the place of this article, I felt I would be remiss to not mention this occasion in the local art world.

This year's Annual General Meeting at Artspace did its best to breeze through matters of business to pay tribute to the tremendous contribution that outgoing director Fynn Leitch has made to Peterborough's storied artist-run centre. Fynn is moving on to become the new Curator of the Art Gallery of Peterborough (AGP).
Artspace Chair Patrick Moore had stirring and gracious words of thanks and congratulations to Fynn that would be echoed throughout the evening. He heralded Artspace's 40th anniversary year stating that this is "a chance to look at our unique history even as we look forward to the future."
The assembled members and supporters of Artspace are a who's who of artists and community builders in Peterborough: Su Ditta, Lyall Brownlee, Michael Poulton, Nick Ferrio, Lester Alfonso, Leslie Menagh, Annie Jaeger, John Marris, and Elizabeth Fennell to name a few. To witness this evening's proceedings was to see a tremendous group of people whose hearts and souls are dedicated to art, mutual support, and community enrichment. Fynn's heartfelt dedication to seeing those values nurtured had much to do with a richly deserved and celebratory farewell.
Her four-year tenure at Artspace was not only exceptional — in achieving their mandate of presenting and favouring work that is challenging, innovative, and provocative — but also unprecedented in the outreach she sought through partnerships and community engagement. In one of many tear-choked addresses followed by raucous applause, Media Arts Coordinator (and now Interim Director) Vincent Chevalier lauded Fynn as a deeply respected colleague and a dear friend.
In doing so, he reckoned with Artspace's progress. "I like to think David and Dennis would be proud of where we are now", Vincent said — referring to Artspace's famed founders, artists David Bierk and Dennis Tourbin.
With her much-beloved earnestness, Fynn choked back her own tears during her farewell speech.
"This makes me both grateful and proud," she said. "Now I'm here in the incredibly privileged position of feeling extremely sad to leave one space, and truly excited to move on to the next."
I couldn't agree more with ex-officio Chair Michael Poultan, who said of Fynn's leadership: "It's been a benefit to the entire community".
We are indeed fortunate that Fynn will remain in this community with a renewed vision to bring to the AGP. For her successor and the next director-to-be at Artspace, the bar has been set high.
---
"AFTER", "The Studio", and "The Portrait" at the Art Gallery of Peterborough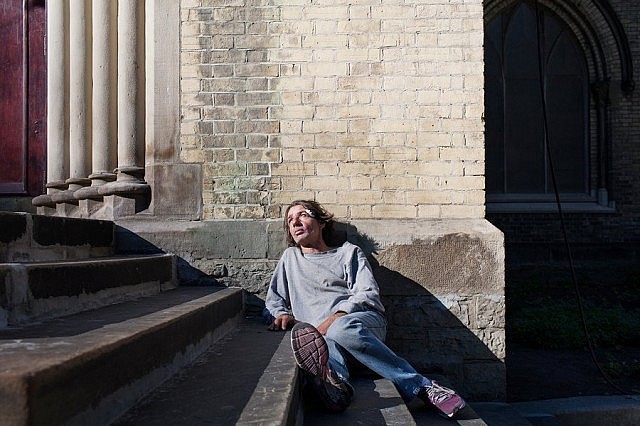 There could scarcely be a more fitting segue for Fynn Leitch's new career at the AGP than the upcoming show "AFTER". The show features the work of hallowed Artspace founder David Bierk alongside the works of his sons Alex, Jeff, Nick, and Charlie, all of whom have distinctive careers as young artists.
This is a showcase of the profound impact that art and artists have had on the cultural community of Peterborough. David Bierk's passion to see a flourishing arts scene here was shared by dozens of other artists and community members that have helped to create the vibrancy we enjoy today.
The AGP was founded the same year as Artspace and, as it too looks to its 40th anniversary, its legacy is entwined with Bierk's, that of artist-run centres, and the future being forged by a new generation of artists both within and beyond our community.
Fynn Leitch is an ideal standard bearer to carry out that legacy, as challenging and innovative works like that of the brothers Bierk will no doubt be at the core of her balanced approach between "national scope and regional spirit".
To take a closer look inner sanctum of David Bierk's legacy, the summer exhibitions at the AGP will also feature "The Studio". This look into Bierk's sometimes-controversial studio practices will be highlighted by sketches made for some of his projects, along with photographs of events and people during this formative period in Peterborough's cultural history. This exhibition reveals not only David Bierk's story, but that of many other artists committed to their vision and community.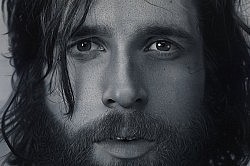 Also featured from the AGP's permanent collection will be "The Portrait". There is continuity here in how much of the work of the brothers Bierk focuses on portraiture. This diverse selection of works ranges from stylized profiles and classically etched features to pop cultural iconography like Andy Warhol's "Mao Tse Tung".
The summer exhibition opens Saturday, June 28th with a reception from 2 to 5 p.m. It runs throughout the summer until Sunday, August 31st.
The Art Gallery of Peterborough (250 Crescent St, Peterborough, 705-743-9179) is open during the summer from 9 a.m. to 5 p.m. Monday to Friday (until 8 p.m. on Wednesdays) and from 11 a.m. to 5 p.m. on weekends. The gallery will have an open house on Canada Day (Tuesday, July 1st) from 1 p.m. to 4 p.m., and will be closed on the Civic Holiday (Monday, August 4th).
All photos courtesy of the Art Gallery of Peterborough.
---
"Assignments" by Sona Safaei-Sooreh at Artspace Peterborough
The cutting edge of contemporary young artists marches on at Artspace as they consider their remarkable history and this time of transition. There is still plenty of call for their mission, as putting the word "contemporary" in front of just about anything continues to cause a certain segment of the population's eyes to instantly glaze over and begins their search for the nearest exit. Match it up with "art" and said effect may be all the more amplified.
The reality is that many people are reluctant to cozy up to things they do not understand. There is the great possibility that such a habit is a very limiting factor with respect to not only art but also diversity, globalization, learning, and communication. This is by no means a complete list.
Sona Safaei-Sooreh has a fascinating and possibly vitally important perspective to share in this regard. She studied art at Azad University of Tehran where she graduated with a Bachelor of Fine Art in Painting in July 2006. She moved to Canada after finishing her studies in Iran and recently graduated from OCAD University in Toronto.
During her tenure there, she shifted her focus from painting to video. There is a storm of perspectives to consider in making these transitions and producing a commentary on cultural understanding and communication in contemporary art practices. It's an expansive subject matter and Sona is embracing the challenge of casting a wide lens upon a deconstruction of what our experience of art — and culturally embedded tendencies like marketable ideas and commodification — means in the modern world.
It sets things to a test, one often put to me by my former philosophy professor Dr. Robert Carter at Trent University. "Is there any 'there' there?" he would ask.
With that in mind, I shall leave it to you to answer that question … with the tacit suggestion that in today's world, it may be increasingly important to be present and engaged in doing so.
"Assignments" opens this Friday, June 27th from 7 to 11 p.m. and runs until Saturday, August 16th. Be on time for this one, there will be a performance at 7 p.m. sharp!
Artspace (378 Alymer St. N., Peterborough, 705-748-3883) is open from 12 to 6 p.m. on Tuesday and Wednesday, from 12 to 8 p.m. on Thursday and Friday, and from 12 to 4 p.m. on Saturday.
---
Art Battle Peterborough Finals at The Venue in Peterborough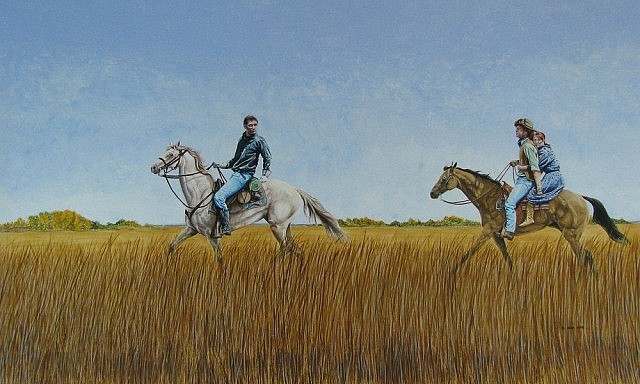 If you've somehow remained unaware of Art Battle to this point, now is the time to get on board. The five Peterborough Art Battle winners from this season — plus an incredibly talented line-up of all-stars — will give it their all in three rounds of live competitive painting on Friday, July 4th.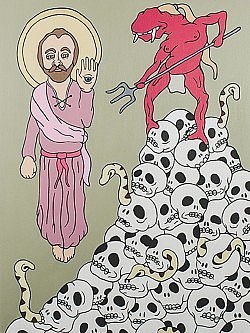 The winner will be crowned the Peterborough Champion and will earn a ticket to Toronto to represent the city in the 2014 Art Battle National Championship on Saturday, July 26th at the Mattamy Athletic Centre at The Gardens (formerly Maple Leaf Gardens).
This truly stellar constellation of artists is an impressive assemblage of talent. I featured Paul Nabuurs in an article about Art Battle #87, the second Peterborough installment this year.
Recent feature Nicole Cooper is also a top competitor as the winner of Art Battle #97. The Work of Art entrepreneur Janet Howse returns as an all-star, and the inimitable arts maven Laurel Paluck is back as the most recent local winner.
The complete list of talent includes Ryan Lamoureaux, Jenny Kastner, Erin Crowley, Indi C. Miskolczi, Lyall Brownlee, Cassandra Mueller, Jason Wilkins, and one mystery entrant to be announced.
These painters will create the best work they can in 20 minutes while you and other audience members move around the easels closely watching the magic unfold. At the end of each round, the audience will vote democratically to determine the winner.
The artists' works will also be available in a 50/50 silent auction, with half the proceeds going to the artist and half to continuing the Art Battle phenomenon — now in its fifth amazing season.
The Peterborough Finals will take place at The Venue (286 George St. N., Peterborough, 705-876-0008) on Friday, July 4th. Doors open at 7 p.m. and painting starts at 7:30 p.m. Tickets are ($10 for students and seniors).
Go to www.artbattle.ca for advance tickets and more information, and you can join the local event at www.facebook.com/artbattlecanada.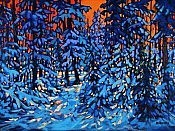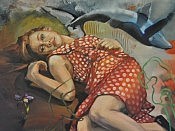 All photos provided by Art Battle Canada.