Paul Nabuurs throws down at Art Battle #87 at The Venue
Paul didn't quite know what he was getting himself into, but he was determined to be ready. Early in the day before Art Battle, he posted on Facebook that he was using a combination of yoga, martial arts, and colour theory in order to prepare. He may or may not have been entirely joking. Paul's flair for humour is well known in the community. Less well known was that the night's coming Art Battle wasn't the only arena where he'd launched himself into the unknown of late. Within the last year, he has taken his long sequestered talents as a visual artist and put himself out there as a professional. You could say he's been preparing for this his whole life.
Paul's early interest in art was encouraged by his high school art teacher Mr. John Blaise. He later went on to study at the, then, Ontario College of Art in Toronto. While there he would meet his future wife, and after graduation their sights were set upon marriage and beginning a family.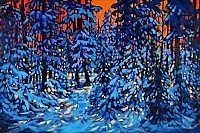 Pursuing a career as a professional artist seemed rather too uncertain, so Paul took his passion for nature and the outdoors to the study of Environmental Science at Fleming College in Lindsay. As his career got underway, he and his wife were seeking an affordable first home when they fell in love with the first house they saw in the south end of Peterborough. Since moving here from Newmarket 15 years ago, he and his wife have raised their family there and have become very much enamoured with — and a part of — the community and the surrounding area.
Things were not without uncertainty though. When work dried up for Paul during the Mike Harris era, he turned entrepreneur and began painting homes. As he tired of adorning walls in various shades of beige, he was returning to the canvas to find the expression he was longing for.
When I asked Paul about the natural scenes depicted in many of his paintings he mused upon his early explorations as an artist and his fascination with natural forms: "I painted a lot of leaves, when I was just doing it on my own; lots of watercolour leaves. I drove my wife nuts."
In more recent years, he found employment with the City of Peterborough in the public works department but, when that too fell by the wayside due to restructuring last year, he and his wife finally decided the time was right for him to pursue his art full-time. The notion of showing and showcasing his art was all brand new.

"I never had a body of work," he tells me of getting started. "If I ever had a painting, it was bought up by a family member or something".
So he set to work in earnest turning out paintings and began showing his works at fairs, including Warkworth's Art in the Park this past May. He made some sales and was encouraged by people's impressions of his work.
His painting "Snow Light" (pictured above) was featured in the latest quarterly edition of NuWork Magazine and at their 2013 Exhibition of Art at the Impresario Artisan Market in Cobourg.
Paul was thrilled when he received word it had sold. He spoke of how encouraging it was "to have someone come in off the street, who doesn't know who I am, (who bought) just totally based on the merit of the work."
At his first solo show in Aurora this past November, he sold more than half his pieces and received many positive reviews.
He also received quite a thrill when his high school art teacher Mr. Blaise came to see his work. They hadn't seen each other in over 20 years.
Although Paul draws a lot of inspiration from the natural environment, his appreciation of forms isn't solely for those found in nature. He has also been inspired by street scenes and structures created by human hands. When he recently found himself with a large canvas to fill he explained how the water tower on High Street in Peterborough caught his attention: "It's something you can pass by every day, but when you actually stop and look up at that water tower, it's quite a marvel."
Unless he was going to set his sights upon something within the confines of The Venue on the night of the Art Battle though, there would be no "objets" to focus upon for inspiration. Just his choice of acrylic paints, brushes, a blank canvas and 20 minutes to create a work of art.
No small task in itself, but all the more challenging facing a field of talented fellow artists while audience members circle close at hand to watch your progress.
During Round 1 Paul faced-off against Art Gallery of Peterborough and Art School of Peterborough instructor Rebecca Reynolds, young phenom Brianna Gosselin, Terry Holmes, Alex Sweeny, and Cassandra Mueller.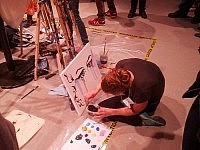 It's a pretty intense atmosphere, and early on Paul was anointed with a cap of red paint when his canvas fell onto his head. He quickly recovered though, and showed well with a beautiful sunset-inspired scene. When the audience ballots were tallied, he and Cassandra Mueller were on to the Round 3 final.
During the break, I caught up with Paul speaking to Art Battle coordinator Morgan Booth while cleaning brushes. "Getting anointed by the canvas is a good sign," she said. "This has happened to several of our winners."
Round 2 featured graphite virtuoso Anne Cavanagh, tattoo artist Jxme Crews, Hunter Street mural mistress Shannon Taylor, The Work of Art owner Janet Howse, Kristina Dergacheva, and KT Conrad. When the votes were in, Janet and Jxme advanced to the final to join Cassandra and Paul.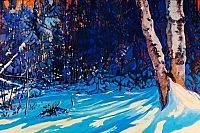 When all the paint had flown and the music had stopped, Morgan's words of prophecy had come true. Paul emerged victorious with a painting of blue evergreens — a painting whose style is fast becoming something of a moniker for him.
It seems his preparation has served him well in all of his new endeavours. Those who picked up his 20-minute masterpieces at the Art Battle 50/50 silent auction may soon find themselves in possession of collector's items.
Paul has proved equal to the challenge of all this uncertainty so far. He's deeply grateful for all the love and support he receives from his family and friends and is encouraged by his successes, but the enormity of what it takes to be a successful artist isn't lost on him.

He tells me how he's still rather awestruck by what a singular pursuit it is to be painting as a professional artist. "It's only me and what I can put out there," he says. "It starts and ends here."
Art Battle is live competitive painting and is now in its fifth full season, touring Canadian cities from coast to coast. It holds monthly battles at participating cities and a national championship is held at the end of each season.
Art Battle will be back at The Venue (286 George St. N., Peterborough) for installment #97 on Thursday, February 20th, 2014.
To register as a competitor or purchase tickets, visit www.artbattle.ca. Tickets are $15 ($10 for students).
---
Taking it all in with Arnold Zageris at Christensen Fine Art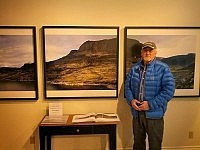 Few can say that they have had the experiences Arnold Zageris has had.
He has taken many journeys to places of remote wilderness far above the treeline, and in more recent years he has travelled southward all the way to Antarctica.
Arnold grew up in Rouyn-Noranda, a town located east of Timmins just on the other side of the Ontario-Quebec border. While most of us down here hugging the 49th parallel would describe his origins as that of a Northerner, it is still quite some way below the treeline.
In his youth, Arnold was bouncing from university to university when he began taking up photography as a hobby. He was determined to capture all that he could of broad fields and expansive landscapes.
When his photographs began to meet with some positive responses, he travelled to New York to seek the mentorship of celebrated American nature photographer Eliot Porter. Porter had an appreciation for Arnold's approach and offered him the advice that has become the hallmark of Zageris' work. He said to him, "Do what you do. You have your own style, your own eye." It was then that Porter suggested to him that a standard 35mm camera might be limiting what he was attempting to capture and that he might consider using a 4×5 (that's inches) large-format camera to capture the breadth of focus and detail that he was looking for.
"I was trying to express more than the camera was capable of delivering," says Arnold, but he spares nothing in extolling the virtues of the 35mm camera and how deserving it is of its widespread use. But for him, being able to focus on only one portion of the frame wasn't what he wanted.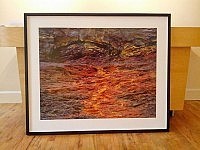 "You can't do it from your toes to the horizon," he explains.
When Arnold was taking pictures of a field of flowers, he didn't want just some of the flowers in focus; he wanted all of them. So it was that he became dedicated to the use of the old accordion-like 4×5 camera with all the focus and detail those large photographic plates could take in.
Quite an undertaking to take with you on an expedition, and quite a process to take all that detail and translate it onto a print without any loss of resolution, but Arnold could simply accept no compromise.
"It's all bigger than you think it is," he says, speaking of the vastness of the landscape he has captured. He walks me over to the beautiful triptych "Uncle Tom's Cabin" to orient me to what I'm looking at.
He points to a spray of water coming down the cliff face on one portion of one third of the three large prints and says, "This waterfall here is 480 feet high. It's bigger than Niagara Falls." In the centre frame is a tiny cabin along the shoreline, which no doubt belongs to Tom. When you start to comprehend the vastness of what Arnold wants to capture, you can understand his adherence to a medium that take in every bit of it he can get.
But it is more than just capturing all that detail. Arnold approaches his subject matter with an extraordinary level of care and makes multiple trips to these remote locations in order to know a place. It's not just a matter of taking snaps, especially when you consider making the most of each 4×5 inch plate. Arnold explains his process in reference to the expeditions he was invited on to go to Antarctica:

"What happens is you realize the penguins aren't that important. It's the light that's important. You start to realize what you're taking pictures of. It's just water. Whether it's the clouds, or the ice, or the sea, it's all water; three states of matter here. What makes it special is the light. You go back another day, you don't bother with it. Why don't you bother with it? Same place. It's the light. You start to understand it."
He certainly didn't plan all this. Arnold's basic essence seems to be that he's an explorer. His latest explorations are as a writer and going on tour to talk about his process. He doesn't see himself as a writer or an educator, but that's just the next stage in his journey. What he does takes a lot of effort and whether or not his next photograph will capture anyone's interest can be an expensive gambit. Each of his completed pieces represents thousands of dollars in travel, developing, printing, and framing costs; but Arnold wouldn't have it any other way. He loves what he does.
"You don't have to go on holiday," he says with a smile. "You're looking forward to Monday."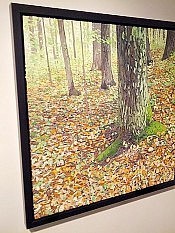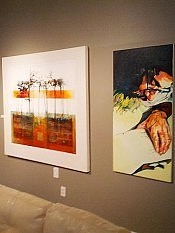 Arnold's work is currently on display at Christensen Fine Art, along with the continuation of a group show featuring local luminaries Lisa Martini-Dunk, Peter Rotter, Anne Renouf, Esther Simmons-McAdam, and Peer Christensen. Arnold's new book On The Labrador, featuring stories of his incredible travels and breathtaking photos of that distinct northerly region of Newfoundland, is also available there for the purchase price of $60. You will seldom encounter such a fascinating and beautiful book.
Arnold will also be part of the upcoming SPARK photography festival in April, featuring new works he will also be displaying at Christensen.
Christensen Fine Art Gallery (432 George St. N., Peterborough) is open Monday to Friday from 10 a.m. to 5:30 p.m., and Saturday from 10 a.m. to 4 p.m.. Call 705-876-9623 or visit www.christensenfineart.com.
---
"Looking Forward, Looking Back" with Still ReFrame
Elizabeth Fennell has a plethora of offerings to her credit as curator this month with what is included in — and in addition to — her usual showings at Gallery in the Attic. Still ReFrame 2014 is taking its cue from the ReFrame International Film Festival's 10th anniversary theme, "Looking Forward, Looking Back". It features 10 exhibits in downtown venues, where artists were asked to focus on art's ability to raise awareness about local and international issues.
Gallery in the Attic's contribution to Still ReFrame comes from long-time local arts scene fixture and provocateur Joe Stable. Joe originally came to Peterborough as one of Artspace's first curators. He is deeply embedded in and an integral part of Peterborough's artistic and cultural community. Joe's series of vintage photographs from the early 1980s gives us a glimpse of Peterborough as it existed 30 years ago.
In "Sally Can't Dance", his favourite mannequin Sally acts as a foil to show how the portrayal of women has altered over the years. Joe's show closes this month on January 31st, with the original slideshow "Vintage Peterborough imagery, circa 1978".
Also showing are "Recent Works" from mother-son duo Cyd Hosker and Laurence Milner, inspired by the Mustang Drive-In and vintage advertising respectively.
Gallery in the Attic (upstairs at 140-½ Hunter St. W., Peterborough) is open Thursday to Sunday from 10 a.m. to 5 p.m.
If you dropped into Christensen Fine Art to have a look at the works of Arnold Zageris and the group show on there, you may have overlooked Paul Oldham's understated contribution to the Still ReFrame line-up. Paul works primarily with glass and is inspired by the natural world. Recently highlighted hazards in transporting crude oil inspired his "Oilsicles", which are hanging inconspicuously in the front window. A small card is on the sill describing them but, as Paul says, "hopefully they're self-explanatory". Some more colourful works from Paul are also currently on display at Gallery in the Attic.

It was my great good fortune that I happened to catch up with Beth McCubbin, arts maven and former co-owner of The Blue Tomato. I dropped into Circus as she was putting up her installation "Materials which change history" with her son Calvin. After 20 years of living, working, and being actively involved in Peterborough's arts community, the call of the north wind took her to Hull, Quebec. Since her departure, she says she's been called back to Peterborough for work ever since.
Beth explains why she was interest in showing at Circus: "It is kind of like my life: discarded, old, refurbished stuff. It's pretty much from these types of objects that I get much of my inspiration for images, textures and finishes. So I thought that it would be a good place to show."
The lovely proprietors of Circus, Sarah and Chris, curate their space inasmuch as they sell things. Beth's focus on using environmentally sound materials making use of the alternative, the overlooked, or the forgotten certainly fits in perfectly.
Beth's work continues the theme of 10 and reflects on the 10 most common human-extracted and human-altered materials which have affected all life on this planet: wood, clay, fabric, bronze, iron, glass, paper, plastic, aluminum, and (most recently) semiconductors.
She presents these materials as an ironic dichotomy. What has largely become indispensable and vital to life as we know it, is also increasingly proving to be disastrous and lethal to all living things. The series of 20 ceramic tiles incorporates different textures and finishes in order to assimilate these different common materials. There is something of a "key" tile that ties the installation together. As Beth puts it, there's "a written presentation of one important material that hopefully makes the viewer ponder the other materials in much the same way." You'll just have to head on down to Circus to ponder for yourself.
Circus (382 George St. N., Peterborough) is open Tuesday to Saturday from 10 a.m. until 6 p.m. You are welcome to contact Chris or Sarah at 705-957-3555 or circus481@gmail.com.
While you're downtown, I highly recommend you take in all the Still ReFrame exhibits:
Photographer Mark S. Gagne's "Nothing But Bones" at The Red Garnet (231 Hunter St. W.)
Sculptor Erika Takacs' "Altered Realities and New Myths" at Dear Henry (219 Hunter St. W.)
Designer Christopher Heffley's "Welcome to the Anthropocene" at Maggie's Eatery (135 Hunter St. W.)
Multi-Media Artist Shannon Taylor's "Parkway Field" at Catalina's Salon/The Barbeside (131 Hunter St. W.)
Photographer Hayley Mortin's "Reprise/Repose" at Natas Café (376 George St. N.)
Visual Artist Patrick Moore's "Templehofer Park" at Market Hall (140 Charlotte St.)
The SPARK PHOTO FESTIVAL community's "Jackson Park Inspirations" at Green Eyewear (374 George St. N.).
More information on Still ReFrame is available at wwww.reframefilmfestival.ca/still-reframe, including a downloadable map of venue locations. Still ReFrame 2014 flyer guides are also available at your favourite downtown locations.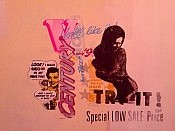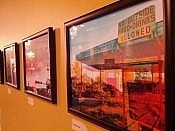 And, if you haven't already, be sure to pick up your festival passes for the 10th anniversary edition of the ReFrame International Film Festival, running Friday, January 24th to Sunday, January 26th. Passes are $35 for adults and $20 for students and the un(der)employed. Rush tickets ($10 per film) are only available at the door of the venue (note that pass holders receive priority seating). Passes are no longer available online due to high demand, but you can still get passes from one of the following ticket agents (while supplies last):
GreenUP Store, 378 Aylmer St. N., Peterborough, 705-745-3238
Green Eyewear Optical, 374 George St. N., Peterborough, 705-775-3937
Trent Central Student Association, Trent University, Champlain College, Suite S110, Peterborough, 705-748-1000
Fleming College Bookstore, 599 Brealey Dr., Peterborough, 705-749-5539
KWIC, The Environmental Sciences Building, Rm B101 (ground floor), East Bank, Trent University, Peterborough, 705-748-1680
Happenstance Books and Yarn, 44 Queen St., Lakefield, 705-652-7535
For more information about the ReFrame International Film Festival, visit www.reframefilmfestival.ca.
Photos by Michael Fazackerley except where noted.