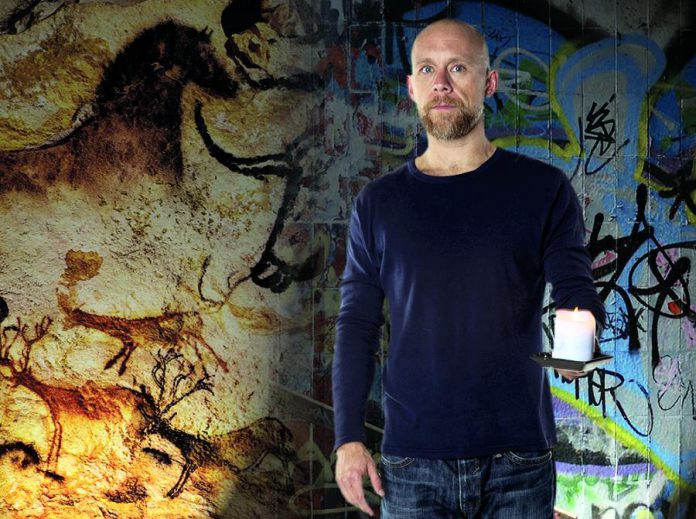 As I'm reading over Em Glasspool's Facebook status dated May 14th, I get a sense of where the event horizon between frustration and inspiration is crossed. You experience the hurt and indignity of being mocked and harassed. Nameless faceless guys in a black car chanting "fag, fag, fag, fag." A gesture of welcome ("This is a really cool place, you'll love it …") thrown back in your face with scathing intolerance: "No it's not, and you're gay".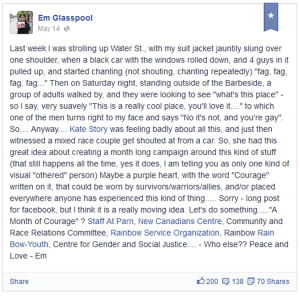 There's a limit that gets reached. Two incidents in the week previous just the latest in a lifetime of enduring similar prejudice and scorn. As Em's post recounts, even as she commiserated and discussed these incidents of harassment with her friend Kate Story, they witnessed a mixed-race couple get shouted at from someone in a passing car.
Something had to be done. Kate had an idea. Em put the call out to the community. This was the beginning of Courage Peterborough.
Em Glasspool is the Artistic Director of Mysterious Entity Theatre and her call was answered by quite the stunning ensemble cast. A month later, more than 200 people from over 30 organizations gathered at a meeting on this new initiative to seek an end to harassment and expressions of hatred in the city. Since then, Glasspool has received hundreds of emails and messages looking to mobilize on this new movement. They've rallied to the symbol of a purple heart for courage.
At the Multicultural Canada Day Festival, Courage Peterborough joined with the New Canadians Centre and the Peterborough Partnerhip Council on Immigrant Integration to launch the #thisismyptbo photo booth. The goal in common, says Glasspool, is "to spread the message that Peterborough is a diverse place, and discrimination isn't something this community fosters or tolerates."
That message is spreading. On Thursday, July 10th, the lights go up at The Venue (286 George St. N., Peterborough) to support the next efforts of this ongoing campaign to end harassment in all its forms. This "Collection of Courage" hosts three-time World Spoken-Word Champion Buddy Wakefield as part of his "Riled Up and Wasted On Light" World Tour (www.buddywakefield.com).
"Hurling Crowbirds at Mockingbars" performed by Buddy Wakefield

If you haven't heard the astonishing eloquence and disarming honesty of Buddy's penetrating humour and wit, then prepare to be amazed. You will roll through a few waves of laughter and tears in the course of his performance. I saw Buddy open for Ani DiFranco at the Danforth Musical Hall a few years ago. I had never seen a spoken-word artist open a concert before and I've never forgotten it since. It was not only life affirming — it was life altering.

Buddy is but the tip of the iceberg on this incredible creative fundraiser being presented by The Peterborough Poetry Collective, Colour Upwards, and The Venue on Thursday night.
It will also feature the wild antics and popular hilarity of The Citiots Improv group and performances from the Peterborough Slam Team, along with a host of music including Kate Suhr and Colour Upwards (featuring Erroneous Monk/Danny Taro).
The event will be hosted by actor/author/artist Kate Story and the Peterborough Poetry Collective's fearless leader Wes Ryan.
Thinking about how this movement can work, I was reminded of something I read a few years ago. I couldn't quite remember at first. It was something about how a fellow had infiltrated the Ku Klux Klan to expose the secrecy of their meetings and their membership. This helped to destroy the KKK's early rise to power. A dramatic example I know, but one that does illustrate the effective cleansing agent sunlight can be.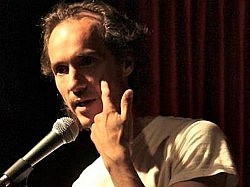 After a bit of searching on the internet, I found the fellow in question was pioneer folklore collector and author Stetson Kennedy.
A little more digging and I realized the account I read came from the book Freakonomics by economist Steven Levitt and New York Times journalist Stephen J. Dubner.
The basic thrust of the book being that economics is essentially a study of incentives. The story came in Chapter 2 on information control as it applied to the Ku Klux Klan and real estate agents.
While the accounts made by Stetson Kennedy have since been reappraised by Levitt and Dubner as "considerably overstated", the object lesson about the power of secrecy is not.
Courage Peterborough can achieve considerable success by shedding light on these incidents. So come on out on Thursday to enjoy an incredible evening and add your light to rays of courage shining so brightly that even the darkest corners of oppression will be bathed and cleansed.
Tickets are available at the door on a sliding scale of $10-$20, or reserve in advance from Wes Ryan at wjrguff@hotmail.com. Doors open at 7 p.m. and the show starts at 8 p.m.