After a break through the month of June, the Peterborough Theatre Guild begins its summer season with something a bit different. Director Erin Maxfield has brought Toronto playwright George F. Walker's dark comedy Criminals in Love to the Peterborough stage.
A funny little piece that doesn't try too hard to be anything but what it is, Criminals in Love is an enjoyable night of theatre for an alternative audience. Lightly provocative, the play is filled with colourful and eccentric characters and outrageous criminal situations. If Quinton Tarantino ever produced a special for CBC television, this might be it.
Focusing on the misfortunes of an anxious and high-strung young man named Junior, Criminals in Love is not only a comedic farce but it is also very much a love story. While trying to avoid falling into the legacy of his crime-oriented family, Junior finds himself a pawn in the plans of an unseen uncle and his psychotic wife.
Torn between his loyalty to his dim-witted incarcerated father and his desire to marry and live a normal life with the girl he loves, Junior finds an unlikely mentor in a philosophy-spewing homeless man named William who seems to have more cards up his sleeve than anybody could anticipate. Eventually everybody Junior connects with gets wrapped up in his unwanted criminal legacy, as the invisible noose around Junior's neck tightens.
Erin Maxfield is fortunate to be working with two extremely talented leads — Matthew Finlan as Junior and John Lunman as William — which makes Criminals in Love an enjoyable and lively production.
High strung and almost tortured, Matthew Finlan gives an often-hilarious performance in the role of Junior, a young man trying to escape his past. Extremely likeable, Finlan creates a nervous energy through his physical humour and chaotic body language. He is also able to convey a feeling of co-dependent love for his girlfriend Gail, which is endearing. In a production full of seedy individuals, Finlan gives the audience a character to root for.
John Lunman as William is the true delight of the production. As the eccentric voice of reason in the production, Lunman gives a fantastic performance and William becomes the standout character in the production. Funny, eccentric and endearing, William isn't what he seems to be at first, which makes the audience contemplate the way they may think of homeless people in their own city.
The smartest and boldest character in the play, William forms a strong bond with Junior, as he takes an interest in Junior's situation and tries to save his new friend from the clutches of his insane family. Lunman's performance is a triumph, and his on-stage chemistry with Finlan is fantastic. Together, they form the glue that holds Criminals in Love together.
There are a number of other fine performances by a fine company of actors. Jennifer Carr plays Junior's long-suffering girlfriend Gail, who sticks by her man despite the insanity that surrounds them.
Jim Mills does a character piece as Junior's daft jailbird father Henry, who gives not only some of the most frightening moments of the play, but some of the funniest lines.
Kate Ethier gives a strangely adorable performance as Gail's best friend Sandy, who's pursuing a new career in prostitution. Although her character often seems a tad bit out of place in the production, Ethier's subtle comic timing made her character one of my favourites.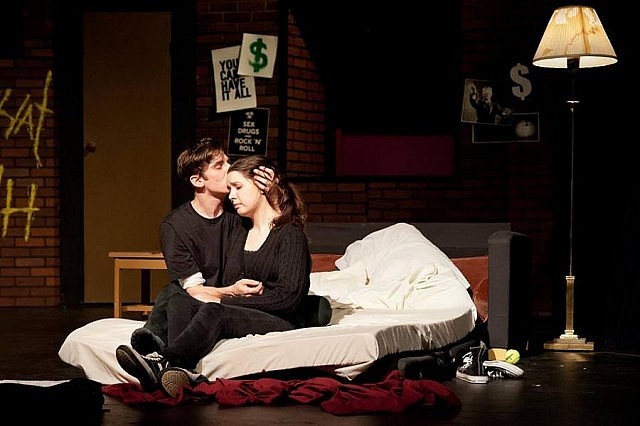 Every production needs a great villain, and Criminals in Love is lucky to have Natalie Dorsett in the role of Wineva. Bold and larger than life, Dorsett gives a performance reminiscent of grindhouse icon Tura Satana. Subtly threatening, Dorsett is able to construct an invisible net that snares the entire cast at the beginning, but her control over the group ends in hilarious consequences as she becomes more and more manic.
Criminals in Love is perfect summer theatre that should attract both the home audience looking for a night out, as well as tourists who want to experience Peterborough's vivid theatre scene. Likeable and unpretentious, Criminals in Love is an enjoyable production to help kick off the city's summer theatre season.
Criminals in Love runs from July 11th to 20th at the Peterborough Theatre Guild (364 Rogers St., Peterborough, 705-745-4211) with an 8 p.m. start (2 p.m. on Sundays). Tickets are $18 ($16 for seniors and $10 for students). For more information on the production and its cast, visit Erin Maxfield's blog at criminalsptbo.blogspot.ca.