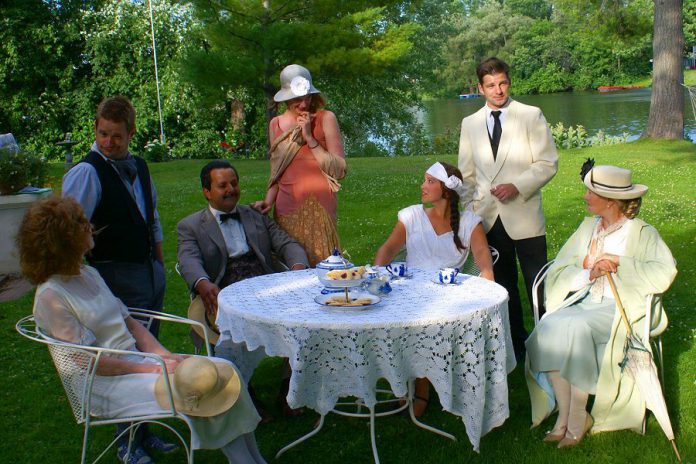 Who doesn't dream about escaping from their dreary existence by running away to an exotic location to find themselves and fall in love? This is exactly what the Peterborough Theatre Guild allows its audience to do as they cap off their 2013/2014 season with Judi Wilson's production of Enchanted April.
The title of the play is not misleading. It's exactly how the audience will leave the production — completely and utterly enchanted.
Based on the 1922 novel by Victorian-era writer Elizabeth von Arnim, Enchanted April has had a long history on both stage and screen, including film adaptations made in 1935 and 1992 and two different stage versions — one produced in 1925 and a second more successful version written by Matthew Barner that debuted on Broadway in 2003. It is this Tony Award-nominated version from 2003 that Wilson has brought to the Theatre Guild.
Filled with strong female characters, personality conflicts, romantic entanglements and equal parts drama and comedy, Enchanted April is a captivating and romantic crowd pleaser, and could be easily compared to Sex in the City if it were set during the Jazz age. In the years following the First World War, two women (Lotty Wilson and Rose Arnott) who are stuck in marriages as dreary as the never-ending London rain, read an ad in the newspaper offering a castle in a remote Italian village for rent during the month of April. Despite being virtual strangers to one another — with extremely different personalities and outlooks on life — the women pool their money along with another two strangers (Lady Caroline Bramble and Mrs. Graves) and leave their husbands behind for adventure in the Mediterranean.

However, once in the Italian garden of paradise, the four women must deal with personality conflicts, inner turmoil, and the longing for love. Eventually, the women discover that even if you run away to paradise, you can't run away from your own reality.
Judi Wilson and her company deliver a near-perfect production with tremendous attention to detail in all aspects of the play — including fashionable period costumes and an elaborate second act set, both designed by Carolyn Boyer, and dramatic lighting effects by Scott Martin, which are some of the most imaginative and stunning seen this season at the Theatre Guild.
But the most noticeable brilliance is in Wilson's casting of the four leads of the play: Julia Johnston as Lotty Wilton, Sheila Charleton as Rose Arnott, Emily McFarland as Lady Caroline Bramble, and Jennie Ryan as Mrs. Graves. All four actresses develop strong individual characters, with each adding their unique and important element to the production. The audience falls in love with each woman for a different reason, giving you four heroines to be captivated by.
Although it's an ensemble piece, there is no doubt that Julia Johnston grabs the standout role as Lotty Wilton. Beautiful, whimsical, romantic, and free spirited, Lotty is trapped in a marriage with a dull boor of a husband named Mellersh (played by Ray Ulbikas) and seeks romance, adventure, and a life away from the mundane existence that she calls her life. Johnson manages to become the personification of the word "enchanted" as she seduces the audience with her high energy and sweet nature and leads them into the drama and romance of the production.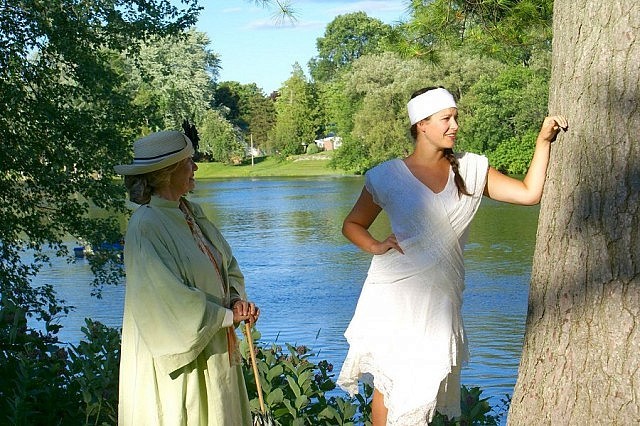 Meanwhile, Sheila Charleton adds a different sort of drama to the story. Charleton's character Rose Arnott is sullen, dour faced, repressed, and sad. Lost in a marriage with her husband Fredrick, a romantic writer trying to discover his own identity in the post-war society (played by David Adams), the two can no longer relate to one another, which puts their marriage in jeopardy. However, once Rose leaves the dreariness of England for the shores of the Mediterranean, she blossoms into a new woman, rediscovering a romantic side that was long forgotten. A newcomer to the stage, Sheila Charleton gives a lovely performance, and is a perfect straight woman to Julia Johnston's role — with Johnston playing the dreamer and Charleton playing the realist. In the end, the best of both characters' natures rubs off on each other. Hopefully the Peterborough stage will see more of Sheila Charleton in the near future.
Emily McFarland brings a touch of pathos and tragedy to the role of Lady Carolyn Brumble. A poor little rich girl who makes the gossip columns with her wild parties and outrageous behavior, Lady Carolyn is a lot more then she seems. With sad secrets from her not-so-distant past, Carolyn wants to be "left alone" and to find herself. However, no matter how far she flees from her reality, her life soon catches up with her again. Lady Carolyn is an interesting character because, while she was developed originally in 1922, she seems to reflect the socialites of our modern tabloids — proving that little has really changed.
But it's Jennie Ryan as Mrs. Graves who becomes the scene stealer of the production. Stubborn, snobbish, proper, demanding, and often unlikeable, Mrs. Graves is most easily described as being an insufferable bitch. However, she is the kind of bitch who has a heart of gold buried deep down inside of her uptight British hide, which is sure to make her an audience favorite — in the same way that Maggie Smith has become as Violet Crawley in Downton Abbey or Diana Rigg as Olenna Tyrell in Game of Thrones. Jennie Ryan ignites the stage every time she appears as a loveable comic foil. She is such a horrible travel companion that you almost hate to love her, but her loveable qualities eventually shine through.
While the women are the obvious stars of the production, the drama couldn't happen without the male cast members, who differ in nature as much as their female co-stars and who add their own unique imprints on the production. Ray Ulbikas is awkward and oafish as Mellerish, and you wonder how someone as beautiful and romantic as Lotty ended up with him. David Adams is charismatic but lost in the role of Frederick, as he straddles the line between real life and a social masquerade with his miserable wife in the crossfire of his ambition and ego. But it's Kenn Gibb in the role of castle owner Antony Wilding who becomes the true romantic hero of the play. Gibb oozes charm and sweetness and is sure to melt the hearts of all the ladies in the audience.
A special shout out goes to supporting actress Maria DeCiccio, who plays the castle's housekeeper Costanza in the second act. Despite speaking no English dialogue, DeCiccio lights up the stage with her bright energy, comedic timing, larger-than-life body language, and perfectly timed side comments. My favorite character in the production, her interactions with the cast are hilarious — especially her rivalry with Mrs. Graves. Maria DeCiccio is a wonderful additional element to a wonderful production.
Enchanted April is a true audience pleaser and a fantastic end to what has been an amazing season at the Peterborough Theatre Guild. This lighthearted period romance is perfect summertime theater. Pure perfection by everyone involved, Enchanted April will make even the most cynical hearts burst with romance.
Enchanted April runs August 8th to 17th at the Peterborough Theatre Guild (364 Rogers St., Peterborough). Performances start at 8 p.m., with 2 p.m. matinees on Sundays. Tickets are $18 ($16 for seniors and $10 for students) and can be ordered from the box office at 705-745-4211.
All cast photos by Theresa James. Note that these exterior photos are publicity photos only (the actual play takes place on a stage).