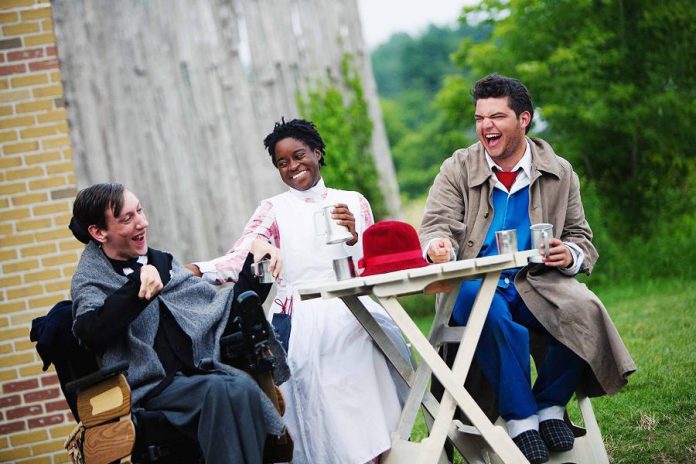 If Wounded Soldiers, 4th Line Theatre's latest original production, came with a warning label, it might read: "Warning — If you're looking for a light-hearted evening of musical theatre, Wounded Soldiers isn't it. However, if you're looking for a gritty play full of strong performances, hard-hitting drama, three-dimensional characters, and thought-provoking ideas, you've come to the right place."
Wounded Soldiers is dark and disturbing, but you know what? So was World War I. War is hell, and that's exactly what playwrights Robert Winslow and Ian McLachlan want to convey to the audience. Mission accomplished.
Making its debut on Thursday, August 7th — the 100th anniversary of World War I — Wounded Soldiers is the much-anticipated sequel to 4th Line Theatre's popular production Doctor Barnardo's Children. However, while the latter hit upon some dark subject matter between comedic moments, the mood and feel of Wounded Soldiers is consistently bleak with a few moments of scattered dry humour. There's a reason why the 4th Line Theatre website doesn't recommend this production for children under the age of 10.
Maybe it was audience expectations from remembering Doctor Barnardo's Children that led to some nervous laughter and muted chuckles during inappropriate moments in the first act of the play. It was if some members of the audience weren't sure what they were supposed to do or how they were supposed to react. But soon enough the audience got into the true spirit of the production, and watched in silent horror during dramatic scenes of shock therapy and a tank crashing like a steel juggernaut over the twisted bodies of soldiers as they screamed in agony. The audience soon realized that laughter wasn't what was expected of them.

But no matter how confused some members of the audience were initially, there were no confusion by the end of the play that 4th Line Theatre had another hit on their hands: the crowd jumped to its feet with a standing ovation when the drama was done.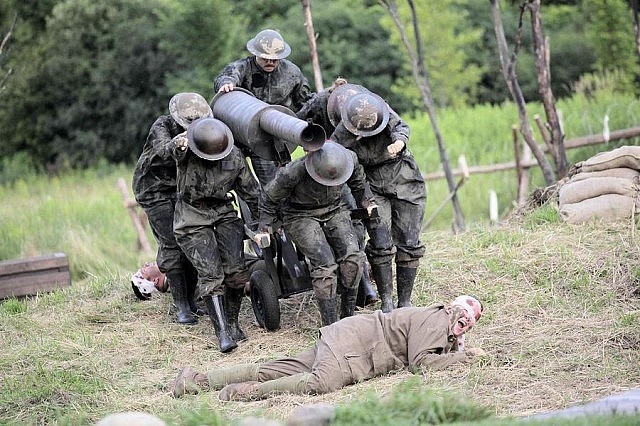 Wounded Soldiers picks up the story of Billy Fiddler — Winslow's hero from Doctor Barnardo's Children — as he returns to Europe as a member of the Canadian Armed Forces to fight in World War I. After surviving the battle of Flanders, Billy suffers "shell shock" (what's now known as Post-Traumatic Stress Disorder or PTSD) and is sent to an army hospital in England that's connected to a mental asylum. While being treated, Billy is reunited with his old friend Johnny Singer, who has cerebral palsy. Written off by the doctors and nurses as being "an idiot," Johnny finds an ally in Lydia Grant, a nurse from Jamaica who realizes that Johnny is a brilliant poet and that there's much more to him than others realize. Johnny, Billy and Lydia form an unlikely bond, connecting as outsiders of society and finding friendship in a world that seems to be burning down around them.
Although the production feels bogged down by bleak subject matter and imagery, the superb performances of the three leads — Griffin Clark as Billy Fiddler, Sean Towgood as Johnny Singer, and Jajube Mandiela as Lydia Grant — maintain the human element in Wounded Soldiers, drawing the audience into their story. As I overheard one audience member say to another during the intermission: "I didn't know if I was going to like this at first, but now that I know the characters I'm really enjoying it."
Originally appearing in the role of Billy Fiddler in Winslow's 2005 production of Doctor Barnardo's Children, Griffin Clark reprises the role for Wounded Soldiers. While Billy Fiddler has always been a character who's had nothing but bad luck, Clark brings the character to his darkest place yet. Suffering shell shock and memory loss during the aftermath of the battle of Flanders, Billy wants to get back to his comrades in the battlefield, but is trapped in a war hospital where he suffers from nightmares and violent mood swings. Clark gives a powerful performance as a man damaged by war who's trying to find himself again and survive the war both physically and emotionally.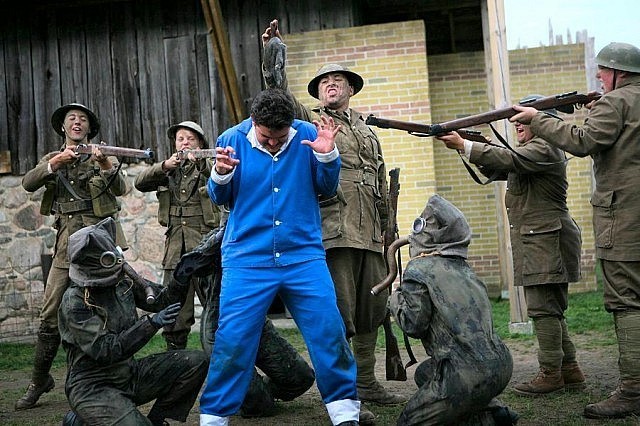 Sean Towgood is also back as Johnny Singer, the role he originated in the first production of Doctor Barnardo's Children. Like his character, Sean Towgood has cerebral palsy, but this doesn't prevent him from taking centre stage as a major player in the production. Towgood is a master of timing, and his lines are filled with a cynical humor that cuts through the dreariness of the production — yet still keeps the overall dark tone of the drama. Towgood's capacity to handle such a demanding role is a testament to his ability as an actor, and the respect that Robert Winslow has for the young man. Towgood's performance is a triumph.
Jajube Mandiela's performance as Lydia Grant is the light of the production. The Toronto-based actress — remembered by fans across North America as Chantay Black on Degrassi: The Next Generation — plays a good woman who is trying to make a difference in a terrible situation. Bright, caring and optimistic, Lydia sees the goodness in Billy and the brilliance in Johnny, but struggles to find her own place in the world she is now a part of. Dismissed by her superiors and facing bigotry from British society, Lydia is a good and sane woman living in a dark world of insanity. The result is a poignant and three-dimensional performances by a fine actress. Mandiela's character easily becomes the audience's favorite.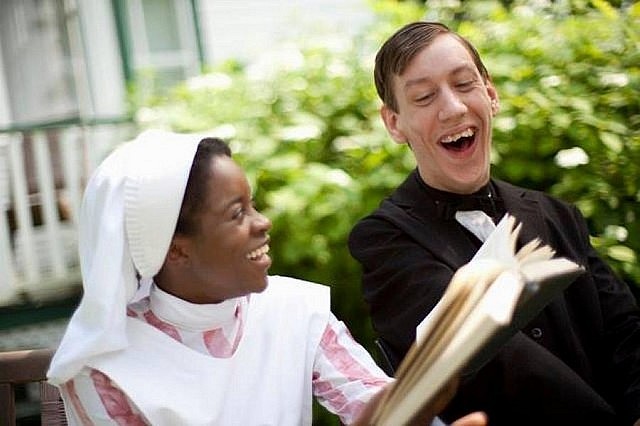 What took me most by surprise was that Wounded Soldiers isn't just a drama — it's also a musical!
Having no idea of this, I didn't expect the 11 original musical numbers, written by Justin Hiscox with lyrics by Winslow and McLachlan, that were inserted into the drama. The songs vary in quality, with some being quite beautiful and others being garish — but none of them are the type of songs you go away singing to yourself as you leave the show.
The production numbers that accompany the musical sequences — which generally are projections of Billy's nightmares — are disturbing, and are comparable to the animated sequences from Pink Floyd's The Wall. In one musical number, Billy Fiddler undergoes shock therapy, while in another Fiddler and the ghosts of his fallen comrades dance with three giant rats, and a third incorporates soldiers being slaughtered in the wastelands of France. While the musical numbers fit the mood and the realism of war, they aren't what one would normally expect from musical theatre. The result is an interesting juxtaposition of drama and music.
Wounded Soldiers is a different type of production for 4th Line Theatre. It's powerful, poignant, well acted, hard hitting, and dipped in historical research — as one would always expect from this fantastic theatre company. However, it is also bleak, garish, depressing, and often disturbing. That doesn't mean it's bad, just that it might not be for everyone — although the audience around me all seemed to approve.
Personally, I think it's a bold and daring direction for 4th Line Theatre and I applaud the company's ability to create something that realistically personifies the nature of the First World War. It's too early to say if Wounded Soldiers will become another 4th Line Theatre classic like Doctor Barnardo's Children, but it will be one that will stick in the minds of the audience for a long while.
Photos by Rebekah Littlejohn and Wayne Eardley