This severely belated sequel may be arriving nearly a decade too late, and the pop lustre of its living panels may have worn off with subsequent familiarity and many inferior imitations, but it is not without its aggressive merits.
Director Robert Rodriguez and legendary scribe Frank Miller's previous Sin City was evidently game-changing in its perhaps overly literal adaptation of Miller's hallowed crime series. The iconic style of its filming elegantly framed a plethora of punching and brought kinky sex to the mainstream.

The transparently neo-noirish title of the sequel may not be the sigil of irony it purports to be, given the firmly imposed gender roles. The women may commit two-thirds of the violence, but their roles as a legion of liberated ninja prostitutes has become pretty hard to swallow by this point.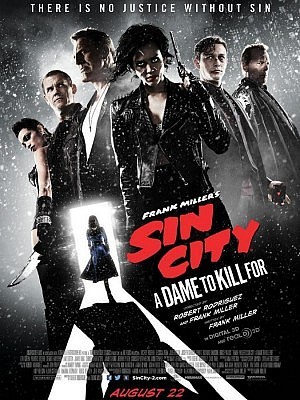 The non-linear anthology narrative may be considerably less gripping than it thinks it is, but the material — though often repellant — is inevitably engrossing. One can only imagine the potential fireworks of an HBO serial.
And that is the slithering charm of the whole enterprise: the giddy thrills of staying up too late and catching glittering images of something you'd never be allowed to watch. It's essentially what you envisioned (and hoped) every restricted film to be like when you were a child.
Pleasingly, the violence — however seethingly gratuitous and loud it may be — is never played for laughs and is easier to stomach given the often-spectacular design. Harsh silhouettes and stark black and white contrast are rendered even more effective in some of the best use of 3D filming yet.
The endlessly inventive visuals practically seep ink out of the screen and breathe desperately needed new life into a litany of noir and spy clichés.
The mythical city initially resembled a sweaty New Jersey, but here seems to have been upgraded to a crumbling Los Angeles. It is still populated with a beautiful and grizzled rogue's gallery of fallen superstars and "almost was's."
The once swoon-worthy visage of Mickey Rourke is put to inspired use as the indestructible deathrow behemoth, Marv. Marv mercilessly dispatching some smug frat boys who torture the homeless sets the tone admirably. It's quickly evident that we are squarely in Miller's brain: a intoxicating netherworld where the heroes are villains and scars and fishnets are brandished with honour.
The dame in question is the duplicitous Ava Lord (Eva Green) whose titular segment of the triptych deservedly earns the most screen time, torturing hapless brute Dwight (Josh Brolin replacing Clive Owen via some somewhat clever surgery). Remarkably beautiful and charismatic, Green is far and away one of the film's sterling assets — playing Lord like a David Lynch damsel as written by Tennessee Williams with the face of Gene Tierney. She could and should have her own film.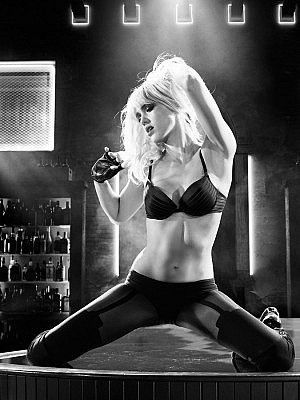 Though Miller and Rodriguez still have an ace up their sleeve in the surprising form of Jessica Alba.
Reprising her role as exotic dancer Nancy Callahan, Alba has been little more than erotic wallpaper until a pleasing twist sees her become severely unhinged. Obsessed with revenge on the man responsible for the death of her potential lover and father figure John Hartigan (Bruce Willis, mugging) — who rescued Nancy from the hands of the sadistic Yellow Bastard in the previous film — Nancy turns to the bottle and increasingly destructive outbursts.
Alba plays Nancy as a harrowing survivor who reclaims her perfect body from the legion of abusive perverts who ogle it and rises up as a world-weary Valkyrie who destroys everything her in path, and not as the abuse-victim-turned-stripper with a heart of gold. A stunning interior monologue about the liberating trap of "Stripper Logic" set to the smoky techno of Nancy's signature track "Absurd" before smashing her own face into a mirror is worth the price of admission alone.
It's a very strong performance rendered as even more of a sucker punch for being so utterly unexpected. If Ava Lord deserves her own film, then Nancy Callahan should have her own gender studies course.
There are other fleeting moments of effective commentary. When Joseph Gordon-Levitt's cocky card shark Johnny is targeted by a vindictive and ruthless Senator (Powers Boothe, excellent), the commissioner tells Johnny "I can't protect you" to which Johnny smirks "Then why are you a cop?" The word Ferguson comes to mind.
At the very least, it's less than 120 minutes and an extremely welcome antidote to the saccharine gunk of competing films like The Giver starring burgeoning hip hop artist Taylor Swift. Not subtle.
Sin City: A Dame To Kill For Official Trailer
All photos courtesy of Mirimax Films.