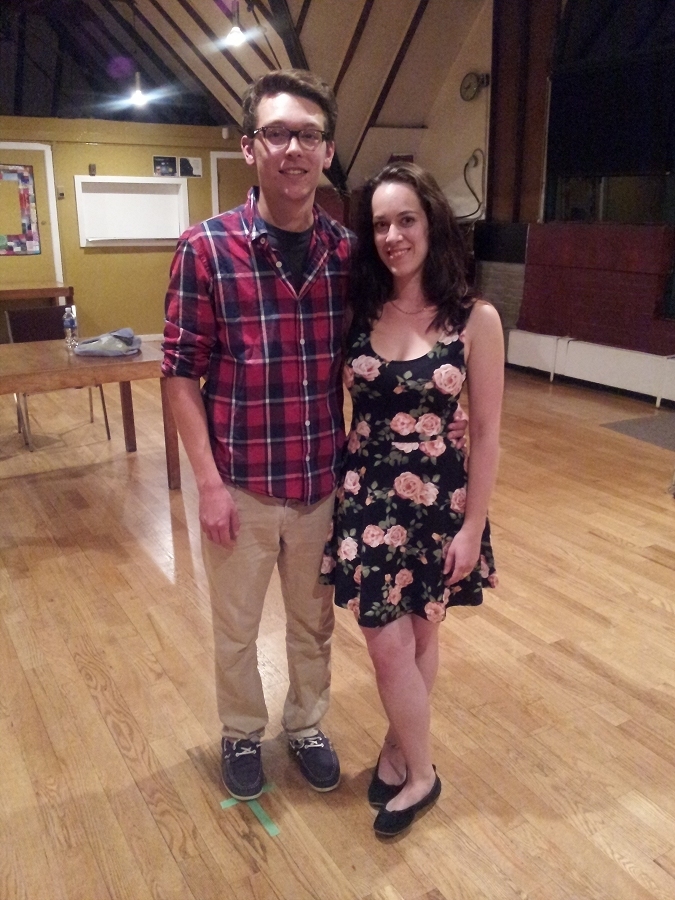 I have come to expect great things from director Dane Shumak. Passionate about modern theatre, Dane has proven to have great vision when it comes to bringing bold new productions to Peterborough.
Well, Dane has done it again. With a small but extraordinarily talented company, Shumak is bringing Jason Robert Brown's moving musical The Last Five Years to the Peterborough stage. The result is a powerful emotional journey that isn't to be missed. A true triumph, this show is destined to be a highlight of this theatrical season.
First produced in Chicago in 2001 (before becoming one of the most-talked-about off-Broadway productions of 2002), The Last Five Years is a high-concept drama about a relationship that is doomed from the start.
The show focuses on the five-year relationship between a young couple in their twenties, Jaime and Cathy, from when they meet to the point that they say goodbye, told entirely in song. But here's the twist: Jaime and Cathy are in two different timelines.
The show begins with struggling stage actress Cathy at the end of the relationship (after Jamie has left) and successful novelist Jaime at the beginning of the relationship (when he first meets Cathy).
Through their musical performances, Jamie moves forward in time while Cathy moves backwards, until they eventually meet in the middle — and eventually switch sides and reveal the other side of what is often a one-way conversation. A unique concept, the constant juxtaposition of joy and pain, anger and love, hope and regret is portrayed in well-written musical numbers. Oh, and a spoiler: when the two meet in the middle, it's absolutely magical.
As a two-person play, the success of the show falls squarely on the shoulders of Ryan Hancock as Jaime and Bronte Germain as Cathy, and the two actors completely deliver. Ridiculously good looking, extremely talented, and incredibly charismatic, Hancock and Germain seduce the audience immediately with their charm and energy. They make these relatively stock characters come alive as they bring forth the best and the worst of their characters' personalities. It's impossible not to fall in love with Hanock and Germain as we watch them fall in — and then out of — love with each other.
These performers are going to blow your minds. They've already become some of my favourites, making me wanting to see more from both of them. Luckily for Peterborough theatre, both Hancock and Germain have major roles in St. James Player's upcoming production of Les Misérables, so there's more to come.
While there is a storyline, the music never ends as the two performers alternate solos. The result is a cross between a theatrical production and a concert. Both Hancock and Germain are incredible vocalists, which brings the audience to an entire different emotional space. I constantly had goosebumps from the power of their performances, and they can hit emotional moments so high that the audience will be reduced to tears.
Incredibly modern with hip cultural references and humour, the music — under the direction of Justin Hiscox who is accompanied by Mark Hiscox and Alex Stewart — never stops. But once this rollercoaster ride starts, you don't want it to end. Any interruption in the flow of the two timelines would destroy what is a powerful theatrical experience.
Why would you want to see a production in which you know the couple's relationship is doomed from the start? Well, if you've ever fallen in love and had your heart broken, you will relate to this show. Also, telling the different sides of the relationship from the male and female perspective creates an added appeal for the audience. Furthermore, both characters make mistakes and become sympathetic, although it often takes some time to discover all the grey areas of the relationship.
Like many relationships, Cathy and Jaime's love story is affected by ego, jealousy, ambition, resentment, and a constant power struggle. The two characters try to maintain their sense of self and their own desires, despite being into a relationship that probably moved a bit too fast. You love these characters for their good qualities and their flaws and, while it's heart breaking to watch their love affair fall apart, it adds to the overall emotional experience of the show.
There's going to be an influx of musical theatre in Peterborough this season, but you'll be hard pressed to find something as magical and moving as The Last Five Years. Shumak, Hancock, Germaine, and Hiscox have created a perfect emotional storm of drama and music that melts the audience. While Peterborough has a fantastic theatre community, the quality of this show goes well beyond amateur theatre. This is big-city professional quality theatre right in our own back yard. Musical theatre rarely gets better than this.
The Last Five Years runs from September 12th to 14th at the Gordon Best Theatre in Peterborough. The show starts at 8 p.m., with additional 2 p.m. matinees on Saturday and Sunday. Tickets are $20 general admission, and $15 for seniors and students.
A special second run, co-sponsored by the Anne Shirley Theatre Company at Trent University, will be performed at Wenjak Theatre at 8 p.m. on September 19th and 20th. Tickets for these performances are $10.